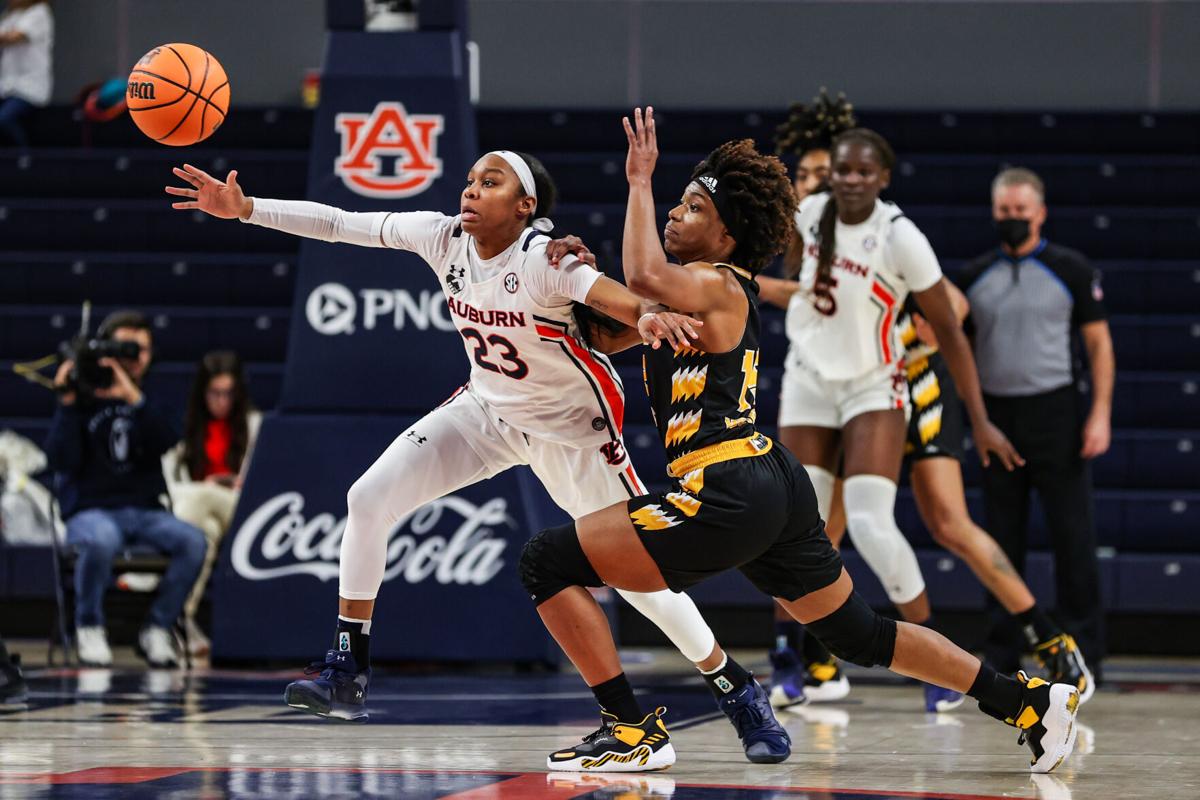 Nationally ranked LSU jumped out to a strong start and the Auburn women's basketball team never recovered in a 76-48 loss on Sunday in Auburn Arena.
LSU, ranked No. 13 in the country entering the game, imposed its will early on the way to building an 18-4 lead in the first quarter.
Auburn was competitive in its first two SEC games — the first a one-score loss at Alabama 56-53 and the second an overtime loss to Missouri — but LSU had its way with Auburn Sunday.
It was the first meeting between new Auburn head coach Johnnie Harris and new LSU coach Kim Mulkey, who won three national championships at Baylor before making the jump to LSU.
LSU led 26-8 at the end of the first quarter.
"Really disappointed in our start," Harris said after the loss. "We didn't come out and follow the game plan. We didn't come out and fight. I thought we were timid. We were very timid. The game was physical, we knew the game was going to be physical, and I just wanted my team to show some fight.
"I thought they bounced back in the second half and tried to fight a little bit, but we were in a big hole and it's hard to overcome that against a good team like that."
After the first quarter, LSU only outscored Auburn 14-13 in the second quarter and only outscored Auburn 21-20 in the third quarter, but the damage on the scoreboard had already been done.
"We did it to ourselves," Auburn guard Sania Wells said.
"I felt like we stayed in that hole too deep and by the time we kind of woke up and got a little spark, it was too late, especially against a good team like that. We're just disappointed in ourselves."
Auburn fell to 8-6 on the season and 0-3 in the SEC, while LSU moved to 15-2 and 3-1.
Auburn returns to action on Jan. 13 playing at Florida. After a game at Texas A&M on Jan. 16, Auburn returns to Auburn Arena to play the rivalry rematch against Alabama on Jan. 23 in its next home game.
Precious Johnson debuts
Auburn's effort Sunday was highlighted by the debut of 6-foot-5 Texas transfer Precious Johnson.
Johnson recently became eligible at the start of the new semester.
She scored just two points in nine minutes but was not able to work with the team during the fall semester and is just joining the squad.
"She's going to be a work in progress," Harris said. "We'll continue to try to work her in. But she does have size, she's athletic. We'll just have to teach her how to position herself, where to be. She'll be a freshman, you know.
"She's got a lot to learn, but she has a huge upside."
Johnson appeared in nine games at Texas as a freshman during the 2020-21 season before transferring.
"When we heard in practice that she was eligible, we got excited," Wells said. "The SEC is a whole bunch of big posts, and as y'all can see, we're a pretty small team. So having that size is only going to help us. It was her first game so I can only see how bright her future is going to be right now, so I'm excited for that."