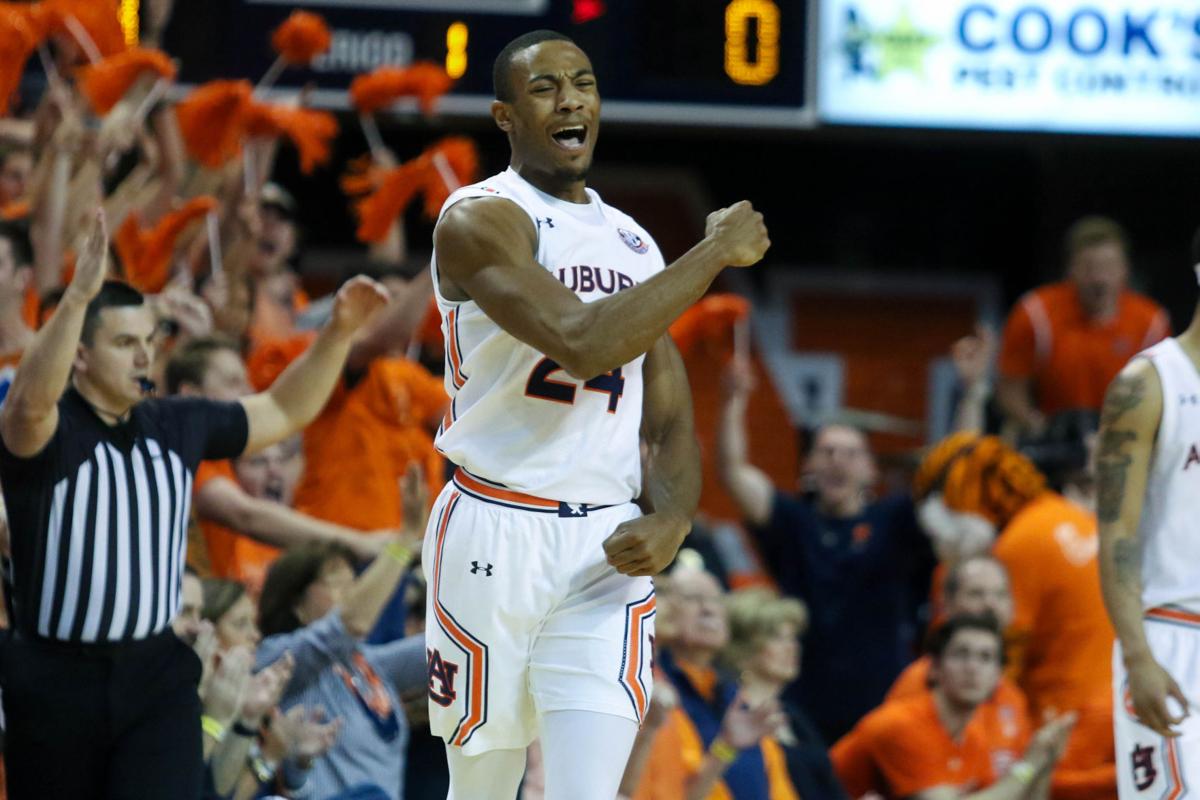 The senior stars came up big in overtime and the Tigers survived another hair-raising thriller when the Auburn men's basketball outlasted Alabama 95-91 on Wednesday night in Auburn Arena.
It wasn't easy. In the rivalry it almost never is.
But Auburn came up clutch when pushed to the brink, with seniors scoring 14 points in overtime after the game ended regulation tied 81-81. Samir Doughty scored six points in the extra frame alone on his way to 18 points. Austin Wiley scored 18 and pulled down 17 rebounds in the game for a huge double-double in what may well be the last game against Alabama for him and his classmates. Another senior, J'Von McCormick hit two clutch free throws with 17 seconds left in overtime.
And at the end of the day, Auburn's moving on to 22-2. And the Tigers hold bragging rights again over their bitter archrivals.
Auburn won its third straight overtime game and its fourth in five games. This time, a chorus of 'Reverse Rammer Jammer' rang out over the Plains.
"Two high-character teams and a pretty memorable game," Auburn head coach Bruce Pearl said simply, and breathlessly, after the win.
Freshman Isaac Okoro scored a team-high 19 points in a heroic effort for the Tigers. He went down with injury late in the game holding his right leg and did not return.
But his efforts helped keep Auburn on top of the SEC standings at 9-2 in league play. Alabama fell to 13-11 and 5-6. Pearl said postgame that Okoro pulled his hamstring but he does not think he tore it.
Auburn led 16-0 early in rocking Auburn Arena, but watched Alabama drain nine 3-pointers in the first half alone to cut into that lead, then tie it in the early stages of the second half. Alabama hit 22 3-pointers, by far the most Auburn has given up in a single game this season.
Alabama's John Petty hit one with 14 seconds left in regulation to send it to overtime. Kira Lewis nailed one to make it a one-point game at 79-78 with 3:58 left and put the Plains back on pins and needles after Auburn surged in the second half.
But Wiley hit a free throw to put Auburn back up two, then another with 1:35 left after Okoro left the floor and headed to the locker room clutching his thigh, and that at least kept the game tied when Petty hit his big 3-pointer.
Wiley and McCormick both scored four points in overtime, with Doughty tallying all of Auburn's 14 overtime points as seniors.
Auburn scored the first eight points in overtime to go up 89-81 before holding on down the stretch of it.
"It was important," Doughty said of that strong start to OT. "That's what we talked about. We knew Isaac was down, so we wanted to try to get off to a fast start to get us a look at some kind of advantage to start the overtime."
The win avenged a loss at Alabama in January that sent Auburn's then-undefeated season crashing down in Coleman Coliseum. It also marked another big win for Auburn in its chase for the SEC's regular-season championship.
"Typically when you play Alabama, it's really all about the rivalry, it's all about Auburn-Alabama, it's about the Iron Bowl, it's about two schools in the state that compete," Pearl said. "This one wasn't about that.
"We never felt it, still don't feel it. It was about Auburn trying to stay alive in a championship race. … For Alabama coming in … they kind of needed this one real badly and they played like it," Pearl said referring to Alabama's chances at an at-large bid in the NCAA Tournament.
Somehow when it was even a bit bigger than the rivalry, Auburn rose to the occasion again in overtime.
Auburn continues its season Saturday at Missouri.
"We've got to keep grinding," Pearl said. "One thing I'm confident about is this team will get ready to play seven more times in the regular season. We will.
"But I've got to figure out a way for us to play better basketball. Because right now all we're able to do is just be good enough to get into overtime and have enough character to win it."
Be the first to know
Get local news delivered to your inbox!