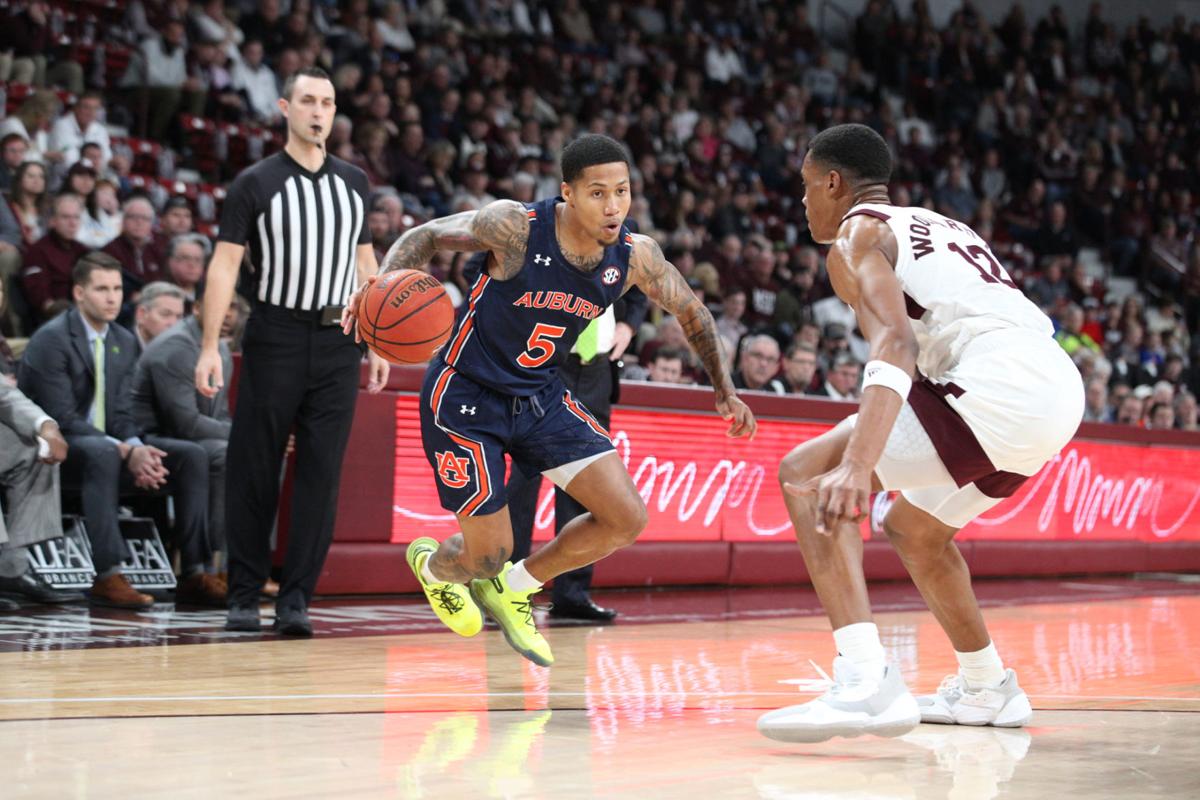 Danjel Purifoy got hot when Auburn needed him most, J'Von McCormick lit up a new career-high, and with all the starting hands on deck the No. 8 Tigers clawed their way to an 80-68 win over Mississippi State on Saturday in Starkville.
The victory marked only the third win for Auburn at Mississippi State since 2001. It took just about every man in the rotation to make it happen. Auburn struggled with shooting in the first half and with fouls in the second half, before digging to get to 1-0 in the SEC — and to remain undefeated at 13-0.
Purifoy hit back-to-back 3-pointers on a personal 8-0 run midway through the second half, which stretched a 2-point lead at 48-46 to a 56-46 Auburn lead with 7:58 left. The Tigers pulled away from there.
McCormick led all scorers with his 28 points. All five of Auburn's starters scored in double figures, with those five starters scoring 78 of Auburn's 80 points in the game. Isaac Okoro scored 16 and Samir Doughty scored 13.
"Everybody did their thing," Auburn head coach Bruce Pearl said after the game, on the headset with Andy Burcham and the Auburn Sports Network's radio broadcast of the event.
"Everybody contributed," he said.
Mississippi State fell to 9-4. Auburn entered Saturday's game 2-15 in its last 17 games at Mississippi State.
Auburn's struggles in Humphrey Coliseum seemed to carry into the game in the early going. Auburn missed all 11 of its 3-point attempts in the first half. Strong defensive play helped Auburn hold onto a 29-24 lead at the half. In the second half, that lead started to evaporate as fouls piled up on that Auburn defense. Mississippi State shot 15 free throws and hit 13 of them in the first 8:10 of the second half.
But after forward Anfernee McLemore checked out in foul trouble with four fouls, that's when Purifoy got hot.
Mississippi State was on a 5-0 run at the time to make it a 2-point game with just less than 10 minutes to play before Purifoy hit two straight from range and then tipped in a miss by Doughty in transition after a defensive stop.
"Danjel, he's just been in the gym 24-7 putting up shots every single day," Okoro said on radio. "He's been on a little shooting slump, but he's back to himself. He's starting to make shots.
"When he made shots, that just brought the energy up. We just couldn't be stopped after that."
Purifoy's play was critical, as was Austin Wiley's down low, who fared well against Mississippi State star Reggie Perry and his fellow big-man Abdul Ado. Wiley scored 10 points and pulled down five rebounds. Perry got his, with the preseason All-American recording 21 and 12, but Wiley and his fellow front-line players helped pull down 44 rebounds to hold firm with Mississippi State's 46 rebounds.
Pearl also mentioned postgame that Doughty did a commendable job on defense holding Mississippi State's Tyson Carter to four points.
McCormick hit a new career high with 20 points against Saint Louis earlier this season before topping that mark on Saturday. McCormick hit Auburn's first 3-pointer early in the second half. From there the basket opened up, with Auburn hitting 50-percent of its shots in the second half after hitting only 33.3-percent in the first half.
Auburn returns home to host Vanderbilt on Wednesday as SEC play continues. Tipoff is set for 8 p.m. on Wednesday night.
Be the first to know
Get local news delivered to your inbox!