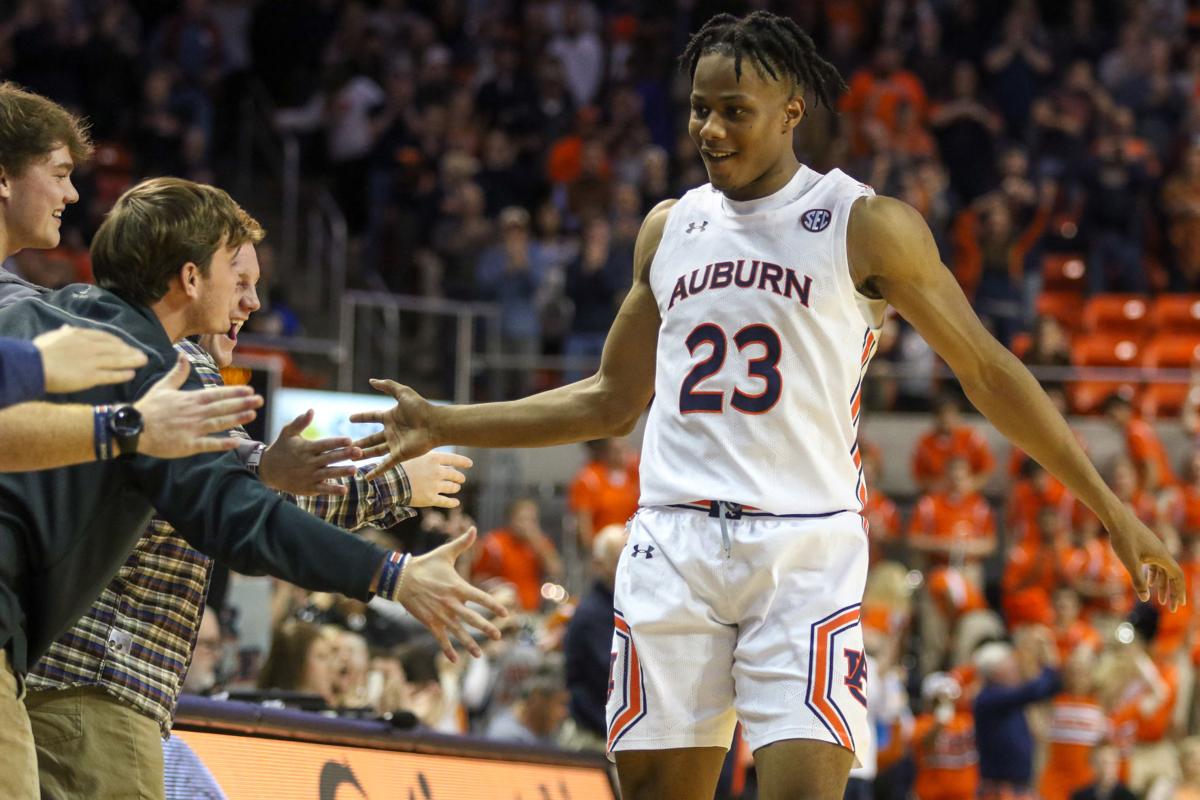 One game after Isaac Okoro made his statement to the SEC, a ghost from his past is riding into Auburn to face him.
Okoro's old rival Anthony Edwards is trying to make a statement of his own.
Okoro and Edwards meet again today as No. 5 Auburn hosts Georgia for a battle between NBA prospects and a battle between former Atlanta area high school stars — now scheduled for 11 a.m. after a tipoff change.
Okoro scored a season-high 23 points on Wednesday to lift Auburn to 14-0 with a tight win over Vanderbilt.
Edwards, Georgia's own freshman phenom, leads the Bulldogs averaging 18.7 points per game.
"I don't know whether he guards Isaac Okoro or whether Isaac Okoro guards him, but obviously they had a very good, competitive relationship in high school," Auburn head coach Bruce Pearl said on Friday as his team geared up for the game. "I think they've got a respect for one another. Edwards obviously was a McDonald's All-American and very heralded — and earned all of it — and like Isaac, he's a great kid and a hard worker."
Edwards played at Holy Spirit Prep in Atlanta last season while Okoro played at McEachern High School in nearby Powder Springs, Ga. He and star Auburn signee Sharife Cooper matched up with Edwards and Holy Spirit in a star-studded game last November, in a 75-69 win for McEachern in front of a packed crowd and as seen in highlights from outlets like Ballislife.com.
"Our Auburn basketball fans got to see Pete Maravich," Pearl said, calling on the name of a past great. "Our basketball fans have gotten to see some of the all-time greatest players, not only here at Auburn but in the SEC. And when you watch a guy like Anthony Edwards, that comes to mind.
"He's a consensus top-five pick. He was a consensus top-three high school player in the country. Probably the best player in the country. And so it'll be a great, great matchup for us."
Georgia is 10-4 on the season and seeking its first SEC win after losing its conference opener to No. 14 Kentucky on Tuesday, 78-69.
Auburn is 2-0 in the league with Okoro's big showing against Vanderbilt lifting Auburn after a win at Mississippi State in the team's conference opener.
Georgia is coached by former Marquette and Indiana coach Tom Crean.
"Much, much improved from a year ago," Pearl said, in his assessment of the Bulldogs. "It's got Tom Crean's handprint all over it.
"They play fast, they play hard," he said. "They're very aggressive defensively. They turn you over a lot. They're a little like us in the sense that they're probably better from 2 than 3."
Despite having two long and storied careers at the highest level of college basketball, Pearl and Crean never crossed paths until last season's Auburn-Georgia games. Auburn won both — the second coming when Chuma Okeke drained a late 3-pointer to lift Auburn to a win in Athens which bounced Auburn back from a bad loss at Kentucky the week before and kick-started Auburn's 12-game winning streak running all the way to the Final Four.
Okeke is another Georgia product who starred at Auburn like Okoro. Pearl pointed out that, if Okeke hadn't gotten hurt in the NCAA Tournament, his starting lineup would've featured five Georgia products, including Jared Harper and Bryce Brown to go along with Okoro's current teammate Anfernee McLemore.
"Our rivalry against Georgia is very, very important, very significant," he said, calling on the importance of the recruiting trail. Plus: "I know it means a lot to our fans.
"That all said," Pearl said, "get up early, get some breakfast, get your coffee, and come on over to Auburn Arena because it's going to be a pretty exciting game."
Be the first to know
Get local news delivered to your inbox!