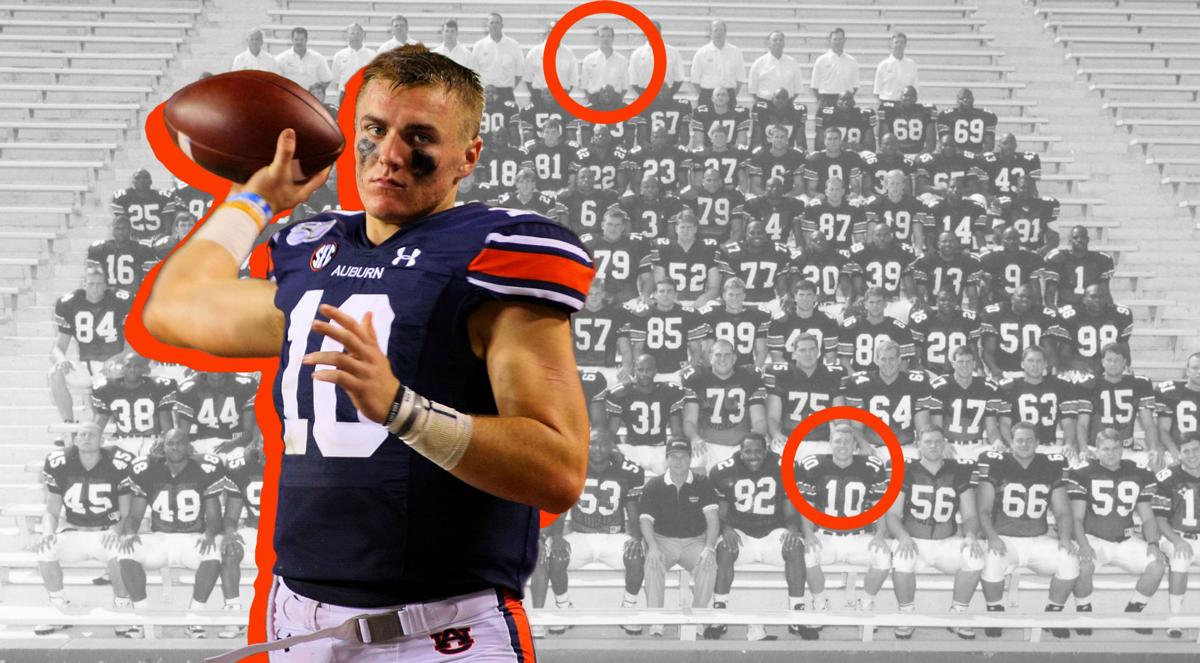 Bo Nix has something in his blood, Jimbo Fisher says.
He's seen it in his father. He's seen it in his father's father.
'It' will help make Nix one of the best quarterbacks in the country, he thinks.
And whatever 'it' is, it's coming for Fisher and his team in College Station.
Texas A&M's head coach is plenty familiar with Auburn's young starting quarterback and the intangibles that run in his family, after Fisher coached Nix's dad Patrick Nix back at Auburn in the early 1990's, and after he's heard the stories of grandfather Conrad Nix and his success over a 40-year career as a stalwart high school coach in Alabama and Georgia.
Fisher was a young assistant coaching quarterbacks for Auburn from 1993 to 1998 when he first crossed paths with the Nix family. His vision helped guide Patrick's hands through an iconic comeback win over Alabama in 1993 and through two winning seasons as the Tigers' starter in 1994 and 1995.
And the magic Fisher once saw in Patrick's fingertips, he now sees in Bo's — as Auburn gets set to challenge his Texas A&M team at 2:30 p.m. Saturday in College Station, Texas.
"He is a great player," Fisher said of Bo Nix, his voice crackling into a phone during the SEC coaches' teleconference on Wednesday. "He's going to be an outstanding player before he leaves Auburn — one of the best country, probably, one day."
Fisher spent plenty of resources trying to recruit him years ago when he was coaching Florida State. That was even before Patrick and Bo won back-to-back titles at Pinson Valley as head coach and star quarterback.
Shrugging in front of the media in person earlier in the week, and leaning into a microphone, Fisher's explained what he's seen all along.
"His dad's a winner, boy," Fisher said in his press conference Monday at Texas A&M.
His eyes have seen plenty in his rise through the coaching ranks. After Auburn, Fisher succeeded as a coordinator at LSU and Florida State before winning a national title with the Seminoles and then earning one of the richest contracts in college football in his jump to Texas A&M.
But he still remembers Patrick's game-changing touchdown pass to Frank Sanders against Alabama in 1993, and his game-winning touchdown pass to Sanders against Florida in 1994 — and plenty more from his playing days before he became a coach himself.
"He's a great coach. He coached in college, coached in high school. (Bo) will have a lot of intangibles in his blood that some other freshman may not — from just the experiences of being around those things," Fisher said.
Patrick's father Conrad won back-to-back state titles of his own in Georgia in 2006 and 2007 at Northside High School in Warner Robins, Ga., putting an exclamation point near the end of his 41-year coaching career.
"Son of a coach, and his grandfather was a great coach, so I mean, he's been around all the intangibles and things that you have, that other people just don't get the exposure to," Fisher said.
In three games, Bo Nix has Auburn off to a 3-0 start, throwing for 545 yards and four touchdowns on a 52.4-percent completion percentage while adding 79 yards and a touchdown on the ground.
He threw the game-winning touchdown pass to Seth Williams in Auburn's thrilling season-opening win over Oregon — one which was immediately compared to his father's old throws to Sanders.
It's just a matter of time, Fisher laughed on that teleconference, before the son passes the father as the best college quarterback in the Nix family.
"And saying that, you understand, Patrick was a heck of a player," he said.
"I remember when he came in against Alabama in the undefeated season and brought us back to win that game. And the next year we won nine in a row and he had a big comeback against Florida. Whatever the occasion was, Patrick always rose to it.
"Bo is one heck of a player, but his daddy was too, there's no doubt — but I think what Bo is really gifted in, he's just so athletic," Fisher added. "They can both throw the heck out of it, but Bo is just so athletic."