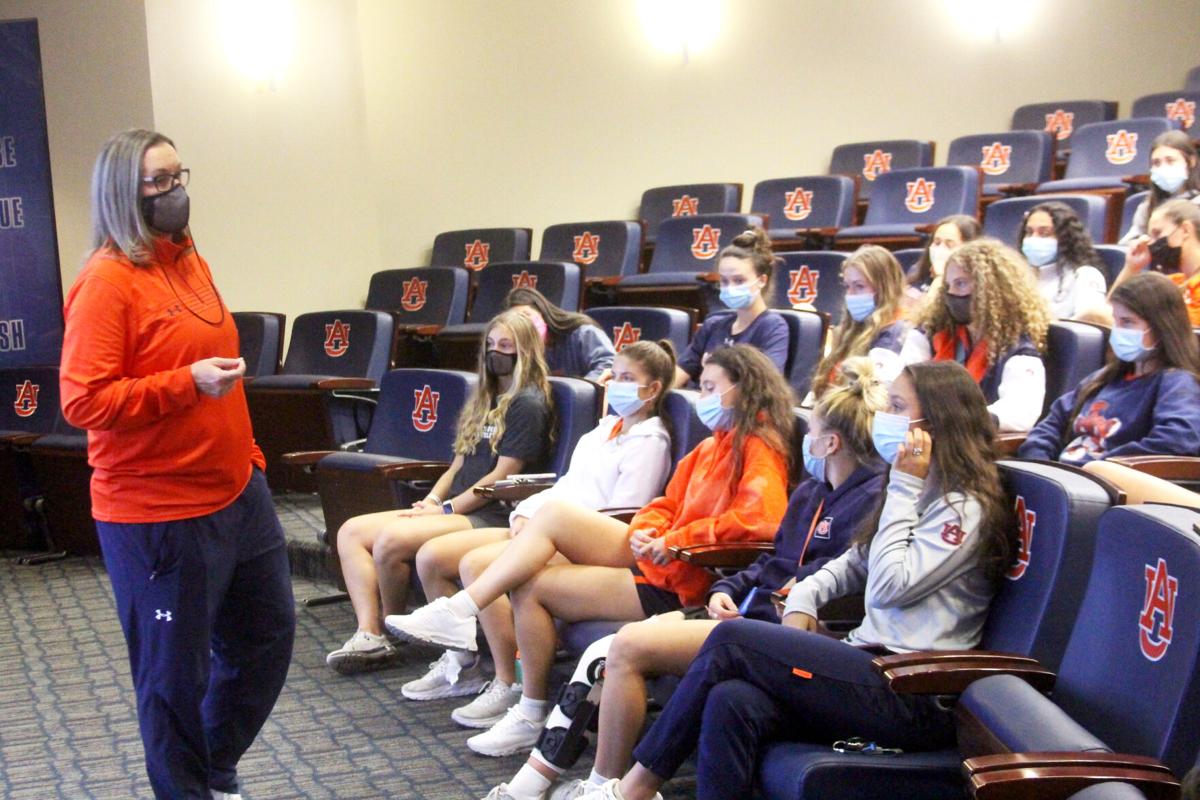 Auburn was devastated the last time around, senior Hailey Whitaker said.
Last season, the Tigers had won five straight games to close the schedule. They were on the bubble and hopeful their late surge was enough to get the team in. Instead, they watched every line of the bracket for the last NCAA Tournament fill up without seeing their name called.
Auburn's journey to this NCAA Tournament started with that snub in the last one.
"Ever since that selection show, this team has been on a mission," Auburn head coach Karen Hoppa said Monday.
This time, Auburn's in: The Tigers host Samford in the first round on Friday at 5 p.m. at the Auburn Soccer Complex. Players jumped out of their seats at the selection show watch party Monday, finally seeing Auburn's name back in the bracket for the first time since 2018.
At 12-6-1 overall, Auburn was picked as a No. 4 seed in its quadrant, tabbed as one of the 16 teams earning national seeds.
Auburn's dancing at the end of the year, but in a way, the Tigers have been playing for this NCAA Tournament all year.
"We felt like we should've been in the tournament last year, and we were just so close and we ended on a high, so just seeing how that progresses into this season was just exciting to see," Whitaker said.
This time, Auburn won the early games it needed to win, knowing some early losses cost the team when the selection committee's judgment came last season. Auburn was 5-5-3 at one point on last season's schedule, before ripping off five straight wins to close it 10-5-3. The late surge wasn't quite enough to get Auburn into the pandemic-shrunk 48-team field.
This season, beginning with the end in mind, Auburn ripped off six straight wins to start the season, bolstering the resume early and eventually holding the nation's longest winning streak in Division I for a substantial stretch.
"We worked really hard in the spring, especially winning out, that entire spring season, and we really wanted to get drawn because of all the hard work that we had to do," sophomore midfielder Hannah Waesch said. "Knowing that we can and we are able to make the tournament, it just motivated us to work even harder and get the games in that we needed to win."
After a 6-0-0 start, Auburn muscled its way to a 5-4-1 SEC record before making it to the SEC Tournament semifinals.
"They knew a couple of the bad results really hurt us last year, even as early as the beginning of the season last fall," Hoppa said. "They knew that kept us out of the tournament, so they were determined to make sure we weren't making that mistake again this year. So proud to see our name come up, with a number by it, meaning we're one of the top 16 sees.
"We're really proud of this team and what they've accomplished during the regular season."
After the selection show Monday, Hoppa reiterated to the players that the team is in survival mode now, and all that matters at the NCAA Tournament is surviving and advancing, and going one game at a time.
Waesch shrugged with a smile when asked about that — because it's what they've been doing all along anyway.
"Every week, day in and day out, it's pretty much just wanting to survive and focus on the next game at hand. So it's just like another day at the office," she laughed. "Just focus on the next game and get the result that we need."
All season, it's been that way for Auburn.
The NCAA Tournament kicks off Friday. But for Auburn, this tournament started with the last one.