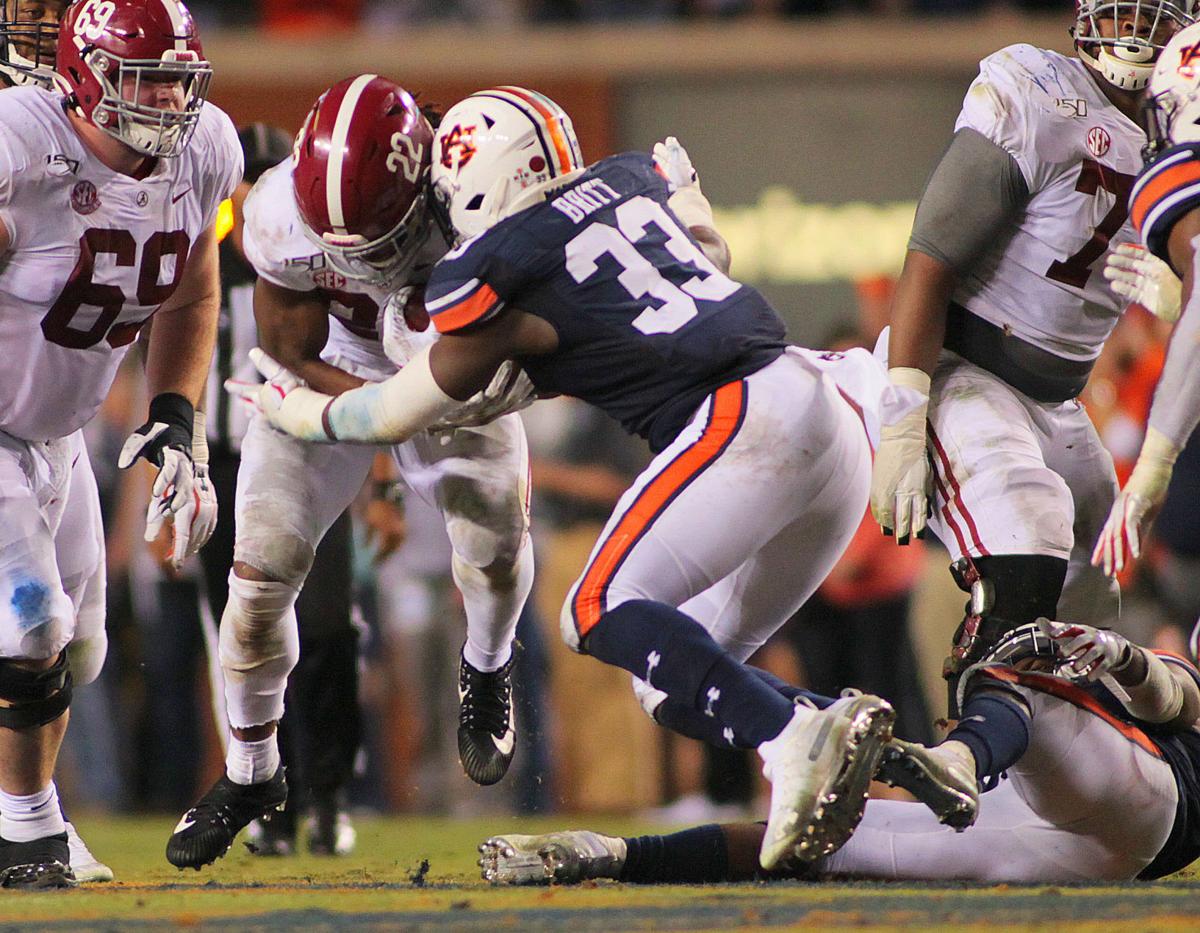 Does the Auburn offense finally break its second-half issues?
JORDAN HILL: The Tigers have struggled immensely in the second half lately, as they've scored only 12 points in the second half of their last four games. The problem Auburn will run into Saturday is the Alabama defense, which is second in the SEC in total defense, second in run defense and second in turnover margin. My prediction is another rough go of it after halftime to close a disappointing second half of the season.
JAKE WEESE: Auburn has scored one second-half touchdown in the last four games, with that lone touchdown coming against Mississippi State. Except for the Texas A&M game, the offense has been fine in the first half, but they haven't been able to keep the momentum going for all four quarters. Alabama's defense has given up some big plays this year, but Auburn's recent struggles are hard to overlook, and I don't think they conquer them this week.
JUSTIN LEE: Well, if you're ever going to do it, this is the week to do it. I do think Auburn will battle, and I do think Auburn musters a second-half touchdown this time around. You always save a little something for this game — or at least you should — and I think Auburn does find the end zone in the second half this time. Auburn's been bad-bad in the second half lately and surely, eventually, the results start to regress toward the mean.
How does TJ Finley play in his second start of the season?
JORDAN HILL: Finley had a rough go of it against Alabama last year, as he threw for only 144 yards in LSU's 55-17 loss to the Crimson Tide on Dec. 5. My prediction is the sophomore builds on last week's game against South Carolina with a few notable explosive plays; the problem is the Crimson Tide's defense is much better than South Carolina's.
JAKE WEESE: Against South Carolina, TJ Finley played fine against the Gamecocks. He didn't have any turnovers and found the end zone once. I think another week of reps and practice as the starter will help Finley as he'll build off last week's game with a better performance against Alabama. While his status is uncertain, I also think the return of Kobe Hudson could be a big boost for Finley.
JUSTIN LEE: You have to remember, TJ Finley isn't just playing against Alabama's 11 on Saturday: Nick Saban is on the other sideline, too. You have to give credit where it's due and understand Saban is surely licking his chops matching up against an inexperienced quarterback like Finley. I think Auburn should protect him, though, and I bet he does fine until maybe late if Auburn trails and he has to throw a lot.
Can the Auburn defense slow down Bryce Young?
JORDAN HILL: Young is well on his way to being a Heisman Trophy contender and is coming off a 559-yard performance against Arkansas. The Auburn defense, meanwhile, has continued to struggle to stop opposing quarterbacks, the latest example being former St. Francis quarterback Jason Brown throwing for three touchdowns for South Carolina. My guess is Young proves too much for Auburn early on, which leaves the Tigers trying to dig themselves out of a hole.
JAKE WEESE: Last week, Bryce Young tossed for 559 passing yards and five touchdowns against Arkansas. Meanwhile, Jason Brown, making his third start as a Gamecock, tossed three touchdown passes against Auburn last week. It's going to be a tall order for Auburn's defense to contain Young and Alabama's aerial attack, especially since Young doesn't make many mistakes through the air. I think the Tigers will struggle to contain Young for a full four quarters.
JUSTIN LEE: Auburn still has really good players on its defense. Auburn still has Roger McCreary and still has Smoke Monday, and all told, this should be one of the best secondaries Young has faced this season — if not the best. That's only a part of the package, though, and Auburn will have to get pressure to Young to make him uncomfortable. Ultimately I think Auburn can hold him in check, relatively, but at any moment he can strike like lightning on a big play and I bet that happens a few times.
Will the Tigers' run game be able to build off last week's success?
JORDAN HILL: Auburn seemed to finally turn the corner running the football against South Carolina thanks to 191 yards on the ground and a 5.79 yards-per-carry average, the team's best since their season-opening victories over Akron and Alabama State. The Tigers got away from running in some key moments in the loss to the Gamecocks, and my prediction is they don't make that mistake against the Crimson Tide.
JAKE WEESE: Tank Bigsby was a one-man wrecking crew against South Carolina as he gashed the Gamecocks on the ground for 164 yards and a touchdown on 22 carries. While Bigsby did most of the work, the Auburn offense finished with 191 rushing yards against the Gamecocks. Auburn can't be one-dimensional against Alabama, so they'll need the run game and passing attack to both be firing on all cylinders. I expect the run game to keep the momentum going this week.
JUSTIN LEE: Unfortunately for Auburn, running into the jaws of the Alabama defense is a different challenge from running against South Carolina. I think Auburn can use screens to Shaun Shivers and draws and maybe even a few TJ Finley scrambles to mix up to the running game, but I think Auburn will struggle to establish the run against Alabama. Where has Dematrius Davis been all this time?
Final score?
JORDAN HILL: Alabama wins 35-14. The Auburn offense has been too inconsistent in November, and the matchup with the Crimson Tide is far from a favorable one. While I think the home atmosphere will help Auburn stay in contention through two quarters, a big third quarter from Alabama leaves Auburn with its fourth straight loss.
JAKE WEESE: Alabama wins 35-21. The home crowd will keep Auburn in it for some of the game, but I have a hard time seeing the Tigers match the Crimson Tide for a full four quarters. I think Auburn will keep it close heading into halftime or even have the lead at the break, but Alabama adjusts at halftime and takes control down the stretch.
JUSTIN LEE: Alabama wins 31-20. I'll say Alabama leads 31-13 late but Auburn gets a fourth-quarter score to make it a closer margin. Auburn just has to try to get to the fourth quarter with a puncher's chance and try to make another miracle happen. Ultimately I think Young throws a few of those lightning strikes and Alabama pulls away.