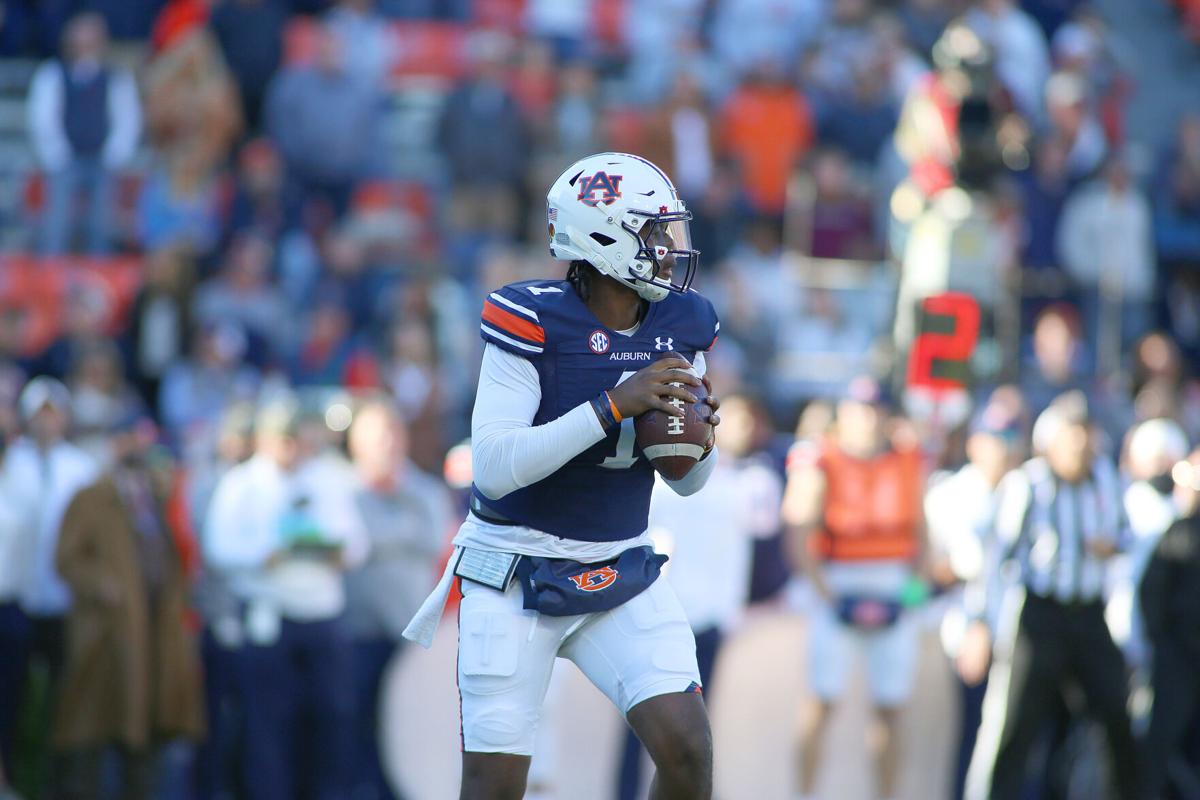 Can Auburn bounce back on the road at South Carolina?
The Opelika-Auburn News sports staff makes its picks, with predictions from Auburn beat writer Jordan Hill, sports intern Jake Weese and deputy editor Justin Lee.
How does TJ Finley play in his first start for Auburn?
JORDAN HILL: Finley was the hero of Auburn's fourth game this year but has very limited playing time outside of that performance against Georgia State. I believe he'll play fairly well, and while I do think he'll turn the ball over once, the sophomore will do his part to have Auburn in the mix on the road.
JAKE WEESE: TJ's appeared in six games this season, but it really hasn't felt like that since most of his reps came in the Georgia State game. Even though he has previous starting experience from his time at LSU, I think Finley might have some growing pains against the Gamecocks, but he'll find the end zone at least once.
JUSTIN LEE: Auburn's coaches should plan to protect Finley in his first start at Auburn, and with players like Tank Bigsby and Jarquez Hunter, it's on the coaches if they can't do that. Finley shouldn't have many more than 20 pass attempts. If he can avoid the big turnovers, I think he can do enough to put Auburn in position to win.
Will the Auburn offense look noticeably different with Finley under center?
JORDAN HILL: My guess is there will be few big changes for the Auburn offense with Finley playing as opposed to Nix. Nix's athleticism was something the Tigers utilized at times this year, but over the last five games the junior quarterback only rushed for positive yardage twice. Finley's big arm may open up a few more deep shots than we're accustomed to seeing with Nix, but I don't think there will be a night-and-day difference compared to what we saw this time last week.
JAKE WEESE: Bryan Harsin said earlier in the week that the Tigers are still going to use the same system that they've been using all season. So I think overall, the offense won't look that much different than what we've been seeing. Nix's ability to use his legs to keep a play alive will be missed, but I'll be interested to see if Finley is still somewhat used in the run game. I could see Auburn using the 6-foot-7 quarterback in goal-line situations or to help pick up short yardage.
JUSTIN LEE: The red zone struggles will be back. Auburn managed to get over some of its early single struggles inside the 20 by finally unlocked Bo Nix's rushing ability and playing more 11-on-11 near the goal line. Finley isn't as quick, and while I hope the coaches use every bit of his size and athleticism, I don't think it'll be the same as what Nix can do. With Carlson out too, red zone plays will be huge game-deciders in this one I think.
Can the Auburn secondary bounce back against the Gamecocks?
JORDAN HILL: There's no two ways about it: the Tigers were absolutely torched by Mississippi State's Air Raid during the second half last week. The good news for Auburn is the foe they face this week will be led by quarterback Jason Brown, a St. Francis transfer who has yet to eclipse 200 passing yards as a Gamecock. I predict the secondary gets help from the pass rush on Saturday and forces Brown to make several quick decisions that wind up going in the Tigers' favor.
JAKE WEESE: The secondary and the defense as a whole can't afford another meltdown like they had against Mississippi State last week. This season, South Carolina has had a revolving door at quarterback with Luke Doty, Zeb Noland, and Jason Brown all taking snaps under center. Brown will get the start for the Gamecocks, and with this being the best defense he's faced as a starter, I expect Auburn to keep him in check. This will be Brown's third start of the season, and I think Auburn forces at least one turnover.
JUSTIN LEE: Auburn's loss to Mississippi State reminded me of the time Nick Marshall ran wild over Tennessee in 2013. Marshall rushed for 214 yards and he only threw for 35 passing yards in a 55-23 win. Tennessee's coaches just did not know how to stop the option run. I think the same thing happened last week to Auburn. The silver lining, I guess, is that South Carolina doesn't run the Air Raid. I expect Auburn's defense to be back playing closer to its usual effectiveness.
Will special teams be a liability without Anders Carlson?
JORDAN HILL: Carlson's disappointing 2020 season came to a close last week when the senior tore his ACL on the Tigers' late onside-kick attempt. Carlson's exit adds another question mark to a special teams unit that has already drawn fair criticism due to shaky play during the second half of the season. I predict Ben Patton takes over Auburn's kickoff and placekicking duties and that we don't see any long field-goal attempts or punt returns Saturday night.
JAKE WEESE: Outside of punter Oscar Chapman, it's been a rollercoaster for special teams this season. Now they've been dealt another blow with the injury to kicker Anders Carlson. Replacing Carlson won't be easy, but Ben Patton will step up and answer the call as Auburn's next kicker. I think special teams will miss Carlson even with his recent struggles on field goals, but I believe Patton will deliver on PATs and kickoffs.
JUSTIN LEE: I think you'll see a few fourth-down conversion attempts for Auburn. The good news in, in certain parts of the field, Auburn should be able to go into third down knowing it has two opportunities to get the yard to gain. If Auburn prepares well enough, it should be able to mask the liability on special teams. Yes, I do think Carlson's absence will be a hindrance and will affect Auburn's gameplan in a significant way.
Final score?
JORDAN HILL: Auburn wins 24-23. I went back and forth about this game given it's on the road and given everything Auburn has endured over the last week. Ultimately, I think the Tigers are a much more talented team, and that helps them outlast an opportunistic Gamecocks squad in a Saturday night thriller.
JAKE WEESE: Auburn wins 28-17. It's a night game under the lights at Williams-Brice Stadium as the Gamecocks look to become bowl eligible for the first time since 2018. With all that being said, I think Auburn rolls in to South Carolina and leaves with the win as Finley does enough to guide the Tigers to a win.
JUSTIN LEE: Auburn wins 24-20. This is a dangerous, dangerous game for Auburn. When Auburn's offense gets in the red zone, it won't have Nix's running ability, and it won't have Carlson as an automatic bail out. Auburn has to make big plays. I think Auburn establishes the run and Finley makes enough plays for Auburn to win.