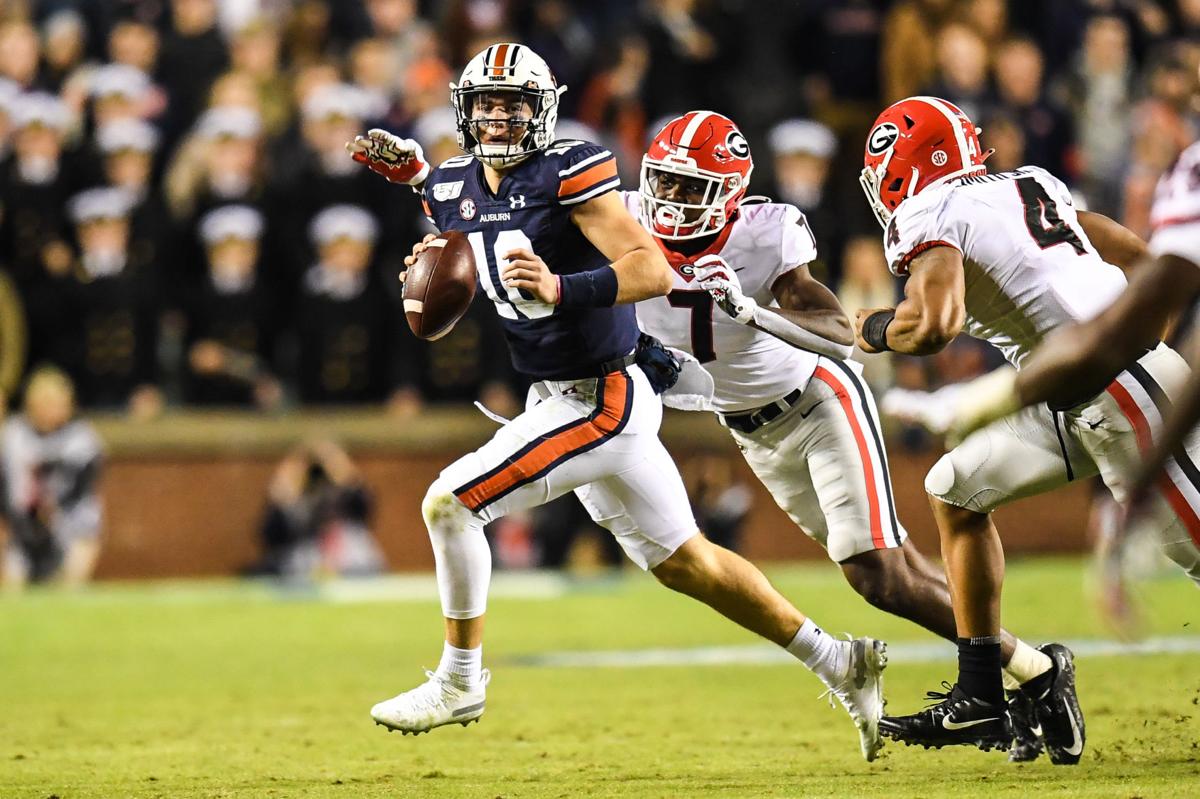 Auburn battles Georgia on Saturday in the newest edition of the Deep South's Oldest Rivalry.
The Opelika-Auburn News staff makes its pick for the game, with more predictions from Auburn beat writer Jordan Hill, deputy editor Justin Lee and sports intern Jake Weese.
Is Bo Nix the starter for the rest of the year?
JORDAN HILL: I'll admit I had serious questions about Nix's status after the Georgia State game, but he answered them with an outstanding performance against LSU. The game might not have been perfect, but in my opinion it was the best 60-minute performance from Nix that I've seen during his time with the Tigers. Getting TJ Finley into the mix would have been rushing the timeline regardless if it was necessary; based on how Nix played Saturday, I think he's cemented himself as the starter for the rest of the season.
JUSTIN LEE: I think so, because I think Mike Bobo and Bryan Harsin have learned more about Bo. I think they've learned what he responds well to, and they'd be silly to not adjust to their talent. Bo's at his best when he's creating and improvising and just being Bo — and midway through his junior year, I think he is who is and there's no making him some strict pocket passer now. Now they see firsthand how they need to use him. For example: No more fades on fourth and goal. Let Bo roll out and create and do his thing, because that's your best shot.
JAKE WEESE: Yes, 100%. Not only did Nix help Auburn win on the road against LSU for the first time since 1999, but he also made some big-time plays during that game to keep the offense from stalling out. I think getting pulled against Georgia State was a major wake-up call for Nix, and that will continue to motivate him as the season goes along. The rest of the schedule from here on out isn't easy, but Nix has played all these teams before and knows what to expect.
Can the environment Jordan-Hare Stadium knock Georgia off balance?
JORDAN HILL: We know Jordan-Hare can be one of the loudest stadiums in the country, and when the Auburn fans really get roaring it can be a distraction for even the most-experienced opponents. Georgia has yet to play in a truly loud road environment in 2021 — the Clemson game was played in Charlotte, and Vanderbilt just doesn't quite cut it — and the fact it's been so long since the Bulldogs played in front of a full-capacity road crowd can't be ignored. Auburn fans can really affect the situation Saturday if they step up to the challenge, especially if the Bulldogs have to start Stetson Bennett once again.
JUSTIN LEE: Three of the last four times a bitter rival entered Jordan-Hare Stadium, they got beat. Auburn went back-to-back beating No. 1 in rivalry wins over Georgia and Alabama in 2017, and in 2019 Auburn got Bama again in "unfair Jordan-Hare," as Nick Saban could call it. Even in that 2019 Georgia loss, there was some moments of magic, when Auburn scored 14 unanswered in the fourth and threatened a comeback. Jordan-Hare doesn't get talked about enough for its environment — where top-ranked teams go to fall. You may not see it happening Saturday, but stranger things have happened in Jordan-Hare.
JAKE WEESE: The last big game at Jordan-Hare was the 2019 Iron Bowl, so it has been a long time since that big game environment has been at Jordan-Hare. I think the environment will affect Georgia, especially if Stetson Bennett starts, but for how long is the real question. I think Georgia will be rattled by the crowd to start, which means that Auburn's offense and defense will need to take advantage. In that 2019 Iron Bowl, Auburn had certain big plays that kept the crowd in it throughout the game. Auburn will need to make big plays like they did in that Iron Bowl to keep the crowd in it so Georgia can't settle down.
Will Auburn be able to run the ball against a vaunted Georgia defensive front?
JORDAN HILL: Auburn started the season on a strong note running the ball, but in its last two contests the ground game has not quite shined. While Jarquez Hunter still leads the nation in yards per carry, the Tigers' rushing attack was held in tact against LSU for the better part of four quarters. Georgia has the fourth-best rushing defense in the nation, and based on Auburn's performance of late, I don't think the Tigers will find much room to run Saturday.
JUSTIN LEE: It'll take all 11 to get the ground game going for Auburn against Georgia's talented defensive front, and that includes the quarterback position. I fully expect Auburn to be bottled up between the tackles and I expect that the Tigers will have to get creative with screens, draws and quarterback carries to make much movement. Nix was Auburn's leading rusher at LSU. He may have to be that again.
JAKE WEESE: In the last two games against Georgia, Auburn was held to under 100 rushing yards in both of those games. I think Auburn will have to pass a little more this week, but I think they still score one rushing touchdown against the Bulldogs. And while I don't expect the run game to be super successful, I think we'll see Bo Nix scramble some to keep Georgia off-balance and the running backs will be used more in the passing game.
Who plays quarterback for Georgia, and how well does the Tigers secondary slow him down?
JORDAN HILL: Junior quarterback JT Daniels wasn't even throwing to start this week. That fact alone makes me inclined to say Bennett gets the start against Auburn for the second straight year. Bennett isn't known for his big arm — he struggled mightily several times in 2020, most notably against Florida last November — which makes me inclined to think Auburn will mostly hold Georgia's passing game in check. Stopping the Georgia ground game, however, will prove an entirely different challenge.
JUSTIN LEE: Kirby Smart doesn't just have a rivalry game with Auburn to worry about. He has a national championship run to think about, too. For that reason, I can't see Georgia throwing JT Daniels back into the fire just yet — especially considering how he seemingly re-aggravated the injury after coming back from it once already this season. I think Georgia plays it save with Daniels and comes to Auburn bent on winning with defense and the running game.
JAKE WEESE: I think Stetson Bennett faces Auburn for the second year in a row. Last time out against the Tigers, Bennett was 17-for-28 with 240 yards and a touchdown. I think this year on the road, he'll be asked to throw some more than he did last season, but I don't know how many yards he'll be picking up through the air. Similar to LSU, I think Auburn's defense will adjust if he gives them trouble to start the game, but I feel like Georgia will want to pound the rock rather than constantly air it out.
Final score?
JORDAN HILL: Georgia wins 27-10. Auburn will have its chances early on against a Bulldogs offense led by Bennett, but the Bulldogs' vaunted defense will give the Tigers very little room with which to work. Georgia running back Zamir White pushes the Bulldogs over the top and puts the game away early in the fourth quarter.
JUSTIN LEE: Georgia wins 24-13. I think the energy in Jordan-Hare Stadium keeps it close for a long time, and gives Auburn a few chances, but I think Auburn would have to show something it hasn't shown all season to beat this Georgia team. Ultimately I think the Bulldogs survive their oldest enemy.
JAKE WEESE: Georgia 17-10. I think this will be an old fashioned smash mouth football game like the last time these two teams met inside Jordan-Hare. The crowd will help keep Auburn in it for most of the game, but Georgia will do just enough to come away with the win in this one.