Suni Lee nods. Her coach agrees.
"Let's do the big vault," they say.
It's upgrade day at the Auburn gymnastics practice facility, and 'the big vault' is the one that could help get her back to the Olympics in 2024.
Auburn's gold-medal freshman is preparing this week to debut a vault that's never been competed before in the NCAA: a half-on front layout, which she has started drilling as a base vault for the rare and revered Cheng.
Under the usual din of practice, Lee finds her focus. Music echoes around the building as the Tigers get ready for this week's meet at Georgia. She's encouraging her teammates between reps. Her teammates are encouraging her. It's an ordinary Monday in the gym, but whenever the Olympic all-around champion steps to the apparatus, the extraordinary tends to happen.
She charges in and attacks the board with a powerful twist, blindly spinning into her launch off the horse. She rockets into the air, where explosiveness turns to grace, as she straightens her legs and glides head over heels. It's a deliberate flip; an elegant flight. It's like a 40-yard dash from football, then a no-look pass from basketball, and before she nails the landing like she's at the X-Games, she performs beautiful ballet in midair.
Then she bounces over to her coach and slouches on a mat. Jeff Graba tells her that she should just go for the big vault three times for the day. He doesn't want her to exhaust herself doing it six times, then her not be able to do it any on Thursday. "Why don't I just do six today and do six on Thursday?" she shrugs. That's Suni.
"I've got to save her from herself," Jeff Graba jokingly grumbles later. But the Auburn head coach wins this argument. After three reps, Lee's boldness turns into a different kind of confidence. She's got this, she figures, and she's ready to move on to practice floor. "Once she does a couple good ones, she's like, 'I know where I am. I'm good,'" he said, as Lee skipped off to the next thing.
He knows how to work with Lee, and Lee knows how to work with him. His twin brother, Jess Graba, has been her coach since she was young and was her coach at the Olympics last summer, where she won gold for Team USA in the individual all-around. This week's upgrade is proof of concept for the plan that the three put together which sent her here to the Plains: With the half-on front layout, she's getting ready to throw a new vault which has a 10.0 start value in college meets, and which also will put her in a better position for another run at the Olympics if she chooses to go for it.
"This is exactly how it's supposed to work," Jeff Graba said.
Over the phone from Minnesota, Jess Graba echoed his twin:
"I feel like that's the proof that this can be done, and we're trying to be smart about it and we're trying to do long-term thinking on this instead of just short-term success," he said. "If we do it right, we can get both."
Again, that's Suni. Just like when she shrugged and said she'll just vault six times Monday and six more times Thursday, Lee faced the old crossroad that so many gymnasts have faced this past summer when she stepped off the medal stand — and when she was asked if she wanted to go to college like her friends or keep grinding for the Olympics, she just said: 'I'll do both.'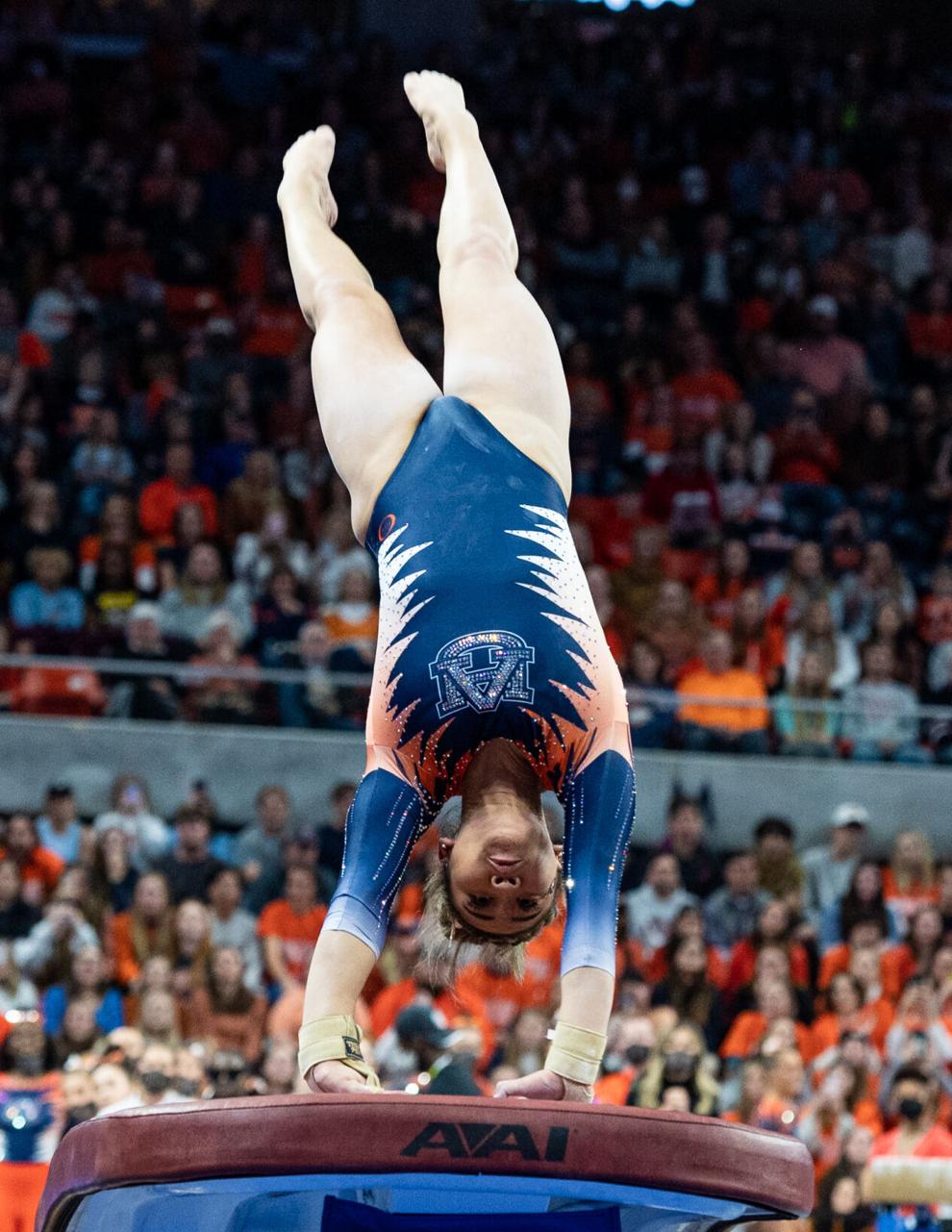 New name, image and likeness rules in the NCAA made it a possibility. Now Lee and the Grabas are working to create the reality.
Lee's new vault shows their synergy in action.
Named for the retired Chinese world champion Cheng Fei, who first put the skill into competition, the Cheng is a grandmaster-class vault that can only be thrown by a few gymnasts in the entire world. The Cheng is like the half-on front layout Lee is throwing now, but with 540 degrees of spin in the air.
It's the vault that Lee's greatest rival in Tokyo — Rebeca Andrade of Brazil — employed during their epic battle for gold and silver in the all-around. Lee was throwing the Yurchenko double full.
If Lee can upgrade and equip a strong Cheng, it would be "huge" for her in her path to the next Olympics, Jeff Graba said. Lee dazzled on bars and beam especially in her run through the team trials last summer, and vault was her weakest event during the last run. She finished U.S. team trials first on bars and beam, but ninth on vault.
"If she can get a Cheng, it could allow her to defend her all-around title," he said flatly.
That'd be the endgame — way down the road.
For now, the goal is to get a decent score against Georgia.
So Lee is hard at work on her half-on front layout. So much of the Cheng's difficulty lies in that twisting bounce off the board, and this layout vault will help her practice that approach while impressing the college judges at the same time. Gymnastics at the Olympics and in the NCAA are worlds apart: Olympic judging rewards difficulty while the college judges put a cap on things to keep athletes safe and keep competition strong. Lee's new vault, the half-on front layout, has a 10.0 start value already. Done mistake-free, this vault gets Lee the same score as a mistake-free Cheng would — so there's no reason to throw the Cheng in college.
It's not ready yet, anyway, but throwing the layout helps Auburn by putting another 10.0 start value into the lineup, and it helps Lee because it's good practice for the Cheng if she decides to throw it in another Olympics run down the road.
"I think she sees the full picture," Jeff Graba said. "I think she knows that she doesn't want to go down dead ends. You know, I'm not sure she's set, long-term, on what she wants to do. I think she's just thinking this semester in school, trying to survive week-to-week — but she's definitely not short-sighted in the path.
"There are other options for vaults that might be quicker to get, but would be limiting. We've entertained them and we've just had that good conversation, like, 'Why would we do that? Let's try for the one that we know is eventually going to be the one that you would want, and see how it goes.'"
He laughed. "She's been involved. You see how she operates. She's been involved in every decision pretty fully."
So far this season in college, Lee has been throwing the Yurchenko full with a 9.95 start value. Jeff Graba said the Yurchenko double had been taking a toll on Lee's body — and that, after the last Olympics, the committee adjusted the code in a way that devalued the Yurchenko double and made the pivot make even more sense. Some gymnasts and their camps are going in another direction and adding a pike. Lee's chasing the Cheng.
Lee competed the half-on layout a few times in club competition in years past, as she tried to build to the Cheng then, but the initial COVID-19 lockdown and the disrupted timing of the delayed Olympics helped put a halt to her progress. Now she's bringing it back, and bringing it to the college stage.
"It's good for her. It's good for Auburn. It's a win-win," Jess Graba said.
It could be a win, too, for all the gymnasts who step off the Olympic medal stand, who dedicated so much of their lives to hearing that national anthem play, then wonder, 'What do I do now?'
Lee could prove that girls can enjoy the college experience and still get back there.
"I think she can get the Cheng if we spend our time and we take our time and we be patient with it. So the nice thing is, this allows her to do that," Jess Graba said. "I feel like this is a strength of going this direction, is that she can go out there and do this basic vault and get rewarded for it and compete it several times, under pressure, and it gives her more confidence.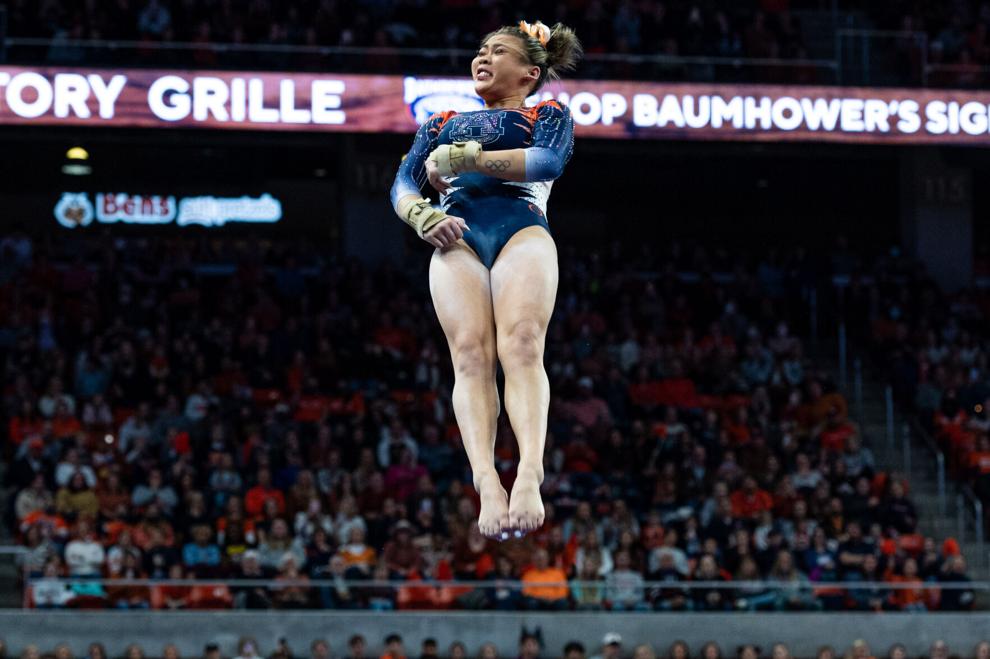 "We don't have to train it in the back gym for two months and try to unveil it at a big meet."
And, for Lee, it's a little less lonely when that practice gym is full of her Auburn Tiger teammates, just like it was on Monday.
Auburn meets Georgia at 6:30 p.m. Friday in Athens. The meet is set to air on SEC Network.
Lee is scheduled to warm up her new vault, and if warmups go well, it'll make its college debut.
Making history and enjoying the ride: That's Suni, too.
"I don't want her making that decision right now," Jess Graba said, of any future run at the Olympics. "I really don't. I kind of want her just enjoying her college experience. 'You're not going to have another freshman year. Enjoy it.' And then get through the season. And then Jeff and I can talk behind the scenes. Obviously I still talk to Suni pretty much every week — we're still going to communicate a lot — but not about gymnastics. I just want to talk about other stuff. 'How's your life? How are things going?' That sort of thing. And then Jeff and I can talk behind the scenes and just say, 'Yeah, you know, maybe this is a good vault for the direction right now,' because it checks two boxes for us, one for him and one for me, so let's just go that direction.
"I don't want her to make any other decisions beyond that. Just keep all your doors open and enjoy your freshman year, and then we'll have time to talk, especially if we do it right."