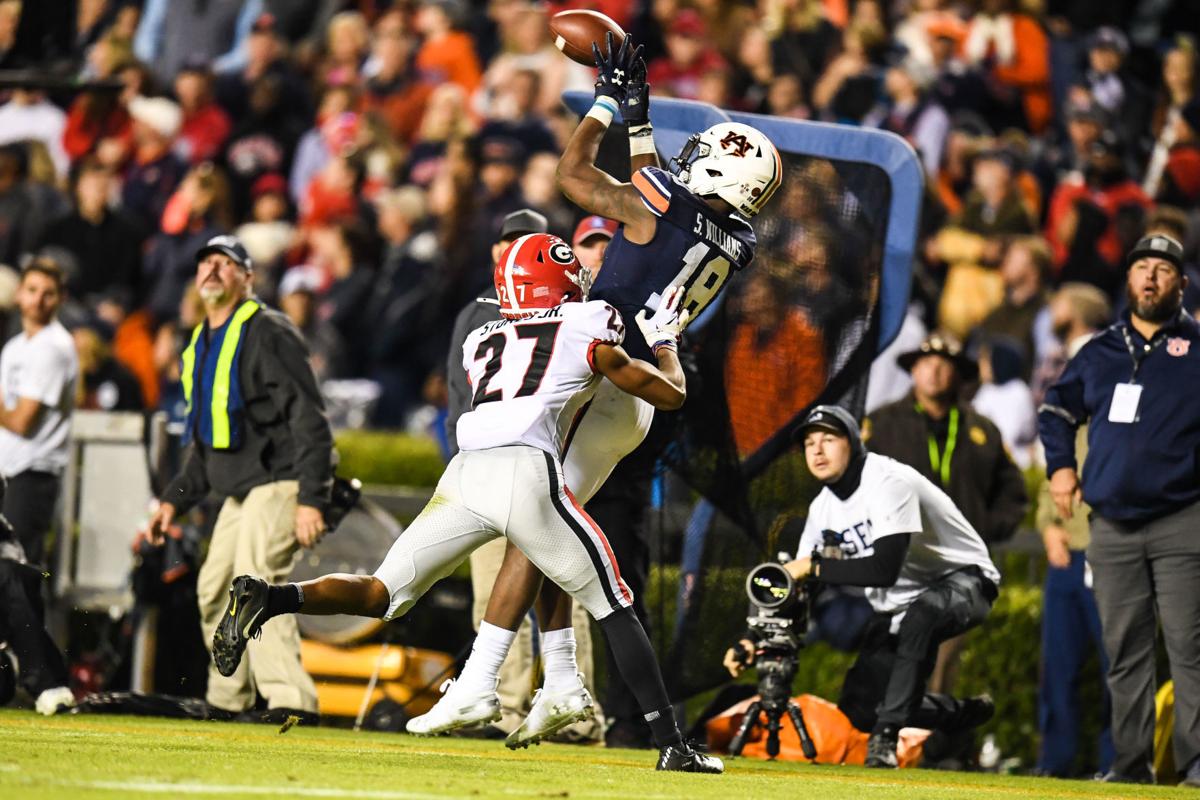 There's a fine line, Gus Malzahn says.
He's not wrong. You could almost see it. It was there in the small step Jake Fromm's receiver had on the Auburn secondary in the first quarter of the Georgia game. It was there in the air under the pass sailing just over Seth Williams' fingertips and into the hands of an LSU defender at the goal line before halftime in Death Valley.
There are only a few key plays in critical moments through Auburn's season that, if somehow reversed, could've changed the Tigers' entire year.
Those pivotal moments will come up in the Iron Bowl. They always do.
It's up to Auburn to win them on Saturday.
Auburn and Alabama kick off at 2:30 p.m. Saturday in Jordan-Hare Stadium. The game will be broadcast on CBS.
And Auburn knows that big plays could define how the Tigers fare in their last big chance to turn this season into something to celebrate.
"When you look back at close games, there's a fine line between winning and losing," Gus Malzahn said this week, as his team prepared for the dreaded Nick Saban seemingly at the height of his powers in Tuscaloosa. "A lot of times it's either one or two plays; impact plays when the game's on the line that you have to make to win the game. That's probably the thing that has stood out the most."
Malzahn was thinking back to Auburn's other big battles this season. Down in The Swamp at Florida, it was a 64-yard touchdown in the first quarter and an 88-yard touchdown in the fourth quarter, wrapped around an end-zone interception by Bo Nix that helped define that loss.
At LSU, a touchdown before the half could've changed the complexion of that 3-point game. A different bounce on Auburn's onside kick could have done that, too.
Against Georgia, of course, Fromm only threw for 59 passing yards all game outside that 51-yard touchdown early in the game, which put Auburn in a hole just one score too steep to crawl out of.
"We've been very close. We've had opportunities," Malzahn said. "You look back, there's one or two things, and if you would have made those plays we would have had a good chance to win or we would have won those games."
That's not an excuse, though, for Auburn's seventh-year head coach, seeking to become the Saban slayer and pick up a third head-to-head win against him, making him undisputedly the most effective coach against him in the last decade.
That's just how he's seen it this season — and that's what he plans to change Saturday in the 84th Iron Bowl.
He isn't alone. Derrick Brown's seen those big plays define Auburn's season from his view on the field.
"It's just been one of those things where, you know, things haven't happened the way you really wanted them to. But I think back where it's like — man, five or six drives away from being an undefeated team," Brown said. "Some of those things you just think about going into the last game.
"I've thought about it, and I erased it. I'm just thinking about the last game."
In the Iron Bowl, those game-swinging surges always seem easy to spot. In 2010, Auburn's comeback probably wouldn't have been possible if Cam Newton wasn't perfect on touchdown passes to Emory Blake and Terrell Zachery which kick-started the comeback — or the legendary throwback to Philip Lutzenkirchen that completed it.
In 2013, if Nick Marshall didn't read the gassed Alabama defense and call to the sideline for another option pass, his touchdown to Sammie Coates wouldn't have tied the game.
And, of course, the rivalry as we know it now wouldn't be the same without the Kick Six play.
Saturday, it all could come down to the big moments again.
This time, it's up to Auburn to rise to the occasion.
"When you're playing the top teams, you've got to make plays to win the game," Malzahn said. "That's really our goal for this one.
Be the first to know
Get local news delivered to your inbox!