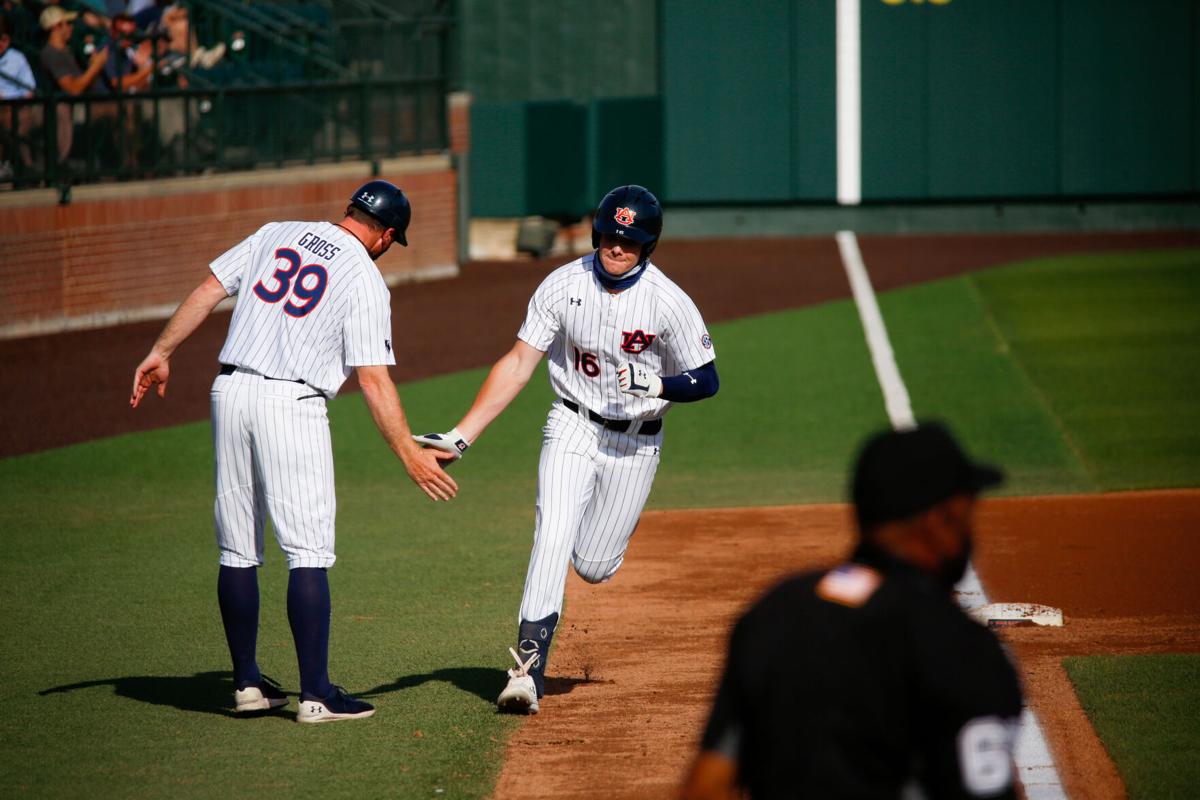 After a rough start to SEC play, the Auburn baseball team found its way back into the win column with a 7-3 victory over No. 20 Georgia Tech on Tuesday.
The goal now for coach Butch Thompson and his Tigers is to turn that win into the start of something bigger. If they want an example of how to make that happen, they can look no further than their next opponent and their biggest rival.
Auburn (13-16, 1-11 SEC) hits the road for a three-game series against Alabama (20-12, 5-7 SEC) with Game 1 starting at 6 p.m. Thursday. The win pits a Tigers team that has lost five of its last six games against an Alabama team that appears to be turning the tide after a disappointing start.
Thompson isn't in panic mode, but he understands how pivotal a strong showing against the Crimson Tide could be.
"Knowing you do have to look back and stay in reality of, you know, what we haven't gotten done the first four weekends of SEC play. It does force you to [be] like, 'Hey, now's the time. It's not waiting another week or two,'" Thompson said Wednesday. "We understand that. Our players understand that – that we have to play better, that our backs are against the wall – but it is still pretty engaging and pretty neat that you wake up with something sincerely to play for and to compete for and keep growing from each and every day, which we find ourselves. We do know that the time is now."
Thompson announced the Tigers' starting pitchers will remain the same from the Mississippi State series, with right-hander Cody Greenhill starting the first game, left-hander Jack Owen starting the second and right-hander Joseph Gonzalez starting the third.
The Tigers are eager to ride the momentum of the victory over the Yellow Jackets, which featured a strong performance from senior catcher Steven Williams, who came through with a stellar performance by going 2-for-4 with four RBIs.
The game was a strong one for Williams, who two years ago was the hero for the Tigers when Auburn topped Georgia Tech in dramatic fashion during the NCAA Tournament. Williams entered the game hitting .229, and he is eager to prove the non-conference win can be just the thing to get himself and the rest of his team rolling.
"We battled injuries early, and I think we're finally starting to take full shape as a team and in that bullpen. We've experienced it all and I don't think anything is going to scare us away. We know what we've got to do and know we have to be better."
As important as the upcoming road series is for the Tigers, they understand they aren't facing a pushover in Alabama.
Alabama has bounced back from a disappointing 2-7 start to SEC action by sweeping Texas A&M as part of a three-game series in which the Crimson Tide outscored the Aggies 18-10. Thompson spoke highly of the work of fourth-year Alabama head coach Brad Bohannon – who was an assistant at Auburn under Thompson – and pointed out how well Bohannon has restocked the Crimson Tide roster.
Thompson pointed to utility player Peyton Wilson, outfielder Owen Diodate and catcher Sam Praytor as players of note in the Alabama lineup. He also praised starting pitcher Connor Prielipp, a junior right-hander who is seen as a potential first-round draft pick.
Auburn is slowly but surely running out of time to figure things out, but Thompson knows taking a series against a team like Alabama would go a long way toward the Tigers getting back on track.
"I just think it's a deeper roster every time we go and play Alabama, and we're seeing a team that had a good week. I think they're feeling better about themselves," Thompson said. "It's a better roster than we faced in the past. The last time we went over there we played great baseball. We'll need to do that again when we go over there this weekend."