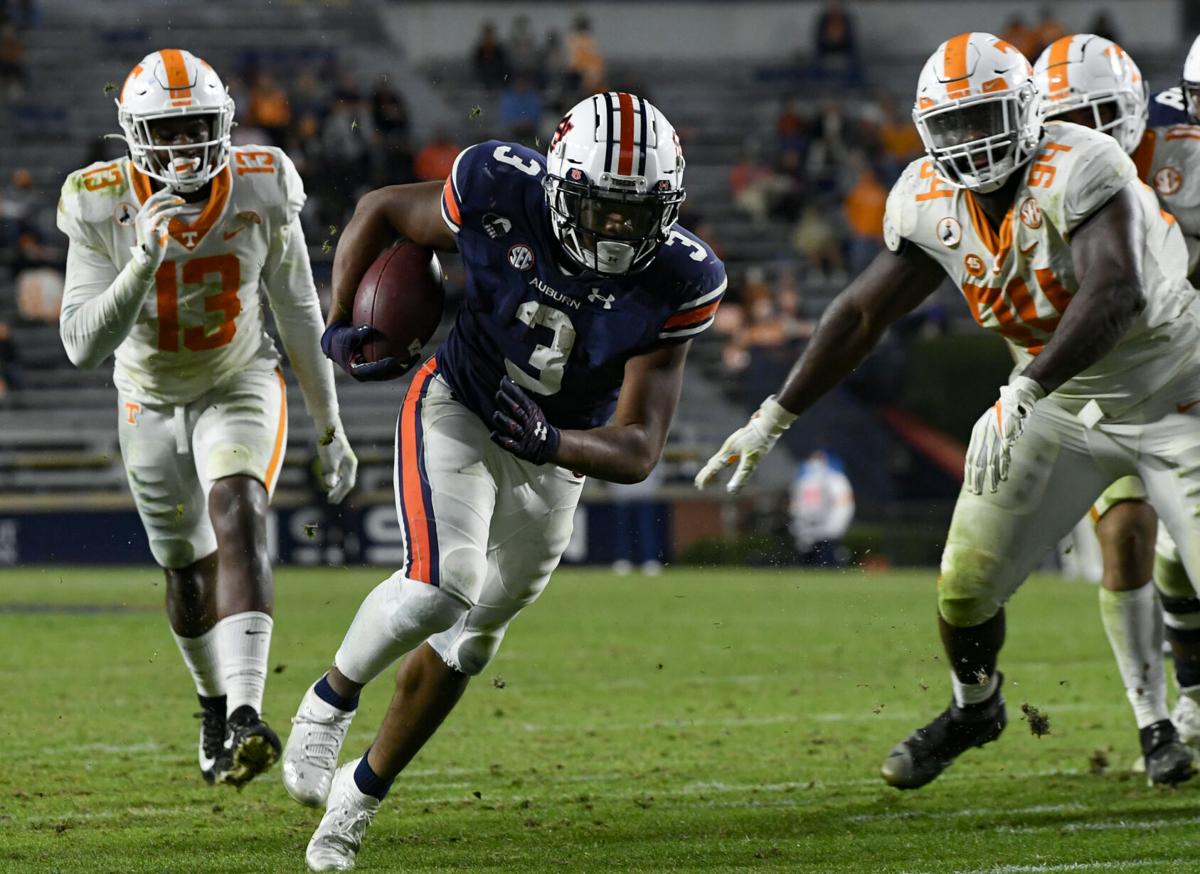 Standout freshman running back Tank Bigsby was injured against Tennessee and his status for Saturday's Iron Bowl is 'questionable,' Auburn head coach Gus Malzahn said on Sunday night.
Bigsby has been a breakout star out of the Auburn backfield this season — even passing up the more experienced Shaun Shivers and D.J. Williams to take some of the spotlight this fall.
But when called upon, Shivers and Williams proved their ability again last Saturday.
Shivers and Williams stepped up in Auburn's win over Tennessee after Bigsby was sidelined with an apparent hip injury. The two did their part to carry Auburn to a win, as they combined for 25 carries for 131 yards — an average of 5.2 yards per carry — and one rushing touchdown to help the Tigers beat the Volunteers.
Williams admitted 2020 hasn't been what he envisioned — he's dealt with various injuries throughout his sophomore year — but he had plenty to be pleased about with his game against Tennessee.
"I think it was pretty good. I mean, it wasn't the greatest, but hey, we're back. We got the dub," said Williams, who had 11 carries for 66 yards and one touchdown. "Your brother goes down, you just want to step up for him. When I was going to get in, [Tank] was just cheering me on."
Williams' score effectively sealed the Tigers' victory, and it came as part of a drive in which he and Shivers truly stood out.
Auburn led 20-10 with just over 12 minutes to go in the game with Bigsby as well as offensive tackles Alec Jackson and Brodarious Hamm out due to injury, but Shivers and Williams didn't let those issues slow them down. Shivers and Williams carried the ball on three of the drives' first four plays, and after a series of Bo Nix passes the Tigers found themselves on the Tennessee 36-yard line.
From there, Williams stole the show.
The sophomore helped the Tigers erase the sting of a near-Seth Williams touchdown by breaking off a 23-yard run to push well within the Volunteers' red zone. The running back wasn't done there, either, as he took the next carry for four yards before ending the possession with a fitting nine-yard touchdown off right guard to leave Tennessee down three possessions.
Williams' performance was one Shivers truly enjoyed. The junior explained the duo understood it was their responsibility to pick up the slack left by Bigsby's injury, and from Shivers' estimation the two stood up to the challenge.
"Now that [D.J. is] back and scored a touchdown, I'm real happy for him. I'm excited just to have him back," said Shivers, who had 14 carries for 65 yards. "When Tank went down we already knew it was time to step up. We just needed to do the things we had been doing since we had been at Auburn: just continue to play well and run the ball hard and continue to get downhill. Just go out there and finish the game."
Auburn head coach Gus Malzahn explained after the victory that he was not surprised to see Shivers and Williams step up like they did, explaining the two Tigers have gotten the job done in big games before. Now, the question is whether or not they'll have to do it for a second straight week.
If Bigsby is unavailable on Saturday, Williams and Shivers will be tasked with running against an Alabama defense that has given up just under 129 yards on the ground per game.
The duo will have a tall task against the Crimson Tide if that's the case, but it's not like the two Tigers haven't faced similar ones before. They showed Saturday they were capable of stepping up even in an adverse situation, which is something Williams hopes can carry over starting Saturday.
"It just shows what you got. For us to pull it off, that means a lot for us going forward," Williams said. "I mean, no matter who is [at running back], I feel like they're going to do pretty well."
Be the first to know
Get local news delivered to your inbox!