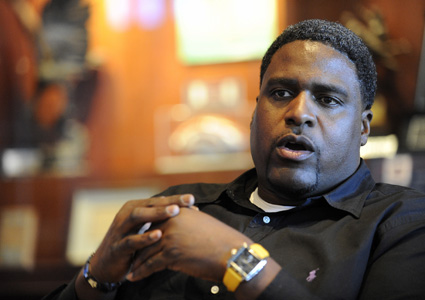 Former Auburn defensive lineman Tracy Rocker is back at his alma mater once again.
Auburn officially hired Rocker as its defensive line coach on Thursday, which marks his second stint in that role. Rocker returns to the Tigers after spending the 2020 season at South Carolina, where he was on the same staff as new Auburn assistants Mike Bobo and Will Friend.
Rocker replaces Rodney Garner, Rocker's former teammate at Auburn, after Garner spent the last six seasons in that role.
Rocker comes to Auburn with 29 years of coaching experience under his belt, including 26 at the collegiate level. During that time, he has coached 15 draft picks and and six All-Americans and been a part of teams that captured four conference championships and one national title.
"I'm excited about coming back to Auburn to work with Coach Harsin and the staff he has put together," Rocker said in a statement released by Auburn. "In my visits with Coach Harsin, he has shared a clear vision for the program and I'm looking forward to helping put that vision in place. I have great memories as a player and coach at Auburn and can't wait to create more in the future."
Prior to coaching at South Carolina, Rocker spent three seasons as Tennessee defensive line coach after spending three seasons at Georgia as defensive line and associate head coach. Rocker's time with the Bulldogs followed his only NFL stint, a three-year run as the Tennessee Titans' defensive line coach.
Rocker jumped to the NFL following his first tenure as Auburn defensive line coach in 2009 and 2010. Rocker's final season on the Tigers' staff was an unforgettable one, as defensive tackle Nick Fairley won the Lombardi Award and was the AP Defensive Player of the Year and the Tigers captured their first national title in 53 years.
"Tracy Rocker is one of Auburn's all-time great players and has a wealth of experience coaching and in the Southeastern Conference," Harsin said in his statement. "He understands what a championship team looks like and knows what it takes to be successful at the highest level. We're excited to welcome back Tracy to the Auburn family."
Rocker had plenty of coaching experience under his belt by the time he came back to Auburn as a coach the first time.
Rocker came to Auburn after spending the 2008 season as Ole Miss defensive line coach and the previous five seasons in the same role at Arkansas. He was the Cincinnati defensive line coach in 2002, an opportunity that came after a productive five-year stint in the same role at Troy.
Rocker coached four All-Americans at Troy in Tim Betts, Eric Sloan, Al Lucas and Marcus Spriggs. Lucas captured the Buck Buchanan Award as the Division I-AA Top Defensive Player as a defensive tackle in 1999.
Rocker landed at Troy after coaching the defensive line at West Alabama from 1994 to 1996. Prior to that, he spent two seasons as the defensive coordinator at Auburn High School.
Rocker entered the coaching ranks following a standout playing career.
A native of Atlanta, Rocker was a two-time all-state selection at Fulton High School and was named the Atlanta Journal-Constitution's Defensive Player of the Year as a senior in high school. He then took his talents to Auburn, where he was a two-time All-American from 1985 to 1988 and took home the Outland Trophy and Lombardi Award in his senior season, becoming the first SEC player to win both awards.
Rocker was also named SEC Player of the Year in 1988 to close out a career in which he recorded 354 tackles, including 21 sacks and 48 tackles for loss.
Rocker was drafted in the third round of the 1989 NFL Draft by Washington and was named to the All-Rookie Team. He played two seasons there before suffering a knee injury then concluded his career by playing one year for the Orlando Thunder of the World Football League.
Rocker was inducted into the College Football Hall of Fame in 2004, the Alabama Sports Hall of Fame in 2005 and the Georgia Sports Hall of Fame in 2018.
Rocker and his wife, Lalitha, have one son, Kumar, who was named the 2019 College World Series' Most Outstanding Player after leading Vanderbilt to the NCAA title and tossing a 19-strikeout no-hitter in the NCAA Super Regionals. Kumar is expected to be the top pick in this year's MLB Draft.