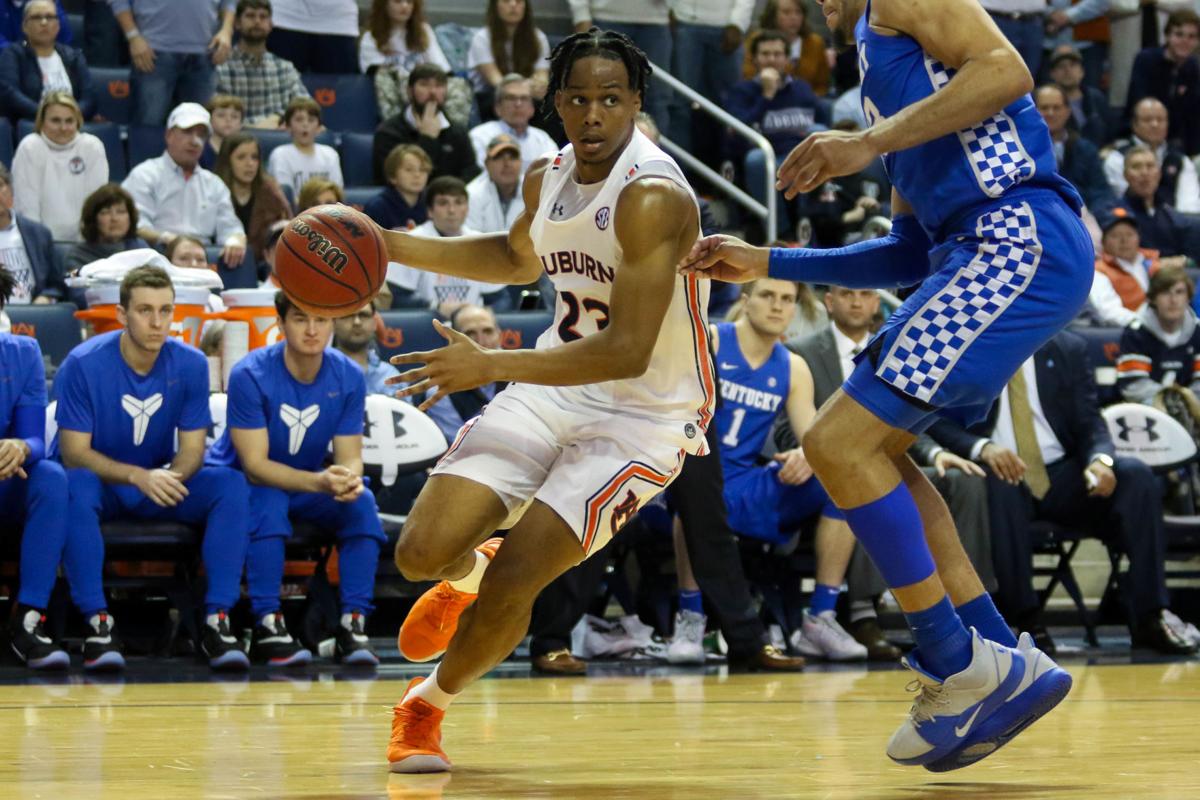 Auburn was undeniable again.
So Saturday night the people danced across the Plains all over again.
No. 17 Auburn beat No. 13 Kentucky 75-66 in electric Auburn Arena, charging back from struggles, surviving a frantic energy in front a world watching, and ultimately shining on the grandest stage to come to Auburn this season. Bruce Pearl reveled with the students after the final buzzer sounded. The Tigers pumped their fists and clapped their hands with fire on the way into the locker room. The arena roared, celebrating a big win harkening back to the Elite Eight epic last spring.
With everyone watching, Auburn did that.
"It was a great day at Auburn Arena," Pearl said breathlessly afterward.
It took plenty to slay Kentucky, the SEC's mighty blueblood. Auburn led 62-60 at the under-4 timeout in a back-and-forth battle fueled by that electricity. Danjel Purifoy had just hit a clutch 3-pointer to put Auburn up. Isaac Okoro knocked down a free throw to put Auburn up three. Then when Austin Wiley drew a foul pulling down a rebound on the other end, Samir Doughty threw his fist in the air.
Those were some of the names. Those were the Tigers who went toe-to-toe with Kentucky's all-stars on Saturday night.
And home on the Plains, with seemingly a city and a university all at their backs, those Tigers roared strong.
Okoro drained a 3-pointer in the precarious moments to make it 68-62 with 2:36 to go and Auburn wouldn't be stopped.
Doughty scored 23 points. Okoro scored 14. Doughty, the senior, hit four free throws in the final minute and Auburn won it. Showcased by ESPN with a College GameDay appearance and prime-time timeslot, Auburn rose to the occasion.
And the Tigers charged to 19-2 on the season and up to 6-2 in the SEC. Kentucky, the South's dragon, fell to 16-5 and 6-2 in the SEC — bested like Auburn's instant classic win in the last NCAA Tournament.
Kentucky entered Auburn Arena leading the all-time series with Auburn 94-19, but it was Auburn which notched one more win.
ESPN's basketball version of College GameDay was broadcast from the arena floor hours before the game. The building seemed to buzz all day before the anticipated tipoff, national TV cameras rolling all around the floor.
"I think we have the best fans in the country and I think this is the hardest place to play in the country, and it would not be like that without those guys," Doughty said, when told fans had waited in line for the game since 3 a.m. Saturday morning. "That shows how committed they are and how great of a crowd that we have."
Doughty scored 16 of the team's first 21 points, stepping up amid the jitters in the early moments, and shooting clutch from the free-throw line down the stretch. Austin Wiley scored 12 points and pulled down 10 rebounds in limited minutes, standing tall against Kentucky star Nick Richards even after fighting foul trouble in the first half. Purifoy finished with 11 points, draining three 3-pointers that all seemed to come in clutch moments.
"We had great senior leadership," Pearl said.
Kentucky led 35-34 after a furious first half. Both teams traded big shots in the big moments — and both teams suffered through dry spells and turnovers in the nervous, almost frantic atmosphere.
Kentucky led 9-2 early, trotting out four McDonald's All-Americans on the floor with sensational point guard Ashton Hagans guiding them all. Doughty helped settle the team, though. He made his first seven free throws, then hit a 3-pointer to put Auburn up 14-10 and send the Auburn fans into a roar.
Late in the half after both teams battled through ups and downs, Purifoy hit a 3-ball to put Auburn up 34-32 with 17 seconds before the break. But Kentucky punched right back with one of those high school all-stars, Tyrese Maxey, draining a 3 with three seconds on the clock to put Kentucky up two points going into the break.
It was that kind of slugfest. Both teams shot short of 40-percent efficiency in the first half. Auburn hit just 30.8-percent of its shots but kept in it — chasing loose balls, fighting for second-chance rebounds, and drawing fouls on chaotic plays that sent players sprawling to the floor.
Kentucky made more shots and shot with better efficiency but Auburn won by winning the rebounding battle 42 to 28, by turning the ball over only seven times, and by getting to the line to shoot 44 free throws.
And then there was that environment. The home-court advantage seemed to feed Auburn early in the second half when the Tigers struggled. Auburn hit a spell missing eight straight shots and Kentucky led by as many as five after a dunk by Richards that made it 54-49 with 8:53 left. But Auburn wasn't going to get run off the floor — not that floor, with that crowd behind the Tigers. Okoro hit a 3-pointer to tie it 54-54 with 6:49 left, and Auburn charged down the stretch.
Pearl has often said this season that his team is "good" but not "very good." After Saturday's celebration, he was asked if this win moves Auburn into that category. He smiled. He paused. Then he shrugged.
"It has to take us from good to very good now. It does," he said. "Kentucky is the best team we've played. So I thought we stepped up and responded. I thought we took a step from good to very good.
"Now, the question is: 'Can we build on it?'"
Auburn plays at Arkansas on Tuesday. But for Saturday night, the fans could celebrate.
"That's why we came here, to make history," Wiley said after the win, nodding over to Doughty. He could attest to that too, he said. "Fans should get used to this, because we work hard. It shouldn't be a surprising win every time we beat good teams like Kentucky. We've got good players, too, so they should get used to it."
ESPN's Rece Davis opened that GameDay broadcast with the words: "Auburn is a basketball school, too."
And now, with another win over Kentucky under the belt, Auburn can aim for even bigger and better things.
"We weren't just focusing on Kentucky. We're focusing on each and every opponent that we face," Doughty said. "We know the importance of each and every game — how one loss can put you in a worse spot."
As the fans rejoiced at Toomer's Corner, Doughty brought some quiet perspective to the interview room under Auburn Arena.
"We're playing for seeding at the end of the day right now," he nodded. "We're trying to have a good seed going up into March Madness, so we know each and every game is important to us."
Be the first to know
Get local news delivered to your inbox!