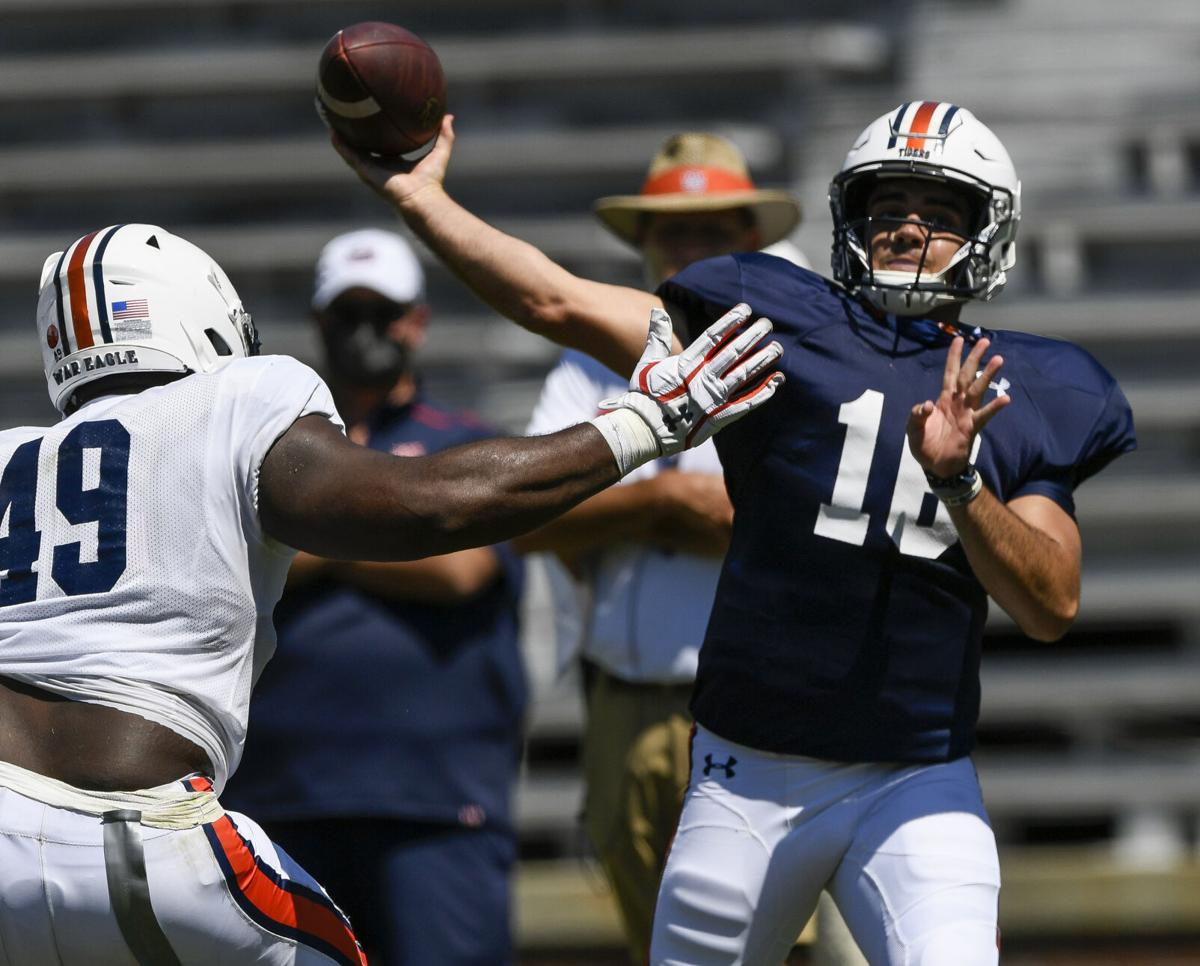 Big plays highlighted Auburn's second scrimmage of the fall Saturday in Jordan-Hare Stadium. Speedster Shaun Shivers broke loose for an 80-yard touchdown reception, and rising star at safety Jamien Sherwood pulled down an interception for one of the defense's three turnovers forced.
But again, in an era of uncertainty, Auburn's greatest on-field accomplishment may have been just getting on that field at all — logging another practice while feeling safe and comfortable together.
While 16 players remained out this week in the program's COVID-19 protocol, Auburn underwent team-wide testing twice this week with no new positives, Auburn head coach Gus Malzahn reported Saturday shortly after the scrimmage.
The scrimmage marked Auburn's 10th practice this fall. Auburn practiced Tuesday, Wednesday, Friday and Saturday, getting back in a rhythm after those previous positives put a pause on workouts last week and a scrimmage last Saturday was ultimately canceled at the end of a tumultuous week.
Meanwhile, at Tennessee, head coach Jeremy Pruitt reported Saturday that 44 of his players are out of practice now, through a combination of players testing positive and of contact tracing that marked players at-risk.
Auburn managed to prevent such a spread, and Malzahn was "very relieved" when those all-clear tests came back this week.
Auburn is now three weeks away from its scheduled season opener with Kentucky on Sept. 26.
"We had two tough weeks as far as positives go," Malzahn said. "The urgency is there the closer you get to the season.
"It was really great news," he added. "I know our players were excited about it."
All-clear rounds were the norm for Auburn in the summer, when the Tigers managed to maintain a solid bubble with campus emptied and the team back for voluntary workouts. Positives popped up after Auburn's student body came back to town for the start of classes on Aug. 17.
Auburn football had nine players test positive through the week starting Aug. 24, with the others in the 16 out being made up of players flagged to be at risk through contact tracing.
Earlier in the summer, Auburn went through one spike of positives before the players came together in a team meeting to talk about making sacrifices socially to keep the virus out of the locker room. Now after another new rash, Auburn's players have seemingly made changes again as needed in the new environment with students in town.
"It's just kind of that adjusting," Malzahn said. "The first two weeks, we didn't adjust great with students being back. The third week, we did. So hopefully that will be in a routine, knowing how we need to handle the situation. Just be accountable to each other — that's been our message, and we're hopeful this week will be the same."
Malzahn said Auburn plans to scrimmage again next Saturday while also easing slowing into preparation for Kentucky.
He also said defensive tackle Coynis Miller is no longer with the team, while speedster receiver Malcolm Johnson, who reclassified from 2021 to 2020 to join Auburn early, will practice this week as will Auburn's new punter from Australia, Oscar Chapman.
Be the first to know
Get local news delivered to your inbox!