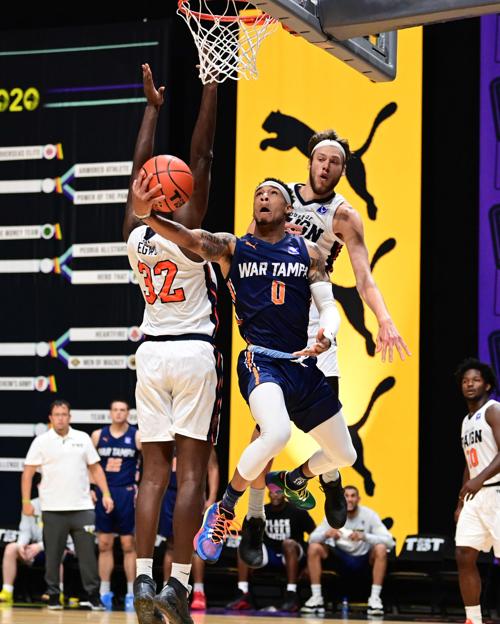 War Tampa's sweet escape has come to an end.
Tripping over a shaky start and running into a powerful presence on the other side, War Tampa lost 76-53 to House of 'Paign in the first round of The Basketball Tournament on Saturday night in Columbus, Ohio, ending the team's run at one game at the event unlike anything the sports world has seen.
House of 'Paign standout forward Mike Daum scored 21 points while War Tampa opened the game cold from the 3-point line in the unusual circumstances, and never truly recovered.
Auburn alum Desean Murray scored a team-best 13 points for War Tampa while old Tiger teammate Bryce Brown scored eight points, all early. Fellow alum Horace Spencer had six points and four rebounds.
"I appreciate y'all, and next time we're going to have to give y'all a better show," Murray said in a message to the fans in the team's postgame press conference streamed online. "I appreciate y'all tuning in, I appreciate the support, and we just apologize for not taking it further.
"But next we're going to have to do some things and we're going to have a different outcome."
House of 'Paign led 39-28 at the end of the first half, punctuated by a Daum dunk. Daum was a star player at South Dakota State and he now plays professionally overseas. War Tampa went just 1-of-13 from 3-point range in that first half, with sharpshooters Brown and Wofford grad Fletcher Magee struggling to find their footing.
Their struggles followed a common theme on Saturday's opening day of the tournament, which saw several teams play cold without much practice together and while playing in an unusual environment in quarantine with no fans in attendance in the empty playing gym.
"We know more now," Brown said, after what was his first TBT experience. "We learned from this. We know what exactly we've got to work on."
He pointed out how the quarters are shorter than what he became accustomed to in the G-League last year, leaving for less time for more back-and-forth. Spencer, also in his first experience at TBT, echoed that though.
"It's a very fast-paced game," Spencer said. "There's not much time, so whoever gets out on top faster and builds that lead quicker, that's going to be the cushion you need to really win the game. How we just lost — learning experience.
"I've seen it, first year here, and we're going to come back next year and learn from what we did."
The trio of Auburn alums named Austin Wiley, Samir Doughty and Malik Dunbar as players they'd like to see suit up for War Tampa in the future. They said they invited Jared Harper to play, but he signed with the New York Knicks.
Similarly, Spencer and Murray refused to let Brown commit to another season of TBT. They insisted he'll be off to bigger and better things in the NBA.
"He's going to be in the league by then," Murray said, as Brown chuckled. Spencer said: "We're going to have to get somebody else."
But in that, their focused turned to a future for War Tampa, and a future for alumni basketball in Auburn circles.
TBT's field is usually loaded with teams pieced together by old college teammates getting the gang back together. The idea never caught fire around the Plains until this year, when the flux of fan support for Brown, Spencer and Murray led War Tampa, previously known as Tampa 20/20, to change its name and embrace orange and blue.
And against a backdrop of crisis, suffering and uncertainty during the coronavirus pandemic, the players on War Tampa suited up in those colors and took their shot Saturday.
War Tampa players checked into the bubble at the TBT hotel last Monday, and have been unable to leave the building since as the tournament runs with strict testing and isolation measures in place. After Saturday, the players are free to check out and go back to their families again.
Where War Tampa goes in the future remains to be seen. For one night and one game, though, the team made that escape.
Be the first to know
Get local news delivered to your inbox!