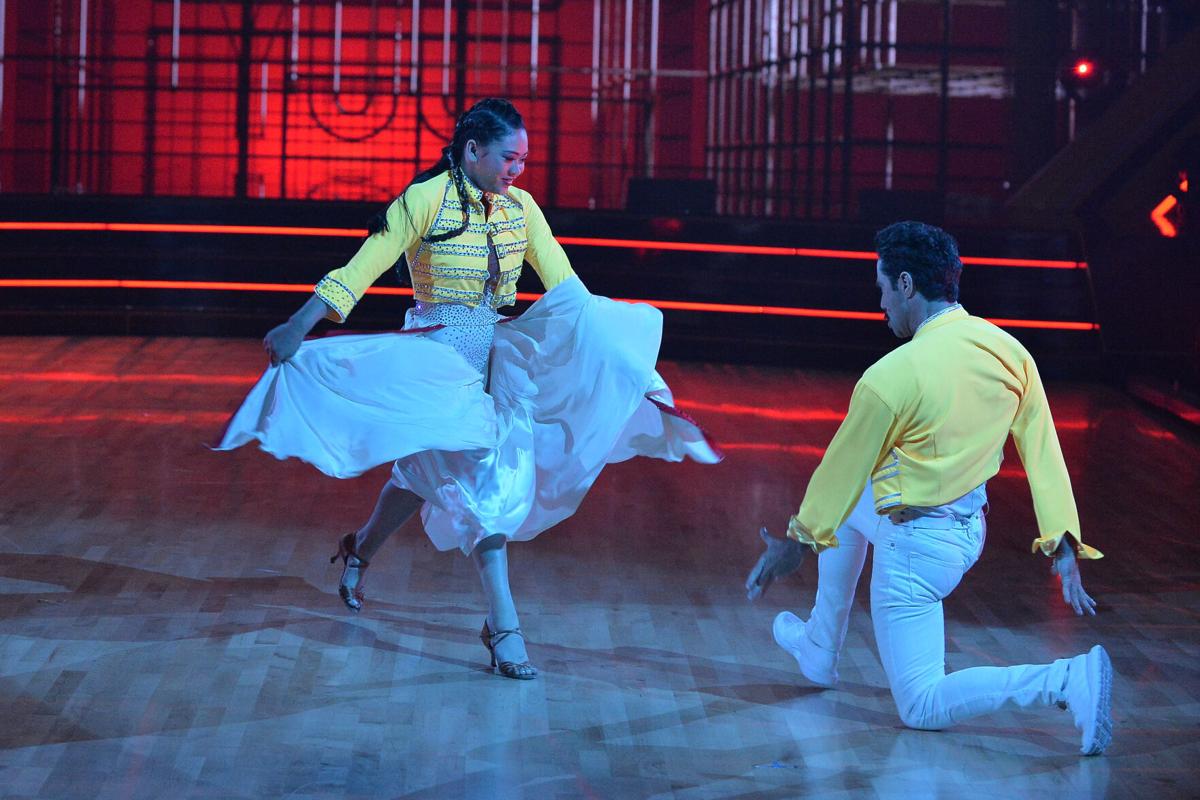 With her back against the wall, Suni Lee pushed through illness for a rocking performance Monday on Dancing With The Stars and advanced into the show's top eight.
Lee bounced back after being placed in the bottom two last week and advanced again after earning three 8's and a 9 from the show's judges.
Lee had been sick all week and hurried off the floor after gutting through her performance. Her professional teammate Sasha Farber said she had been throwing up after giving her all at rehearsals during the week.
The Auburn gymnastics freshman survived as WWE wrestler The Miz was eliminated. Lee is one of only eight celebrities left competing on the show.
Lee and Farber danced the Paso Doble to Queen's "We Will Rock You" — stomping and clapping their way across the floor with a powerful flair, donning the iconic yellow military jacket Freddie Mercury made famous.
Farber faced the judges alone after Lee rushed off the floor after expending her energy on the dance.
"Suni's such an incredible athlete, and this has been such a rough week," Farber said. "But she's in the studio, she's giving everything. Every run that we'd done, poor thing had run off to throw up."
The show's host Tyra Banks assured her illness was not COVID-19.
"You did so well, honey. In spite of not feeling well, you rocked the Paso Doble," judge Bruno Tonioli said to Lee, calling out to her off screen.
Lee even returned to dance in a "relay" later in the episode alongside talk show host Amanda Klootz and actress Melora Hardin and earned a bonus point.
"I knew that if I didn't come back out here, I'd be very disappointed with myself," Lee said after the bonus round.
Lee's performance was a clutch one. On the Oct. 25 episode, Lee faced elimination, placed in the bottom two with the judges forced to choose between her and Kenya Moore of "The Real Housewives of Atlanta."
The judges ultimately chose to save Lee and eliminate Moore, but the placement came as a wake-up call for Lee.
"Last week I was shocked when I was in the bottom two," Lee said on Monday's episode, during a pre-taped segment reviewing her week of practice.
"I've been in that situation before in gymnastics, where I have done everything that I could and it still wasn't good enough," Lee said to Farber. "I just doubt myself so much."
Farber told Lee to believe in herself — then the two brought in Lee's gymnastics club coach Jess Graba for a Zoom call.
Graba offered his own words of encouragement — and a hint of the tough coaching that Lee is more used to on the gymnastics floor.
"I really was surprised that you guys were in the bottom two, but let it go," Graba told Lee.
"Just like in gymnastics, going on floor to win the gold medal, I told you, 'This is just another day.' So treat this like a competition. And suck it up a little bit because there's only three weeks after this, so no more bare minimum. You don't need to conserve energy anymore."
Graba is the twin brother of Auburn gymnastics coach Jeff Graba.
"He always knows the best thing to say to me," Lee said.
The pep talk worked — and Lee survived and advanced with two clutch performances.