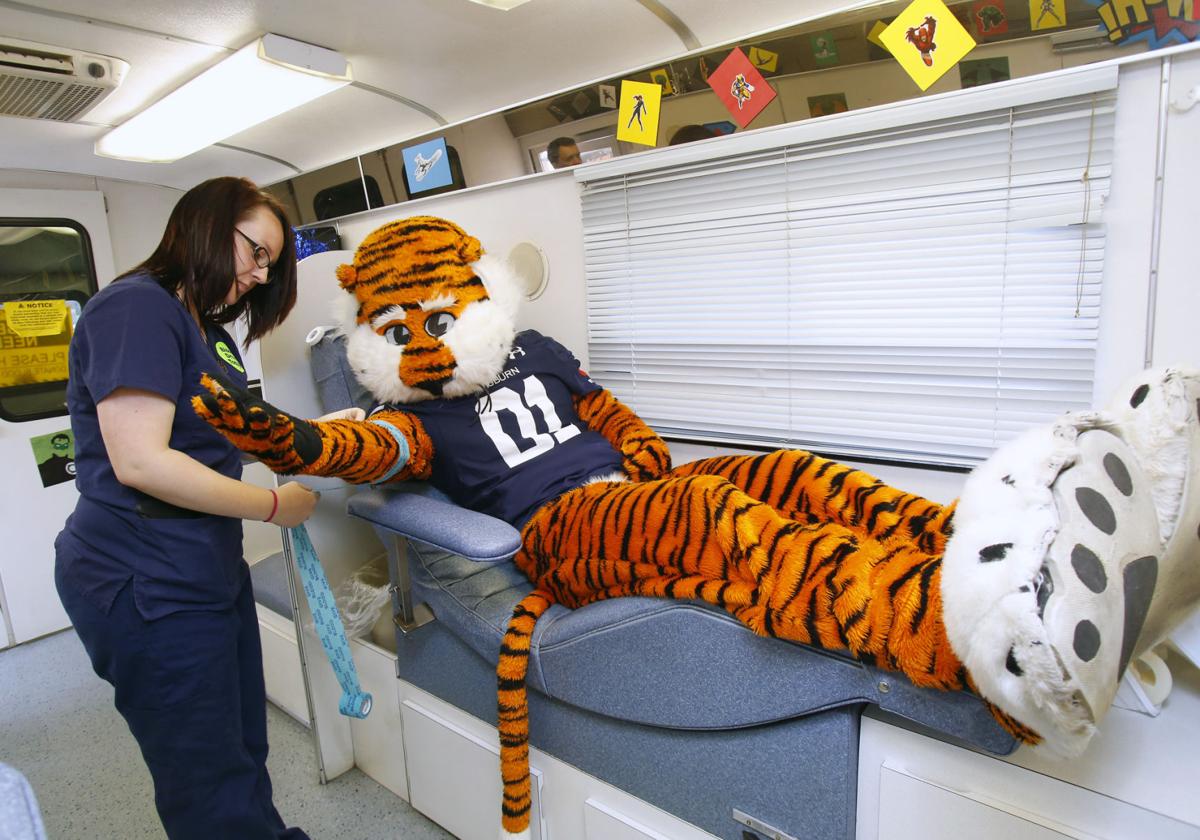 While the Iron Bowl is still over a week away, Auburn and Alabama fans can get the rivalry started early – and for a good cause.
Auburn and Alabama are in the middle of a blood drive competition with the American Red Cross, which is asking for more donations due to a critically low blood supply that is affecting hospitals and patients nationwide. Alabama's on-campus blood drive took place last week, while Auburn's began Tuesday and continues through Thursday.
The competition will be decided by which fanbase gets the most donation appointments booked during the drive. The winner gets bragging rights in the lead-up to one of college football's most highly-anticipated games.
The American Red Cross partnered with Auburn safety Smoke Monday along with Alabama safety Brian Branch in order to get the word out about the drive. The organization held a similar competition between rivals Oregon and Oregon State earlier this month.
"I like to use my influence in a positive way on and off the field. For us to just do it during the Iron Bowl, it's just one of the best times to do it," Monday said. "For us to bring awareness to this cause and not just focusing on football this week, it just says a lot about both of our teams' character and how much we really want to help make the world a better place."
As a senior at Auburn, Monday knows as well as anybody what the Iron Bowl rivalry means to fans on both sides.
Auburn is 1-2 against Alabama during Monday's career with the Tigers. He explained the difference between beating the Crimson Tide and coming up short against them is drastic.
"When we win it, it's pretty lit. Everybody's telling you how good you did and everybody's telling you 'Congratulations,'" Monday said. "When you lose it, I mean, it's the opposite, man. You don't get as much bragging rights as you do when you win. Everybody tells you, 'Good luck next year.'"
As fierce as the competition is between the two teams, Monday said it's a great thing to see the fans put their differences aside to help with a cause like donating blood. He added he and Branch are in a unique position to help the people around them and are willing to take the extra step to get things done.
While Monday wants Auburn to come out victorious this week in the blood drive and next week on the football field, he said the most important thing to him is spreading the word about the American Red Cross' current situation.
"I would tell [the fans] if you can't donate blood, just pass the word on. At the end of the day, we need just to get it out to as many people as possible," Monday said.
Those interested in donating blood can visit the Red Cross' website at www.redcross.org for more information.