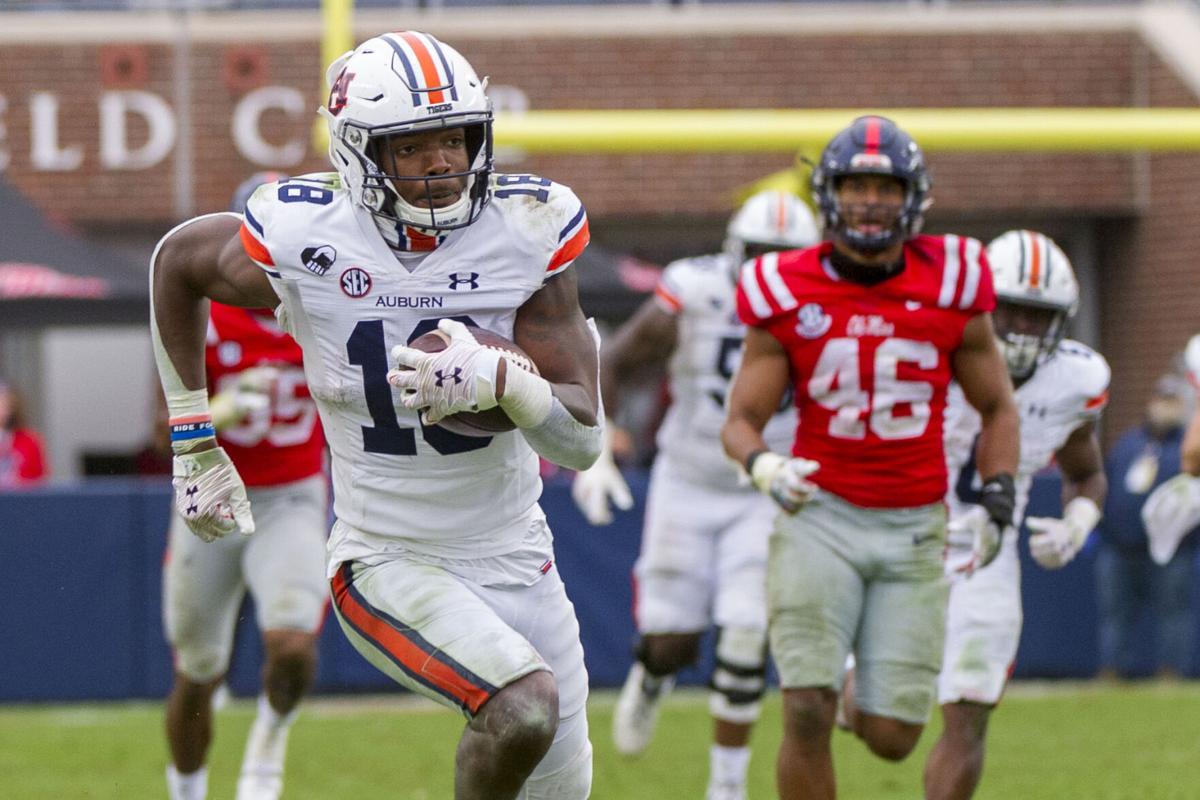 Auburn wide receiver Anthony Schwartz's announced departure Saturday could be just the start of a busy stretch for the Tigers.
Schwartz – who declared for the 2021 NFL Draft following his junior season with the Tigers – became the second player to leave Auburn and turn his attention to the NFL after linebacker K.J. Britt did so in December. The duo may have additional company coming, especially after the Tigers' season officially ended Friday in the Citrus Bowl against Northwestern.
Here's a look at four players to keep an eye on in the coming days and weeks as they weigh their options for 2021:
Seth Williams, wide receiver: Schwartz was Auburn's second-leading receiver in 2020 behind Williams, who had an excellent start to the fall and ended the year with 47 receptions for 760 yards and four touchdowns.
Williams was visibly frustrated at times this season – most notably during the Tigers' loss to South Carolina on Oct. 17 – and down the stretch he was held to just three receptions in each of Auburn's final three regular-season games.
Williams' return would be huge for Bryan Harsin as he builds his first Auburn offense, but the 6-foot-3, 211-pound junior may decide to take his chances at the next level.
Roger McCreary, cornerback: The Tigers desperately needed someone to step up in the secondary after losing several key players from 2019, and McCreary answered that call. The junior was often locked on the opponent's top receiver, and he ended the season with 45 tackles, seven tackles for loss, six pass break-ups and three interceptions.
"He's had an excellent year," then-Auburn head coach Gus Malzahn said in November. "He's played with a lot of confidence. He's usually covering their top guy. We've got a lot of confidence in Roger."
McCreary did not play in the bowl game against Northwestern – interim head coach Kevin Steele didn't explain the reason for McCreary's absence – but his potential return would be a major victory for what would be a much-more experienced Auburn defense in 2021.
Big Kat Bryant, defensive end: The sentiment for Bryant in the 2020 season boils down to what could have been.
Bryant was expected to be the go-to guy on the Auburn defensive line following Derrick Brown and Marlon Davidson's departures to the NFL, but injuries severely limited the senior's production. He fought through the pain and ultimately only missed one game and ended the year with 17 tackles, four quarterback hurries, three tackles for loss and three sacks.
Because the NCAA has granted an extra year of eligibility to college football players due to the pandemic, Bryant has the option of returning for one more year as a Tiger. He explained after Friday's Citrus Bowl that he's still weighing his options.
"I don't know. I mean, because I didn't play the whole season I'm kind of mad about that, so I'm going to weigh my options," Bryant said. "As of now, man, I really don't know. … We're going to see where we're sitting."
Jamien Sherwood, safety: Sherwood was expected to step up his game following the loss of safeties Jeremiah Dinson and Daniel Thomas, who were the Tigers' top two tacklers in 2019. He rose to the occasion by recording 75 tackles – the third-most on the team behind linebackers Zakoby McClain and Owen Pappoe – along with three tackles for loss, three pass break-ups, one quarterback hurry and one fumble recovery.
Sherwood had reportedly opted out of Friday's Citrus Bowl before having a change of heart and suiting up during a game in which he racked up 10 tackles, again third on the team behind Pappoe and McClain.
Sherwood and fellow safety Smoke Monday were crucial parts of a secondary that for the most part limited some of the SEC's top receivers, and each could conceivably test the waters of playing at the next level.