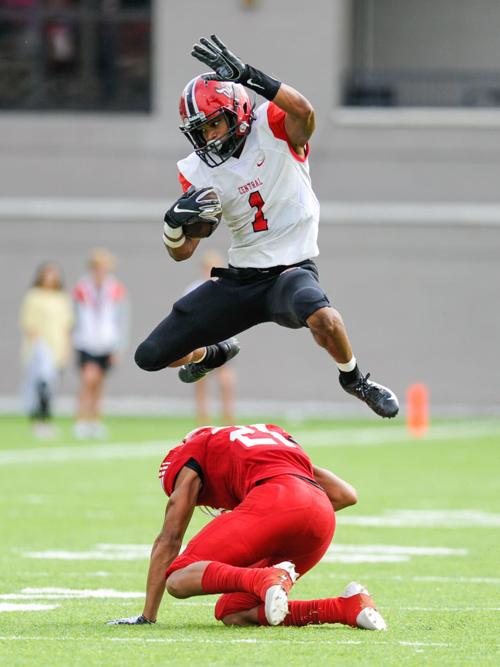 OFFENSE
Following another incredible season that ended with a trip to the state championship, the Central Red Devils are in the midst of unprecedented changes within the program. Even with so many new faces and features in place, what seems destined to stay the same is how dangerous their offense will be on the field.
While many of the big playmakers from 2019 have graduated, Central returns arguably its most impressive player in senior running back Joseph McKay. McKay set the ground on fire his junior season by rushing for 1,333 yards and 20 touchdowns despite leaving many blowouts early in order to rest up for the next week's game.
McKay is far from the only talented back on the roster, as fellow senior Zion Morris shined when he touched the ball in 2019 and promises to create a great one-two punch with McKay this fall.
"They're both very good players, very good guys and very good workers. They're very good leaders with good experience," said new head coach Patrick Nix. "They'll obviously be a big part of what we do not only on offense but with the team in general with their leadership and their work ethic that they provide. They'll both be a very big part of everything we do."
Central has used a two-quarterback system to great success the last two years, and it seems that may be the case again in 2020. Trey Miles returns for his senior season after impressing as the second-string quarterback last fall, and he'll likely be joined by junior Caleb Nix, Patrick's youngest son.
Central doesn't lack for talent at receiver or offensive line, either. Jackson Meeks and T.J. Woods return as the team's most experienced pass-catchers from 2019, and they'll look to continue the school's recent tradition of stellar receiving corps. Patrick Nix was told coming in that offensive line could be a concern but has quickly felt otherwise thanks to a group that includes junior Francisque Richazaire, who earned All-Area second team honors last fall.
DEFENSE
The Red Devils have had several excellent aspects of play during their recent dominance, but none were more important than their defensive prowess. That has always started up front on the line, and Nix doesn't expect that to change now that he's calling the shots.
Nix complimented this year's group of linemen, saying they were versatile, powerful and had good depth, which is crucial for the position group. Although Nix opted not to name players at any positions on the team, keep an eye out for seniors Jamorey Jones, Elon McKenzie and Jerome Bradley to lead the charge.
Nix doesn't expect this year's linebackers to be quite as deep as some of the other positions, but he's been impressed by their talent nonetheless. Jaylin Robinson returns as the most experienced defender on the team after a 47-tackle junior campaign, and he'll be called on to make big plays alongside Tony Atkins and a host of others. Nix said the team might also get creative with other players in order to make sure the team is deep enough at the position.
The secondary was a major area of concern following the team's coaching change thanks to the graduation of Mike Harris and Terrell Gordon among others, but Nix has liked what he's seen from the team's defensive backs. That includes proven players like seniors Nate Carpenter and TyQuaze Mayo, and the group as a whole has enough pieces to slow down even the most potent passing attacks they face this fall.
The Red Devils have been one of Class 7A premier programs for the last five years, and their trips to Auburn for the state title game in 2018 and 2019 have cemented their place as one of the top teams to beat. Even with all the change going on around Phenix City this offseason, expect the Red Devils to continue their dominance on defense and for the squad to be fighting for a spot in the Super 7 as the playoffs get underway.