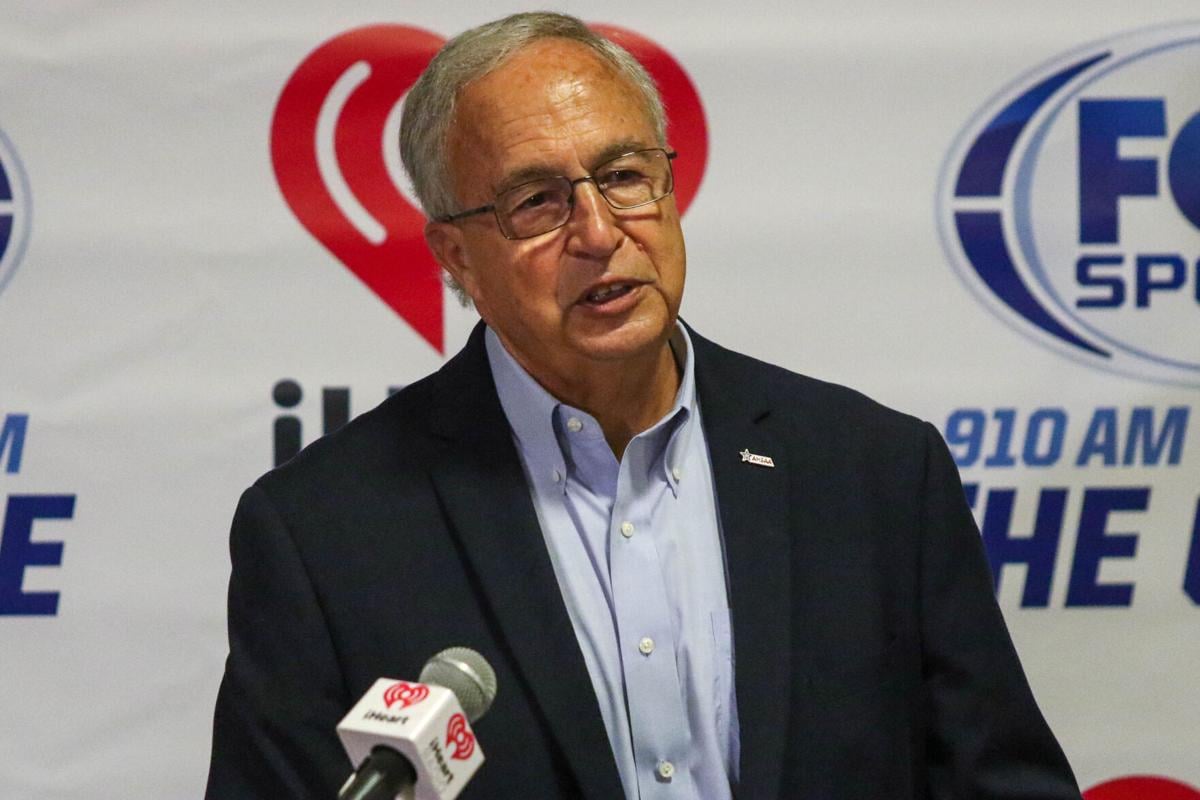 The AHSAA unveiled its return-to-play plans and best practices for high school fall sports during a virtual press conference in Montgomery on Thursday.
All AHSAA fall sports teams will be allowed to begin practicing on Monday, July 27 as part of an acclimation period in preparation for their respective seasons, with football teams only being allowed to practice in helmets and shorts for that week. Teams are allowed to wait until the previously-scheduled Aug. 3 start date if they so choose.
Additionally, student-athletes will be allowed to participate in their sport regardless if they are attending school traditionally, virtually or by a blend of both this fall.
As for the upcoming seasons, AHSAA executive director Steve Savarese said there are no plans to delay the season at this time. However, he repeatedly stressed that those plans as well as the return-to-play guidelines are fluid and could change depending on developments regarding the coronavirus pandemic in Alabama.
"Please note as I say often that this information is current, but if we receive new information from the Department of Public Health as well as any state executive orders, sports can change almost immediately," Savarese said. "Interscholastic activities as well as our best-practices document are fluid, and I reiterate could change with the addition of new health information. Our medical advisory board and our central board of control will continue to analyze new health information as released by the Department of Public Health, the state department of education as well as government officials.
"As we all realize, there's not a one-size-fits-all solution to this health conundrum, but I'm thankful for the board for providing the flexibility necessary for students to have some semblance of fall activities."
Football changes
With the 2020 season now less than a month away, the AHSAA released several rule modifications as well as explanations for situations that may arise this fall.
One of the major tweaks is in regards to the sidelines. Previously, teams were limited to having their players stand from one 25-yard line to the other 25, but in an effort to promote social distancing players can now be spread out from the 10-yard line to the opposite 10. The coaches' box, however, will remain from 25 to 25.
Savarese noted that people have voiced concerns about the sidelines this fall regarding cheerleaders. Although the AHSAA does not govern cheerleading nor band, Savarese encouraged all school systems to provide an opportunity for them to participate if in accordance with local school policy.
Timeouts will be extended from one minute to two minutes, and the time between game periods as well as time periods following an extra-point try, field-goal attempt or safety will also be extended to a maximum of two minutes. Additionally, only one captain from each team will be permitted to participate in the coin toss with the game's referee and umpire.
In the event that a team in any sport does not feel comfortable playing a game, that school's local superintendent must notify the AHSAA in writing. The game will be forfeited and could be rescheduled later in the season if possible; as Savarese explained, the AHSAA's central board of control will evaluate any forfeitures at the end of the season as to how it relates to the team's regular-season record.
"As I said, this is just not normal. We're all going to have to adjust through this procedure," Savarese said. "Schools will try to make as many accommodations for individuals as possible, but we're all going to have to be patient and understand that as we deal with this health issue, it just won't be normal."
Other sports
In addition to football, the AHSAA announced tweeks to cross country volleyball and swimming and diving.
Cross country courses need to be widened to at least six feet where feasible to make social distancing feasible, and meets are encouraged to have staggered, wave or interval starts to minimize crowding. For volleyball, the AHSAA has suspended protocol of changing benches, moved the pre-match conference to the center court to ensure social-distancing, and limited the number of people sitting at the official's table.
Swimming, meanwhile, will require athletes to arrive at the venue already in their competitive attire if social distancing is not available in the locker rooms. The AHSAA has also reduced the number of people allowed at the pre-meet conference and required all take-off judging to be done from the sides of the pool to allow for social distancing between judges.
AHSAA assistant director Denise Ainsworth explained the AHSAA consulted with the NCAA, the NFHS and the Alabama Department of Public Health and also looked at reports from the CDC and other high school athletic associations in preparation for Thursday's announcement.
"I'm sure that you would agree that none of us have all of the answers. No one does, but this is our answer," Ainsworth said. "We want to get our kids back to a normal life as safely as possible. We want to enjoy the benefits of athletics and an education."
Additional notes
Football attendance has been a major concern entering the season, but it's something the AHSAA will not be in charge of.
Savarese explained that fan attendance will be dictated by each school, although he emphasized that he expects the ADPH to provide documents regarding attendance "in the next few weeks." He also said schools must provide equal access for visiting fans, meaning that even if total attendance is limited that visiting fans must have an opportunity to attend.
Similarly, Ainsworth explained that transportation to athletic events — specifically, whether student-athletes will ride buses together or take their personal vehicles — will be up to the local school boards. If student-athletes ride the bus, the AHSAA encouraged everyone to wear a mask and for there to be assigned seating so if contact tracing was needed it would be more manageable.
Ainsworth stressed communication between schools, saying that principals, athletic directors, coaches and any other administrative figures need to communicate with opponents regarding situations such as limited locker room access or if their city has a mask mandate in place. The sooner such information is relayed between both parties, Ainsworth said, the better.
Savarese brushed off the idea of swapping fall sports with spring sports, noting that the spring sports' teams already lost one season and to change course and potentially have them lose another season would be "unconscionable." Additionally, Savarese noted that the medical advisory board advised against playing football in the spring, having summer workouts and then playing again in fall 2021.
Savarese praised everyone involved for their patience while the AHSAA built its plan. He highly encouraged everyone to follow the guidelines regarding the virus, adding that the safety of the students is and always will be the priority.
"No one is wrong regarding their opinion with COVID-19, and I want to assure you this association respects each and every one of your opinions. I want you also to respect ours and our central board of control's in providing an opportunity for our students," Savarese said. "Our students will not come through here again. If a parent is not sure whether they want their students to participate in sports, we truly understand, but please, please all of you practice the guidelines put forth by our medical advisors.
"Practice the guidelines put forth by our governor so our kids can have a future. If we'll all do what's asked of us, then we will have an opportunity to return to a sense of normalcy."
To view the AHSAA's comprehensive return-to-play guidelines, click here.
Get in the game with our Prep Sports Newsletter
Sent weekly directly to your inbox!