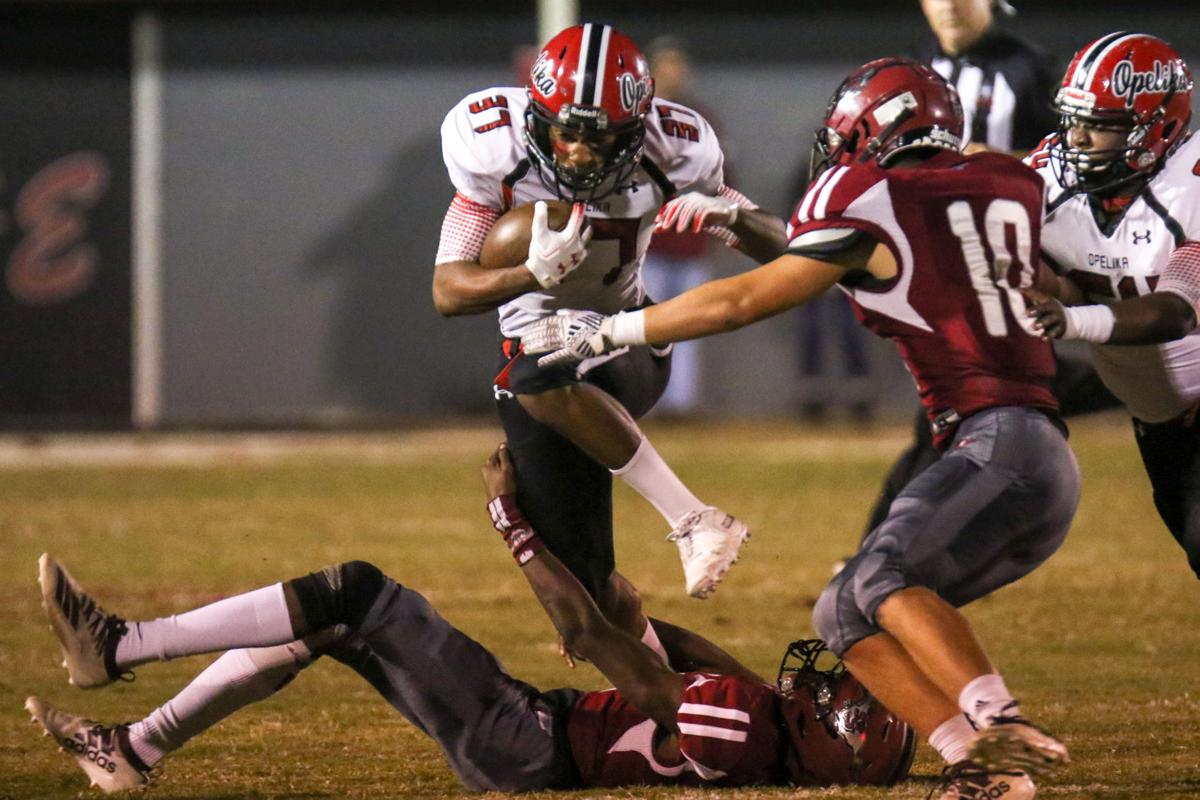 Despite the current COVID-19 virus situation, Alabama High School Executive Director Steve Savarese expressed confidence high school sports in the fall will begin competition as scheduled in late August.
"I am a 10 positive today that we will start on time," Savarese said when asked Thursday in a Dothan Eagle interview of his confidence level from 1-10 with 10 being the most positive about sports resuming on time.
Savarese was quick to point out COVID-19 data changes on a daily basis and could alter that confidence, but as of Thursday he was optimistic the season would start as planned.
Opening football games in the state, as well as first volleyball, cross country and swimming/diving contests, are set for Thursday, Aug. 20. Teams in all four sports can start preseason practice on Monday, July 27.
All activities were shut down in mid-March because of the coronavirus. Athletic teams were allowed to resume on-campus workouts, both in the athletic arena and in the weight room, on June 1.
In the six weeks since the June 1 start-up, several programs in the state have temporary shutdown workouts after a positive test from a student-athlete. Wetumpka was the latest to shut down on Thursday after two players tested positive for COVID-19. The program is expected to reopen next week. Tallassee and Tanner shut down last week, though part of that was to allow families more time with the July 4 holiday. All the other programs that shut down in the last six weeks have since resumed.
While some may view the temporary shutdowns as a negative, Savarese, however, was pleased to see how coaches and school administrators were keeping a close eye on potential issues and helping limit the spread of the virus.
"I am thankful for the great job our schools have done in providing the great guidance regarding COVID-19 issues," Savarese said. "They are doing a great job with physical distancing, with wearing masks and doing a great job of cleanliness. Those are the three main protocols that we provided in our best practices plan. I have been truly impressed.
"We will not get rid of the virus. What we are trying to do is mitigate the risk. I think they have done an awesome job of mitigating the risk."
This past week, the AHSAA met with its Fall Sports and Football Coaches' Committees through an online virtual meeting and heard updates from the AHSAA Medical Advisory Board Committee, the Alabama State Department of Education and Alabama State Superintendent Dr. Eric Mackey.
Based off information from the meetings, the AHSAA is busy preparing health protocols for fall sports. Those recommendations will be presented the AHSAA Central Board of Control for review and possible approval at a board meeting on July 22.
Savarese did not reveal any of the guidelines, though he said a lot of things would be different, including no high fives or handshakes. He added, "We (AHSAA) are modeling our guidelines after the Alabama Department of Education guidelines."
He also didn't reveal if fans would or would not be allowed to athletic events, stressing those decisions would likely be made by local governments.
"Right now, we have no restrictions (on fans), but local ordinances, city governments and the Department of Health in their communities will establish those guidelines for their schools," Savarese said.
Coaches in the state have worried about potential shutdowns during the season and if it would result in forfeits if their programs couldn't play at a certain time. Savarese said contingency plans are being developed along those lines, but didn't reveal them.
While in-season details are important, Savarese said he was more concerned about schools opening up for the school year in addition to starting the athletic season.
"The immediate concern to me is that we open up," Savarese said. "We will deal if those issues (potential forfeits) do occur. Our main concern is that we open up the schools and we are prepared."
The AHSAA executive director said he expects some student-athletes will likely test positive for the COVID-19 as time goes by, but the association wants to "mitigate those risks (from the COVID-19) as much as we can" to allow kids the opportunity to play.
"We will have some kids out, but hopefully it will be minimal," Savarese said. "We will do the best we can, but we have to let these kids play."
Savarese feels it was important for the student-athlete have the chance to resume an important time of their lives.
"I look forward to allowing our children to return to their childhood and return to their sport," Savarese said.
Cashless, touchless ticketing: The AHSAA is encouraging schools across the state to adopt a new cashless, touchless digital ticketing policy for 2020-21 athletic events through ticket partner, GoFan.
The new format will limit person-to-person interaction, provide financial transparency, enhance safety and security and minimize (or eliminate) cash.
Several colleges, including Alabama, Auburn and Florida State, are already using a digital format for tickets this season.
Free Pixellot Production availability: The AHSAA announced this week that a new program that will enable its member schools to livestream its athletic events, through two free Pixellot automated production units for use in their primary sports venues.
The program is being offered by the NFHS Network, the leader in streaming live and on-demand high school sports, and is created to assist schools facing revenue losses due to restricted attendance at games and other events in light of COVID-19.
The Pixellot solution will help high schools stream their athletic events and activities so that fans can follow the action even when unable to be there in person.
David is sports writer
for Dothan Eagle.
Get in the game with our Prep Sports Newsletter
Sent weekly directly to your inbox!