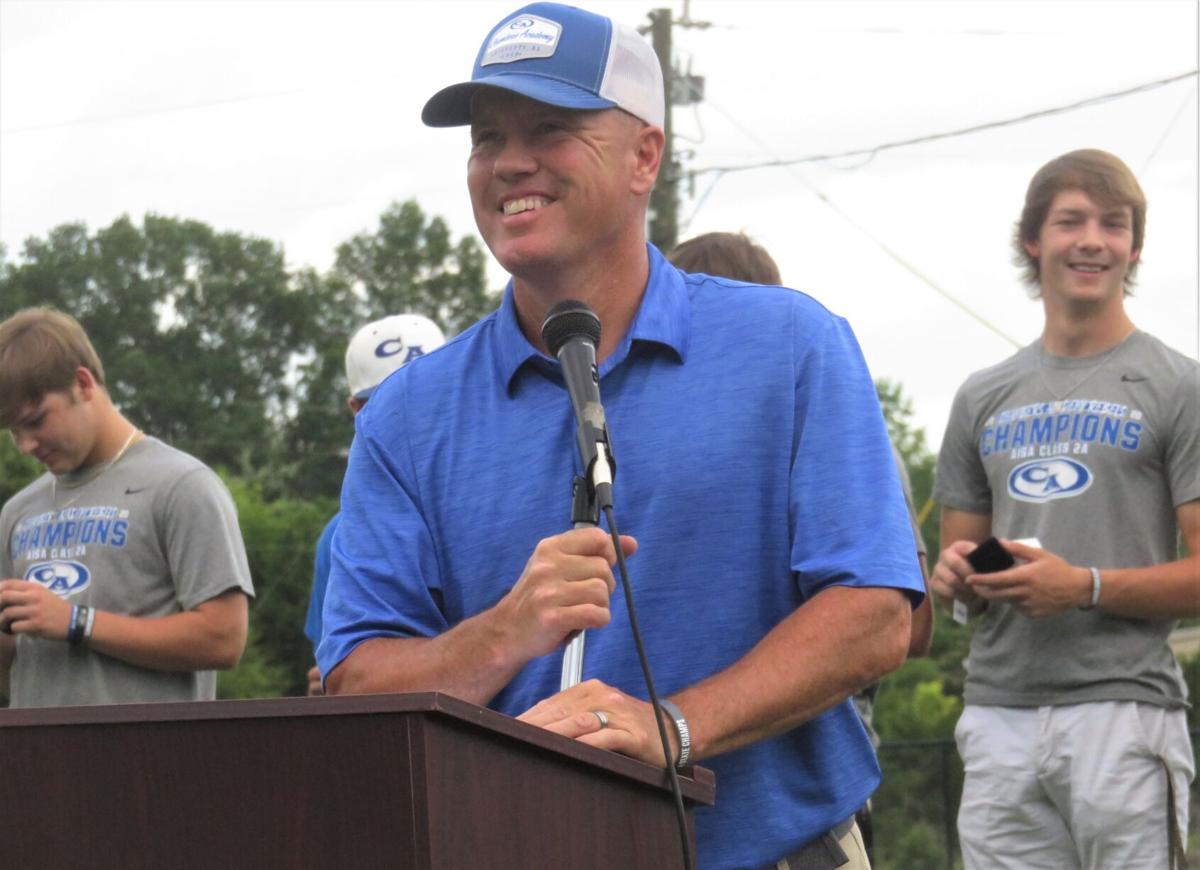 LaFAYETTE – What was supposed to be a special day on Wednesday for Chambers Academy football coach Jason Allen quickly proved to be one the veteran coach will never forget.
Allen and the majority of his 2020 Rebels football team were back Wednesday to receive their championship rings after capturing the Class AA state title last fall, but the Chambers administration had a surprise in store. The festivities ended with the revelation that the field they were standing on was now Torbert-Allen Field to celebrate the accomplishments of Allen, a 1992 Chambers graduate.
Chambers County District Court Judge Calvin Milford broke the news to Allen and the audience as part of a presentation in which Milford described Allen's various accomplishments and shared the story of Charles L. Torbert Jr., the field's original namesake who donated the land the school was built on.
"You young men who worked so hard to win the 2020 state championship will have another thing to tell your children and grandchildren about: you played in the last game ever played at Torbert Field," Milford said.
"The board has paved the way for you to have a new place to play football and be in a position to play for even more state championships. Ladies and gentlemen, let me be the first to welcome you to Torbert-Allen Field."
Allen's response to the news – and the unveiling of the new sign held up by several players – made it clear he had no idea this was in the works.
Allen gathered himself after several seconds before returning to the microphone to share how much he appreciated the gesture. He said he didn't feel deserving given the people who came before him as well as the other outstanding coaches, players, administrators and teachers the school has had.
Allen also made sure to thank the fans in attendance for their roles what the team has accomplished.
"I just thank you for making Rebel football what it is. We've done this together," Allen told the crowd. "You've showed up, we've worked hard, we've won some games and God's been good to us. I think it's important that we remember in the good times and the bad times who we need to give credit to. We all need to stay humble, keep working and be grateful."
Allen's success as the football coach at his alma mater has been second to none.
Allen has spent 16 seasons as the Rebels head coach split between two stints and has a 128-62 record during that time. Chambers has become an AISA powerhouse during his second tenure with the team, as the Rebels have played in six consecutive state championship games.
Chambers came up short in the first three of those title game appearances before breaking through with a 22-12 victory over Crenshaw Christian to capture the Class A title in 2018. The win sealed a perfect season for the Rebels, their first in the program's 47-year history.
After coming up short against Southern Academy for the title in 2019, the Rebels moved up to Class AA in 2020 and ultimately fended off Escambia Academy in a 36-34 championship game victory.
Allen's efforts with the 12-1 Rebels last fall earned him O-A News' Coach of the Year honors.
Allen explained after the presentation that accomplishing so much at a place he considers home makes those feats even sweeter.
"Yeah, it's just like the commercial: it just means more, doesn't it?" Allen said. "It just means more when you're at home. You work a little bit harder and a little bit longer. You just try to cross every t and dot every i. God's been really good to us. He's blessed us. A lot of people work hard and never win a state championship. We've been able to do it, and we just kept on trying.
"Our kids are resilient, our coaches are resilient. We've had some heartbreaking times down there at Troy, but it makes the wins that much sweeter."
Allen spoke highly of his 2020 team by explaining just how difficult last season was on the coaches and the players. He noted every week the team was on edge with the threat of a cancelation, whether it was because of themselves, their opponent or the AISA deciding to end the season early.
Instead, the Rebels were able to play their entire season. They hit a rare snag in their seventh game by taking a loss to Edgewood Academy, but they bounced back strong and put together a six-game winning streak to capture the program's second state title in three years.
Allen admitted he's still reliving that 2020 season even with the 2021 campaign starting in two months. While Wednesday was a chance to celebrate that team's success, it was also an opportunity to embrace what Allen has meant to the football program and the entire school.
Allen admitted he was still at a loss for words after the presentation, though he made sure to express how much leading the Rebels still means to him.
"It's just unbelievable that something like this could happen in my career and I'm still coaching, you know?" Allen said. "I'm so flattered. That's no small feat. I'm just thankful to the CA family for all they do to support our program and just thankful for the opportunity to coach the Rebels."