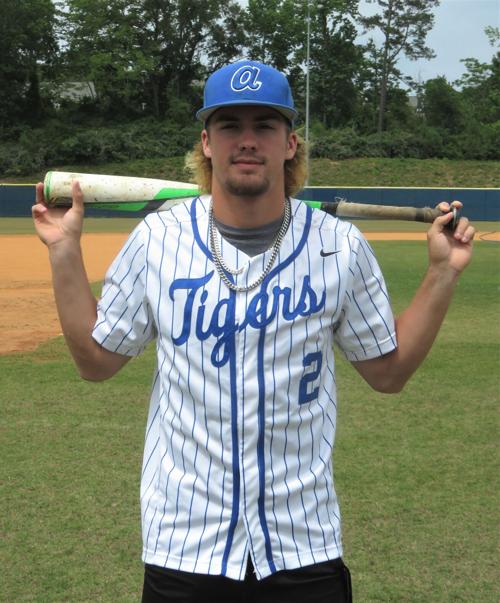 When Will Turner moved from Dothan to Auburn prior to his sophomore season, he did so with the hope of being part of something special on the baseball diamond.
This spring, Turner and the Tigers followed through on that lofty goal.
Turner was spectacular during his senior season for Auburn and ended the season hitting .391 with 50 hits, three home runs and 25 RBIs while also throwing 23.1 innings with a 5-0 record, 44 strikeouts and a 3.00 ERA. Turner turned it on in the postseason by hitting .469 with 15 hits and seven RBIs in 10 games to help the Tigers capture their fifth state championship in program history.
Thanks to Turner's excellence in the batter's box, in the outfield and on the mound, he has been named the Opelika-Auburn News' Baseball Player of the Year.
"This season was something pretty special," Turner said. "We knew coming in that we were going to have a chance to, of course, win the state championship. That was our goal from the start. I'm glad that we could all contribute and play our roles to get there."
Turner kept busy after the 2020 season ended early and focused his efforts on getting stronger and faster. He played throughout the summer to make sure his game remained sharp, and he also made a few adjustments at the plate that he thought could help take his game to the next level.
Once the season got going, Turner said he had a feeling Auburn had a chance to make a championship run. He pointed to the team's regular-season showdown with Carrollton (Ga.) as an important moment and explained that beating one of Georgia's top programs 11-1 gave him the confidence that the Tigers were for real.
Turner and his team piled up wins in the regular season and kept their strong play going after taking the area's second seed entering the postseason. He said one of his favorite moments game in the third game of Auburn's quarterfinals matchup against Daphne, when he came through with a play that might have saved the Tigers' season.
The Tigers entered Game 3 knowing their season would end with a loss, but Turner stepped up as the game's leadoff hitter and hit a home run to right field on the game's third pitch. Auburn shortstop Webb Veronese stood in after Turner and promptly hit another solo shot to set the tone in the Tigers' 8-0 victory.
"That was pretty special," Turner said. "It was going to be our last home game, and we wanted to make it special — me especially. I had to start the game off right. Of course, I wasn't expecting to hit a homer, but it happened and it was special. Next thing you know, Webb comes up and hits one himself. It was pretty awesome."
Turner and the Tigers took care of Central-Phenix City in the semifinals to move on to the championship series against Hoover.
Turner got Auburn rolling in Game 1 by delivering a bases-clearing double to left field to set the stage for a 9-2 victory. He went hitless in the Tigers' 8-2 loss in Game 2 but came on strong with a title on the line by going 3-for-3 with one run scored in Auburn's dramatic 7-6 victory over the Buccaneers.
Turner's championship series ended with five hits in 11 at-bats with two runs scored, four runs driven in, two walks, three stolen bases and a .455 batting average.
"It was the only way out for me and the only way out for our seniors," Turner said. "With the team that we had, we knew what we were coming in with. We were like, 'There's no way that we don't win and that's what we're going to do.' We were expecting it, but it was still unbelievable — the fact that we were able to pull it through."
Turner will soon be headed to South Alabama to become a part of the Jaguars' program. He spoke highly of his relationship with head coach Mark Calvi and assistants coaches Nick Magnifico and coach Brad Phillips, and he said he expects for the team to compete for titles just like he did during his high school days.
Turner explained moving to Auburn brought plenty of unknowns into his life, but his new teammates quickly accepted him as one of their own. Those last few years proved worthwhile for Turner, who leaves Auburn with a legacy as well as a state championship ring.
"It's the best decision of my life: to move up here, be a part of this program, let [Matt] Cimo coach me and be a part of this environment. There's nothing better," Turner said. "I came up here with the purpose of winning a state championship and contributing, and I came up here and did that. It was really, really special."