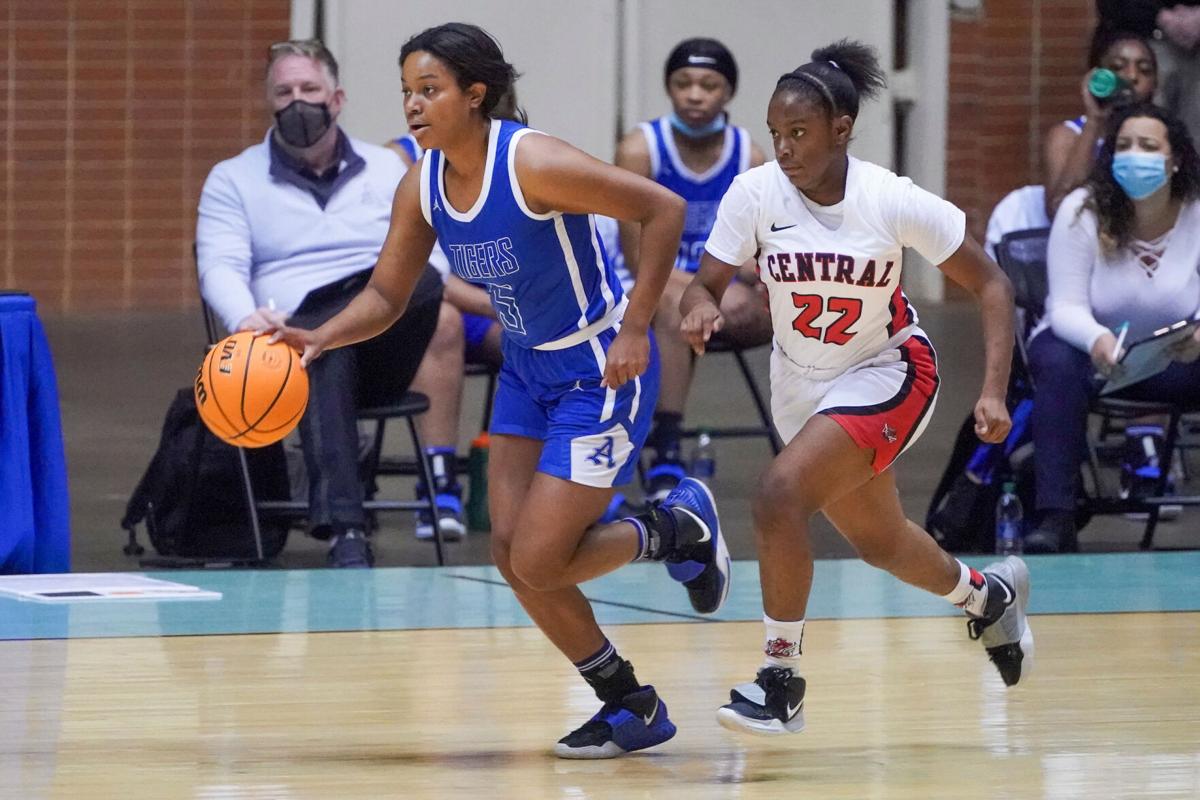 The Auburn High boys and girls basketball teams started this week with big plans for their upcoming trips to Birmingham. If they play their cards right, they could be bringing home some serious hardware by Wednesday night.
Auburn's varsity basketball teams are headed back to the state semifinals with the Lady Tigers taking on Hoover at 9 a.m. Tuesday and the Tigers facing Oak Mountain immediately afterwards in UAB's Bartow Arena. The Final Four games are a return to form for both programs, as the Lady Tigers reached the semis in 2019 while the Tigers are headed to Birmingham for the first time since 2017.
Victories on Tuesday would mean quick turnarounds for both Auburn teams, as the Class 7A girls title game is at 2 p.m. Wednesday and the boys' is at 4:30 p.m. That said, neither team is backing down from the challenge with only two wins separating them from the ever-coveted blue-map state championship trophies.
Lady Tigers look to finish
Auburn junior guard Olivia Porter has been on this stage before, but this time she has a talented freshman and several other key contributors set to help her out.
Porter was a guiding force for the Lady Tigers as a ninth grader on an Auburn team that reached the state semifinals only to just miss out on a title game appearance thanks to a 48-45 loss to Hewitt-Trussville. She's only gotten better since that time – she's averaged 19.9 points, 5.5 rebounds and 3.8 assists per game this season – while helping freshman Syriah Daniels settle in this winter.
Porter knew what it was like to be the young player fitting in with a varsity team, and her guidance has no doubt done wonders for Daniels' confidence. Daniels, whose father Marquis played collegiately at Auburn and spent over a decade in the NBA, has wasted little time proving herself as a formidable player and has also opened up more opportunities for Porter, who defenses can longer single out as the Lady Tigers' top scorer.
"Just for them, I think they really want to have success as a team," Auburn High head coach Courtney Pritchett said prior to the team's area tournament title game. "Through all their individual success, I think they're really focusing, and their goal is for us to have a really successful year as a team. I think they're locked in and focused on that."
Daniels has been a consistent contributor as well, and her 15.9 points and 7.8 rebounds per contest have been crucial in the Lady Tigers taking care of several talented foes, including rival Central-Phenix City in each of their four meetings.
Porter and Daniels have made plenty of plays but are by no means alone as far as important players for Auburn. Additionally, Kennady Fetner, Coral Halanych and Nevaeh Small have played vital roles in helping the Lady Tigers stand out among the classification's top teams.
The Lady Tigers will have their work cut out for them Tuesday morning when they face a Hoover team that is 30-1 this season and has played for the state championship in three of the past four seasons.
Still, Auburn's players understand they don't lack for talent; it's all about rising to the occasion when the big moment finally arrives.
"I believe we have a great chance of making a run," Daniels said prior to the area tournament title game. "We've just got to make sure we put our mind to it and we just stay together."
Tigers prepared to tangle
The Auburn High boys, meanwhile, have had no shortage of players stepping up this season. With the team now sitting two games away from a title, coach Chris Brandt is hoping it becomes the team's major advantage.
The Tigers have made the most of its impressive depth throughout the season, and it's resulted in another stellar year in which Auburn has a chance to win it all. Auburn's strength in numbers has been evident especially during the state tournament, when the team has been able to effectively cycle through different lineups in order to have enough energy to finish games out.
"We don't have that marquee player, the kid who goes out and scores 40 or a Garrison Brooks who's 6-8 or 6-9. We don't have the guy, but what we do have are very good players," Brandt said. "What we do is when we take five off, we put another five on and we don't lose a thing from that … I've kept 16 on this team, and all 16 have scored. They've all started, and almost all of them have been in double digits sometime throughout this season."
A quick run through the roster verifies Brandt's claim.
Miles Hunt, Jalen Weekfall, Eli Elston, Jayden Buckley, Noah Warren, Cornell Holt, Bryson Clague, Caden Brown and Javian Baker are just a portion of the Tigers' team that has stepped up and provided valuable minutes and plays, and Auburn's other players have done their parts to contribute as well. The value in Auburn's depth was evident in last week's double-overtime thriller against Fairhope, a game in which Auburn watched a 15-point lead slip away before the Tigers on the court buckled down and eventually outlasted the Pirates.
Thanks to so many players getting the opportunity to step up, most of the Tigers' individual stats aren't eye-popping. That, however, doesn't matter to Brandt and his players; it's the wins that catch their attentions.
"They're used to winning, and they're really a tight-knit bunch that played very well together," Brandt said. "At the beginning of this year we talked about our goals, and we all said that we could make the state finals and that we could win it. We're not satisfied with what we've done so far, but we're pleased with the outcomes."
Like the Lady Tigers, the Tigers are facing a team well accustomed to this stage in Oak Mountain, which lost last year's title game by two points and returns four starters from that squad. Brandt pointed to Oak Mountain's Will Shaver as a key to this game, saying the 6-foot-10, 245-pound junior can cause matchup issues and is someone the Tigers have to guard intently possession after possession.
The Tigers wouldn't have long to savor a win over Oak Mountain, but in Brandt's opinion that's an excellent outcome. He feels the timing of the semifinals and state title game could prove worthwhile for Auburn, which would use its depth to carry the team into the state title game showdown on Wednesday.
"To me, it gives us a chance to just regroup, but the beauty of it is we're right back on the floor," Brandt said. "I'm hoping that if somehow we can get by Oak Mountain that with just a day's rest and me having the depth that I have that it gives us the edge."