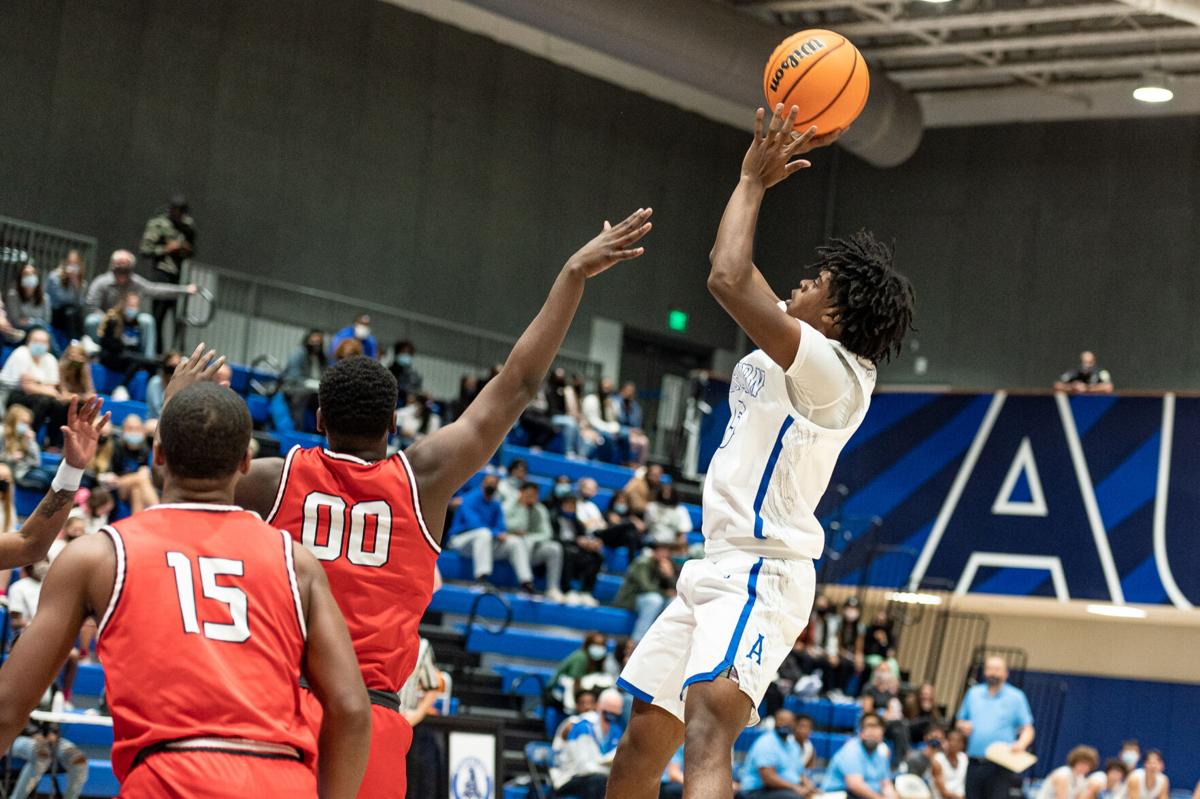 The Auburn High boys found themselves in a low-scoring matchup against Murphy early in opening round of the Class 7A state tournament on Friday. That all changed come the second quarter of play.
After clinging to a one-point lead after the first quarter, the Tigers took control with a 22-point outburst before halftime then held off a late second-half surge to finish off a 65-56 victory.
The win propels Auburn to the regional finals, where the Tigers will face Fairhope at 11 a.m. Wednesday in Montgomery's Garrett Coliseum.
Auburn wasted little time in changing the tone of the game after the first eight minutes were in the books.
Noah Warren stepped up early in the second quarter by quickly launching a 3-pointer, and on the next possession Eli Elston delivered a dunk to hand the Tigers a five-point lead with just over 90 seconds gone in the period. Jay Baker connected on a 3-pointer moments later, and after another Auburn bucket Baker added another 3-pointer to leave the Panthers in a 22-13 deficit with 3:28 to go until halftime.
Murphy momentarily stopped the Auburn dominance before the Tigers answered right back. Elston came through on a layup courtesy a Joey McGinty assist before Elston and Bryson Clague hit two free throws apiece to help the Tigers take a 30-15 lead at halftime.
The third quarter featured the same back-and-forth nature from both teams.
Cornell Holt hit consecutive baskets in the early minutes of the third before Murphy's Michael McKinnis willed the Panthers back into contention and helped the road team cut Auburn's lead to 11 with just over three minutes to go until the fourth.
Jayden Buckley and Jalen Weekfall ensured the Tigers maintained the lead courtesy Buckley's 3 and Weekfall's bucket, which helped Auburn take a 20-point lead into the fourth quarter.
Murphy put a late scare into the Tigers by whittling the deficit down to 10 with 3:09 to go in the game, but Auburn again made sure it stayed out front. Chandler Alexander countered with a layup before Miles Hunt grabbed a defensive rebound, cut past a Panthers defender then sliced through the rest of the Murphy defense en route to an easy layup.
From there, the Tigers could exhale and simply count down the remaining minutes.
The Tigers got production of several players on Friday and were led by Elston, who had nine points. Buckley contributed eight points, while three players – Hunt, Alexander and Baker – each had six.
Kendrick Johnson led Murphy with 22 points and four rebounds.