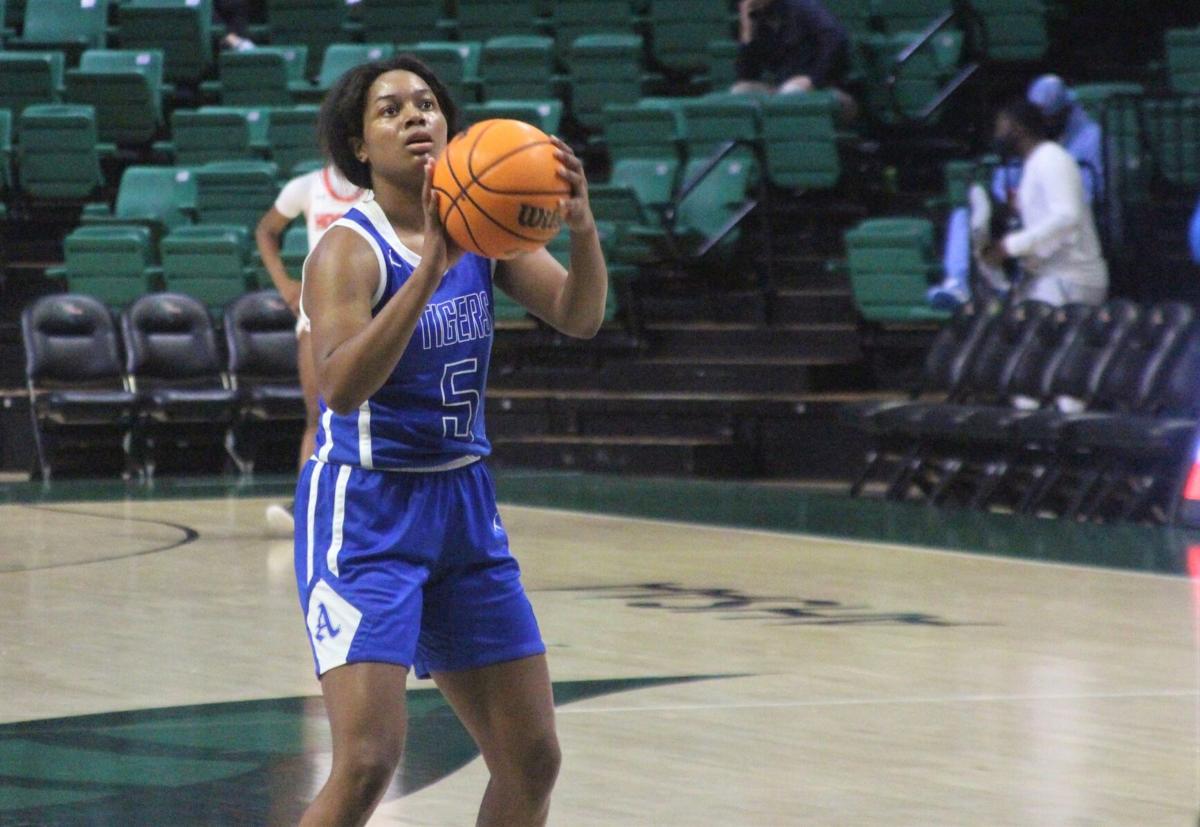 BIRMINGHAM — The Auburn High girls entered Tuesday's game against Hoover knowing they would have to bring their A-game to hang with one of the state's top teams.
Unfortunately for the Lady Tigers, they could only keep up with the Lady Buccaneers for so long.
Hoover pulled away from Auburn with a 17-point second quarter and never looked back to set up a 55-36 loss for the Lady Tigers in the Class 7A state semifinals. The game offered a disappointing ending for Auburn, which only trailed by four after one quarter before Hoover totally took things over.
"I just think trying to figure out a way to simulate that kind of athletic ability is hard," Auburn coach Courtney Pritchett said. "We don't have kids in practice that we can show [our players] that are as athletic as the kids at Hoover that can do the things that they did. I just think for us early in the game that was a shock to us, to get out there and to actually see it.
"But we learned. We're going to build and kind of put things together and make a run to come back."
Hoover's impressive athleticism was evident even in the game's opening minutes.
The Lady Buccaneers brought plenty of pressure on Auburn point guard Olivia Porter and her teammates, and in the early going it plagued the Lady Tigers. Auburn had four turnovers in the game's first three minutes, which set the stage for the Lady Buccaneers to jump out to a 13-5 lead.
Fortunately for the Lady Tigers, they settled in shortly thereafter.
Porter and Syriah Daniels got Auburn rolling with six quick points, and although Hoover's Reniya Kelly stopped the Auburn run with a 3-pointer Nevaeh Small and Porter came through with layups that drew Auburn within one point with the first quarter winding down.
Hoover took advantage of what little time remained, though, as Layla Etchison drilled a 3-pointer that beat the buzzer to leave the Lady Buccaneers with a four-point advantage.
Hoover's athleticism helped the team take the lead, but the Lady Buccaneers' physicality helped them pull away just before halftime.
Auburn had no answer for Hoover just before halftime, as five different Lady Buccaneers contributed to a 14-1 scoring run that saw Porter's free throw with 6:02 to go in the quarter stand as Auburn's lone point.
Porter fought her way to the basket several different times before the half was in the books, which led to six points in 32 seconds for the junior.
"We needed some help around it, but she had good fight and a good push right there at the end of the half. She hit a big shot and made a layup and got an and-one," Pritchett said. "We just needed to kind of build from that going into the second half, and I don't think we got a chance to do that."
Despite Porter's efforts, the Lady Tigers still found themselves down 14 entering the third quarter.
Porter's second-quarter play had Auburn hanging on for dear life, but the next eight minutes effectively sealed the Hoover victory. Auburn went 0-for-7 from the field in a third quarter that saw the Lady Buccaneers slow down the pace and work the clock toward another big win.
Hoover entered the final quarter with an 18-point advantage and eased its way into yet another state title game appearance.
Porter led Auburn with 13 points in the victory and also had two assists and two steals. Syriah Daniels only played 24 minutes due to foul trouble but still did her part by scoring 10 points and bringing down four rebounds
Kelly led the Lady Buccaneers with 17 points. Aniya Hubbard and Layla Etchison each contributed 12.
Tuesday's loss offered a tough ending for Pritchett and his players, but the head coach remained composed in the aftermath. He told his players to enjoy the fact they were able to have this season in the first place and to appreciate what each and every team member was able to bring to the table.
"Our kids care about each other. They love each other," Pritchett said. "Our future is not really certain with us and players moving forward, so we just wanted to enjoy this last trip. We wanted to keep playing for one more day, but just to be one of the last four teams left in the state of Alabama is still a great accomplishment for our program."