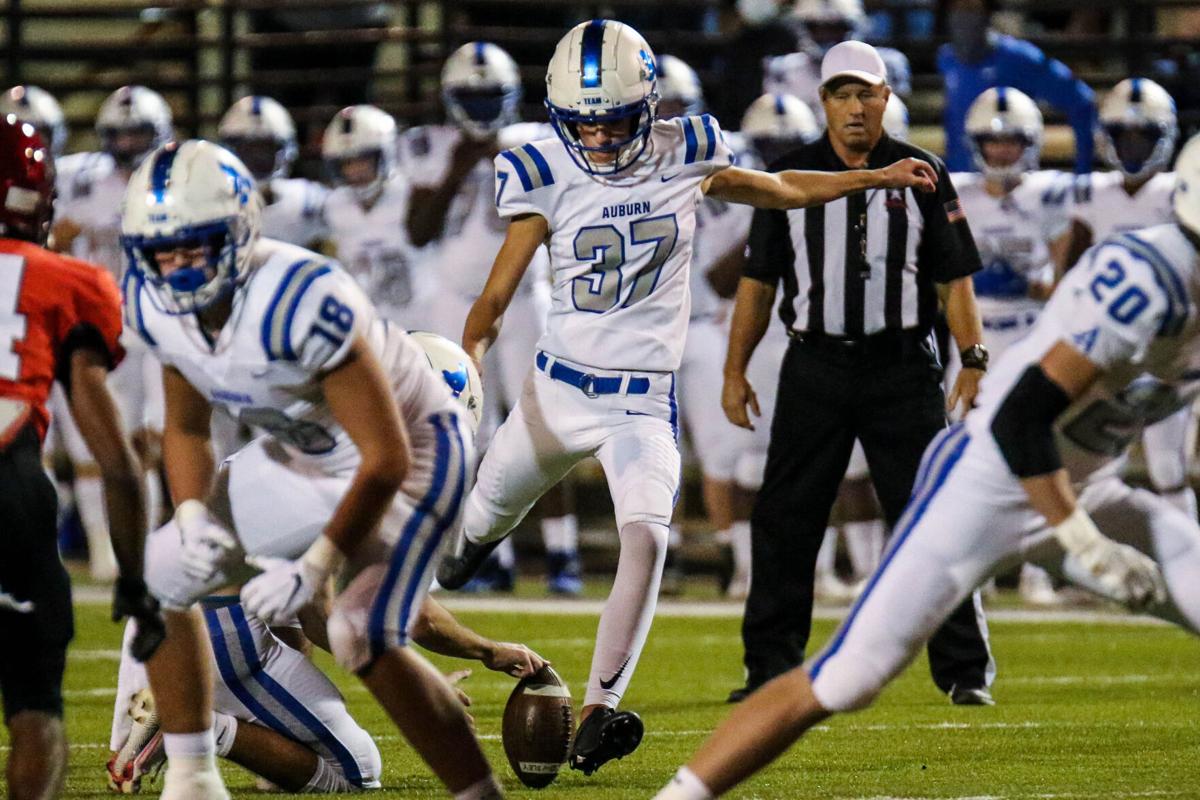 Auburn High kicker Josh Owsley was as consistent as they come during his junior season for the Tigers. Those efforts did not go unnoticed, and they led to a big moment for the rising senior last week.
Owsley received his first offer from Troy on Friday. It promises to be the first of several for the 6-foot-1, 160-pound Owsley, who is considered a 4.5-star kicking prospect per Kohl's Professional Camps.
"It felt great," Owsley said about receiving the offer. "It feels good to know that all of my hard work has paid off, and getting the offer makes me want to work even harder."
Owsley was among the state's top kickers in 2020 and was part of a special-teams tandem with punter Matthew Rhodes that was crucial in the Tigers' overall success. Owsley hit 44 of his 47 extra-point attempts and also connected on six of his 10 field-goal attempts, the longest being from 41 yards out.
Owsley also handled the kickoff duties for an Auburn team that won 12 games and played for the Class 7A state championship.
"I couldn't have asked for a better season," Owsley said. "That was a great team on and off the field, and I was blessed to be a part of it. Even though the season had a really unfortunate ending, it was a good ride with the best teammates, coaches and fans."
Owsley said he's put a great deal into his practice routine over the years as he works to be as consistent as possible. He explained the biggest piece of the puzzle has been staying in shape because of the toll kicking puts on the body, which has led him to constantly stretch and strengthen his muscles.
Owsley has showed off his leg when given the chance, as evidenced by a social media video from September in which he connected on a 61-yard field goal then launched a 69-yard kickoff during practice. He drew praise from Kohl's recently for his performance as part of the camp series' national showcase tour, which included scoring seven points with his field goals and drilling a kickoff of 67 yards with a 3.9-second hang time.
According to Owsley's scouting report on Kohl's website, "[Owsley] has excellent power and is a high level college combo prospect. … He has all the tools and talent to become excellent. Cleaning up rotation on his field goals should help increase his accuracy as well."
As far as deciding on a college, Owsley stressed the importance of athletics, academics and his social life. He said he wants to be surrounded by good coaches, teachers, friends and teammates, and he appreciates colleges that offer nice facilities.
Owsley was an important part of Auburn's success last fall, and his continued hard work has led to his first offer at the next level. As excited as he is about the chance to play college football, his focus remains on the start of the Tigers' 2021 season in August.