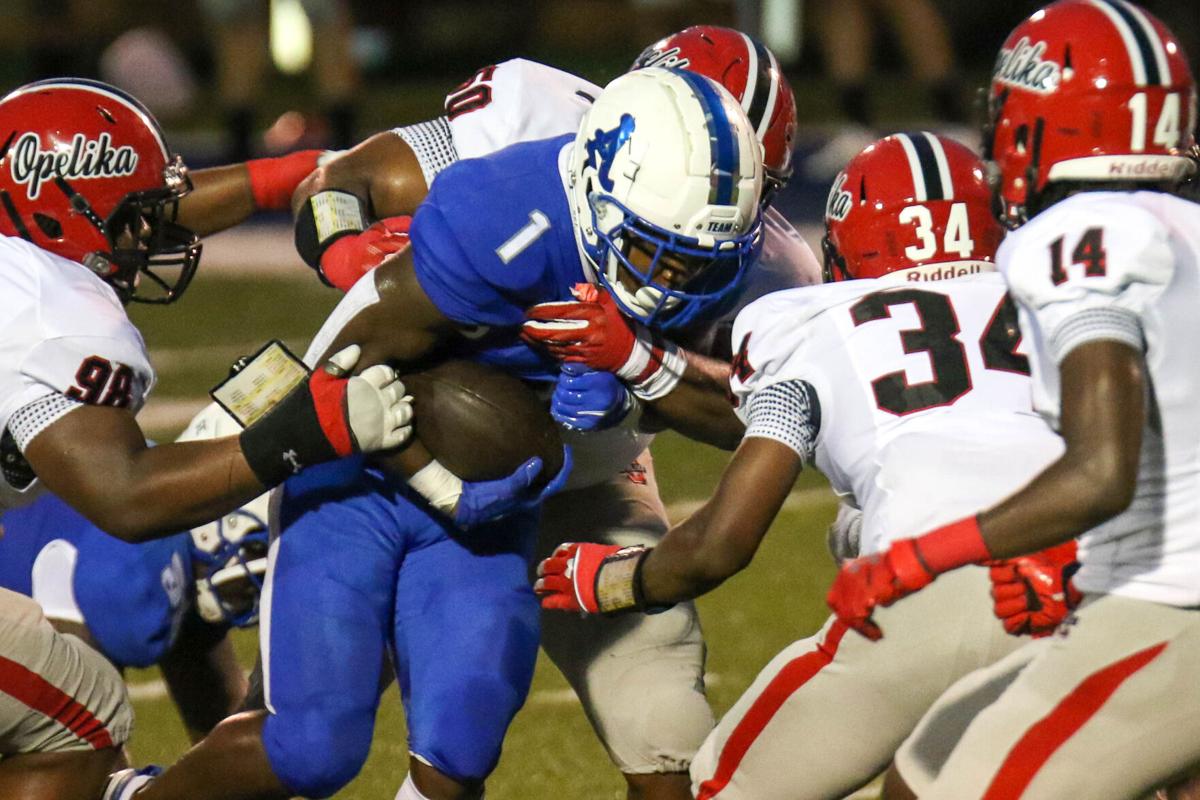 Local teams were for the most part in the thick of region action on Friday and Saturday. With the action now in the books, there is a bit of a shake-up in the Prep Power Poll.
Area teams went 8-7 this week, with Valley, Loachapoka and Notasulga off this week. Changes are limited this week, with Auburn High and Central-Phenix City now tied at No. 3, Opelika moving up one spot to No. 6, Notasulga to No. 7 and Reeltown dropping two spots to No. 8.
1. Glenwood (4-0)
The Gators kept on rolling Saturday night, as they handed new region foe Valiant Cross a 42-8 loss. AJ Harris once again stood out for Glenwood, as he ran a punt back for a score and also had a 45-yard rushing touchdown in the win. Glenwood will try to reach 5-0 on Thursday when the Gators host Springwood.
2. Lanett (3-1)
The Panthers took care of business once again Friday with a 30-4 victory over region foe Fayetteville. Quarterback Markavious Atkinson made plays per usual, throwing two touchdowns in the victory. Lanett hits the road to face longtime rival — and new region opponent — LaFayette on Friday.
T-3. Auburn High (4-0)
Auburn hit the road for the first time Friday but had little issue with the challenge in a 43-13 victory over Dothan. Running back/defensive back Amaury Hutchinson showed out in the win, rushing for 100 yards and three touchdowns while also notching seven tackles and an interception against the Wolves. Auburn hosts Jeff Davis on Friday.
T-3. Central-Phenix City (2-2)
The Red Devils didn't look out of sorts when they faced Jeff Davis on Saturday, as they dominated per usual in a 37-6 victory. Running back Zion Morris was one of the stars of the game, as he took the opening kickoff 79 yards for a score and wound up with 55 rushing yards and a rushing touchdown in the victory. Central hosts region foe Enterprise on Friday.
5. Chambers Academy (4-0)
The Rebels put together another impressive game Friday by beating Lowndes Academy 43-6. Chambers quarterback Payton Allen added to what's been an outstanding senior season, as he threw for 245 passing yards and three touchdowns along with 120 rushing yards and another score. Chambers hosts Valiant Cross on Friday.
6. Opelika (2-1)
The Bulldogs found themselves in a road battle Friday, but they found a way to win in an exciting 28-21 thriller against Eufaula. Trevon Moore was the hero of the night, as his fourth-quarter blocked punt led to an Opelika touchdown and his sack a few minutes later helped end the Tigers' hopes. Opelika hosts Carver-Montgomery on Friday.
7. Notasulga (2-0)
The Blue Devils had a bye this week due to Barbour County forfeiting its 2020 season and after Notasulga had an impressive shutout victory over Autuagaville. Notasulga quarterback Walter Tatum and his teammates will be back in action Friday when they play Billingsley at home.
8. Reeltown (2-2)
The Rebels had a rough go of it Friday, as their home game festivities were derailed by a 35-20 loss to Montgomery Catholic. While running backs Johnny Brown and Scooter Brooks impressed, the Knights proved to be too much for Reeltown to overcome. The Rebels will travel to Goshen on Friday for a region game.
9. Valley (3-1)
Valley picked up a forfeit victory on Friday when the Russell County Warriors canceled their region game due to coronavirus concerns. Running back Josh Heath and the Rams will be back in action Friday when they host Sidney Lanier in region play.
10. Loachapoka (2-1)
The Indians had a bye this week after a dramatic 24-16 victory over Billingsley in region play last week. Loachapoka quarterback Tyler Harris and his teammates face a big test on the road Friday when they take on Maplesville.
Get in the game with our Prep Sports Newsletter
Sent weekly directly to your inbox!