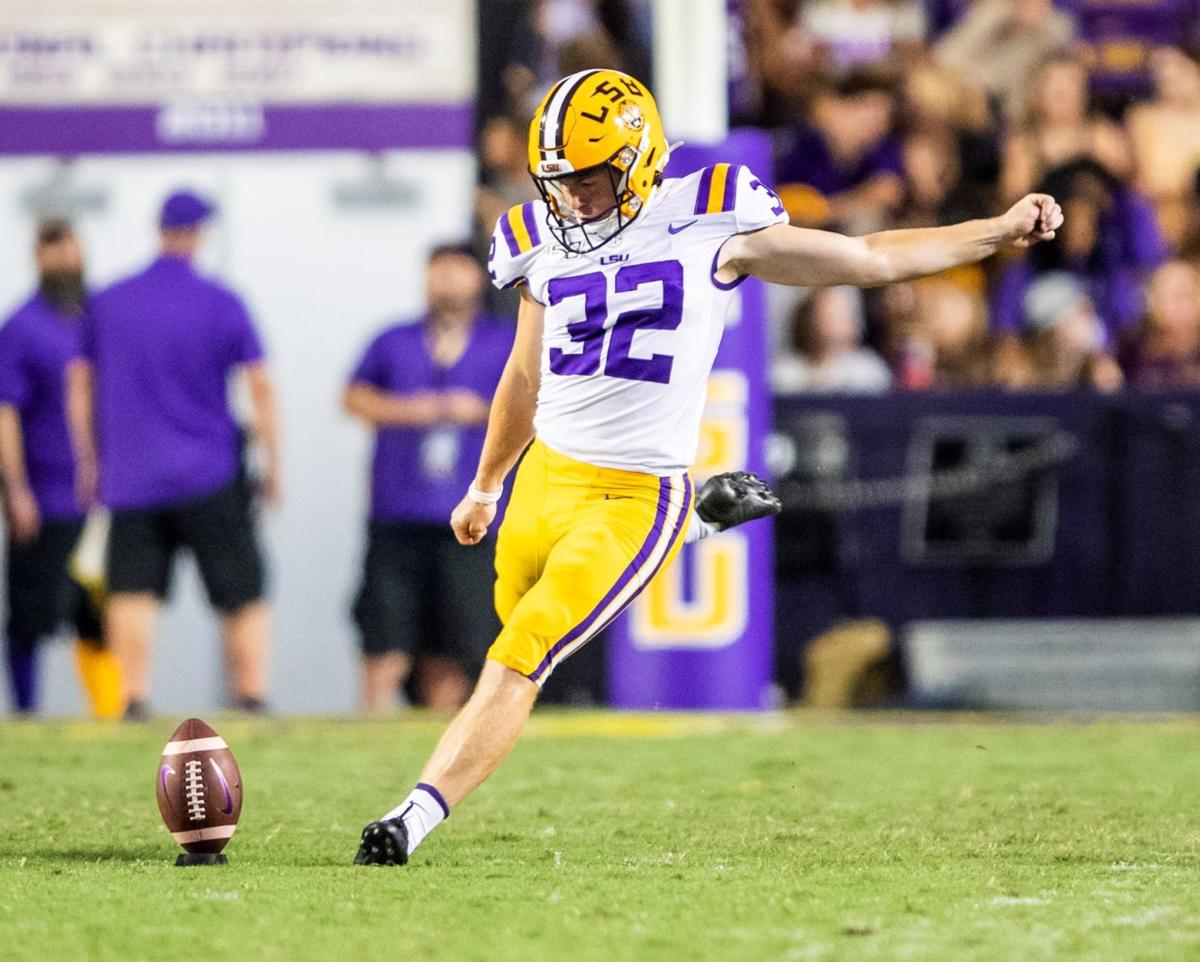 Editor's note: This is the final story in a series catching up with former high school football stars from the Opelika-Auburn area as they prepare for another season at the collegiate level. Today's story features Auburn High alum Avery Atkins.
Going into his sophomore season at LSU last fall, kickoff specialist Avery Atkins knew it would take a lot to top his impressive freshman year. Despite the tall order, Atkins and the Tigers came through with a season that no one will ever forget.
Atkins excelled with his kickoff duties for the second straight season, as the former Auburn High star produced 110 touchbacks on an FBS-leading 131 kickoffs — a near-84 percent touchback percentage. His skill on special teams came in a season that was nothing short of magical for LSU, which went 15-0 and captured the fourth national championship in program history.
"It was definitely an awesome experience. There are a lot of words that could describe it. Getting to be a part of a team like that, getting to go where we did, break the records we did was just really fun," Atkins said. "It was nerve-wracking at times because we knew we had a lot on the table, but overall it was so much fun. It was an amazing experience, and hopefully we'll get to experience it again real soon."
Atkins entered 2019 after an outstanding 2018 in which nearly 90 percent of his kickoffs in his freshman season were touchbacks. He quickly showed he was able to be just as productive as a sophomore, as through the first three games only three of his 30 kicks were not touchbacks.
Consistency has been a hallmark of Atkins' play at LSU, and that was no different last season. When it comes to each kick, Atkins said he always tips back in his stance and mentally tells himself to slow down. He keeps the mental part of his game in mind with each kick, and after taking a deep breath he begins his approach toward the ball.
As impressive as his play was through the first quarter of the regular season, it was his performance against Vanderbilt on Sep. 21 that truly stood out. Atkins went a perfect 11-for-11 on touchbacks as the Tigers rolled over the Commodores 66-38.
Atkins was even surprised by his performance, especially when it was time for that 11th kick.
"It was just one of those fun games. We knew going into the game that we had a really high probability of winning. My goal that game really was just hit consistently, hit a solid ball and see what happens," Atkins said. "I think it was my 11th kickoff. My leg was pretty drained. I turned around to my kickoff team and was like,' Look, guys, this probably is not going to be a touchback, so I need y'all to cover.' I had the wind in my face, and I literally hit it as hard as I could.
"It landed about two yards deep in the end zone, and they didn't take it out. It was a fun time and a fun game."
Atkins got plenty of action on kickoffs as the LSU offense proved itself to be the best in the country, and while Atkins' leg kept being pushed to the limit the Tigers kept winning. Atkins pointed to LSU's win over Auburn and the dramatic victory over Alabama as his favorite moments of the regular season, one in which LSU went undefeated for the first time since 2011.
By the time Atkins and the Tigers were prepping for Oklahoma in the College Football Playoff semifinals, Atkins said he and his teammates felt sure they would be moving on to the championship game.
LSU handled the Sooners with relative ease in a 63-28 victory, and Atkins did his part with nine touchbacks on 10 attempts. The lone misfire, however, provided an additional highlight for Atkins.
With LSU clinging to a seven-point lead late in the first quarter, Atkins sent a low-line drive kickoff toward Oklahoma returner Charleston Rambo, who quickly scooped the ball up and made a bee-line to his left at top speed. As he cut past would-be tacklers and got closer and closer to midfield, Atkins showed off the tackling skills he built from his Auburn High days and brought Rambo down on the sideline.
"It wasn't a great hit on my part. The player next to me kind of went inside when he was supposed to stay outside. (The returner) just bounced out. I was kind of like, 'Well, I did this a couple times in high school, so I feel like I'm confident in my ability,'" Atkins said. "It's always fun getting to make a tackle to let me relive my safety days from high school. Yeah, he just bounced out, and I was confident that I could tackle him. I just went for his legs and brought him down."
Atkins said the Tigers were confident throughout the playoffs, even when they fell behind Clemson 17-7 in the second quarter of the national championship game. Atkins said at that point the players on the sideline told themselves that a comeback was just something else new they could accomplish, and they went to work to make it happen.
LSU came through, outscoring Clemson 35-11 the rest of the way en route to the championship. Atkins came through with five touchbacks on seven kicks and another tackle.
As enjoyable as the moment was when the game finally ended, Atkins said the overwhelming emotion of the night was relief.
"I had a chance to stay at home and play at Auburn, but I took the risk of leaving to go to a school that at the time didn't really have any national championship expectations. It paid off," Atkins said. "I made a leap. I trusted the coaching staff down here. Once that final buzzer rang and we were national champions, it was kind of like, 'Wow, this is unbelievable. Everything I've worked for has paid off for this moment.'"
Atkins explained the time since that national title game has been enjoyable, but he added it has only gotten harder as the coaches have pushed them even more in the weight room. He said he and his teammates understand they have a target on their backs as the defending champions, and the work they do in the offseason will be crucial for their chances to repeat.
In addition to handling kickoff duties, Atkins is hoping to add more to his plate this fall. Atkins has been competing to take over as the Tigers' punter, a responsibility he doesn't take lightly.
"It would mean a lot. I think a lot of the guys on our team respect all of us specialists. They know that we have our jobs," Atkins said. "It might be a little bit different than what they do, but everything helps us win — whether it's a touchback, a 45-yard punt out of bounds where the returner can't touch it or if it's three points on a field goal. Whatever it is, I just want to help my team as much as possible."
Atkins returned to Auburn briefly during spring because of the coronavirus, and his time back home let him see several locals who are usually rooting on the hometown Tigers still managed to cheer for LSU's No. 32 during the fall.
He finally got back to Baton Rouge on June 1, and ever since he's been hard at work to make sure the Tigers are in contention once again.
"Coach O (LSU head coach Ed Orgeron) has gotten a lot tougher on us because he knows what we have coming back, and he knows we have another chance to reload and have another shot for the title. It's a lot of hard work, but we put in a lot of hard work last year and it paid off. We've seen it and we've done it, so we're going to try and do it again," Atkins said. "I think a lot of people are counting us out because we lost so much to the NFL, but it's our chance again to prove that we have something to put on the plate.
"We've got a goal in mind, and no one is going to stop us from trying to achieve it."
Get in the game with our Prep Sports Newsletter
Sent weekly directly to your inbox!