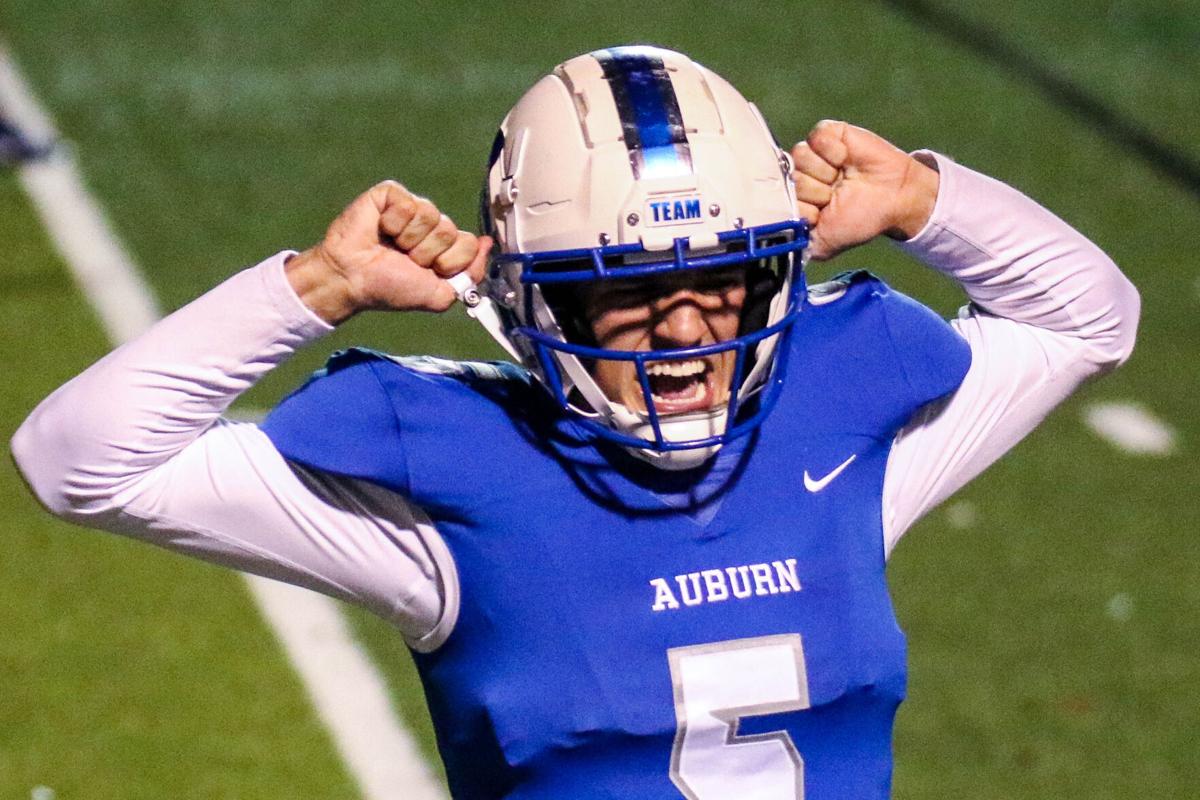 After Auburn High lost to Central-Phenix City 38-0 in the 2019 state semifinals, Tigers wide receiver Bryson Clague took off his helmet and thought about the future. Elsewhere, quarterback Matthew Caldwell — who could only watch the loss due to a season-ending injury — dealt with the sting of not getting to play and pondered what was next.
Clague and Caldwell were just two of the Tigers who left that loss in Phenix City hurting — both physically and mentally — while understanding they would be back in 2020. That group felt like this season could be different; soon enough, they proved it would be.
Caldwell, Clague and the rest of the Tigers left last year's losses behind them this fall by fighting through the regular season with a 9-1 record and their first region championship since 2013. The winning didn't stop come playoff time, either, as they rattled off three straight victories to punch their tickets to the Super 7 for a shot at the Class 7A state title.
Auburn (12-1, 5-1) has been relentless this fall on its path to Tuscaloosa, where the Tigers will take on one of Class 7A's giants in Thompson (13-0, 7-0) tonight. Even though the challenge is daunting, the Tigers haven't wavered when facing tall tasks this season and don't intend to tonight, either.
"I knew that our class — the 2021 class — was going to make it happen. I know we've got some good players that aren't in the 2021 class that have helped us along the way. I think it was our class that just made it known that we were going to get to the state championship no matter what," Caldwell said. "No matter the size, offers, stars, whatever it is, I think we've got the heart. I think we've got the biggest heart in the state. I think we can play with anybody.
"I think we definitely have the edge and we've got the heart going into this game wanting to win it. I think that helps, too."
Caldwell and Clague each pointed to the Central loss in last year's playoffs as a turning point in the team's pursuit of a state championship. For Clague, it was the understanding that so many skilled players on the 2019 team would be back with another year under their belts; for Caldwell, it was about everyone accepting that anything less than their best wouldn't be tolerated.
Caldwell started the offseason hard at work with his rehab after tearing his ACL and meniscus against Central back on Oct. 25, and by summertime he and his teammates were striving toward a much more enjoyable fall. Clague said he could see a difference as the Tigers went through workouts, as he felt the intensity had gone up as the team put in the prep work to make a run to the state championship.
That determination was also apparent to head coach Adam Winegarden. Winegarden knew he had a veteran group coming back for 2020, but it didn't take long to recognize how badly the team wanted to make this season stand out.
"I think they're very focused," Winegarden said. "I think the team's been really consistent all year as far as their mindset toward preparation. I think I've seen a very focused team."
Every season has its ups and downs, and for Clague if anyone had their doubts they all dissipated on Oct. 2.
Auburn traveled back to Phenix City to take on Central for what was very likely for the region championship, and despite the Tigers falling behind 21-3 in the first quarter no one panicked. Auburn slowly but surely turned the tide on the Red Devils and ended the night with a 29-28 victory thanks to a late JT Rogers' rushing touchdown and a timely fake punt that killed the clock.
There was a mutual understanding the Tigers might see the Red Devils again in the postseason, at which point the dramatic one-point win wouldn't mean very much. According to Caldwell, the team welcomed the challenge; in fact, they wanted to one-up themselves after barely squeaking by in the regular-season meeting.
"I think we didn't play our best football the first time we played them," Caldwell said. "I told my team, 'If we get another shot, we're going to execute.' And that's what we did."
Auburn's 35-17 victory in the state semifinals was a fitting achievement given 2020 was set up by a loss to Central in the 2019 postseason before Auburn's regular-season win over the Red Devils served as one of the team's major highlights. But the Tigers aren't resting their laurels on beating their rivals twice in a span of two months; now, they're intent on topping Thompson, the team that knocked Central off its championship pedestal last December.
The Tigers understand the challenge presented by Thompson, a team that is playing for the title for the third straight year, is riding a 17-game winning streak and has outscored its opponents by 381 points this season. Having said that, none of the Tigers are intimidated thanks to everything they've endured to reach this point.
Belief has been crucial for the Tigers from the time they left Phenix City on a quiet bus ride home last November to the point the team posed for pictures with their newly-won semifinals plaque two weeks ago. The players have banded together to pull within reach of a state championship, and they have little reason to believe they can't finish the mission.
"It would mean a lot. I think it would mean a lot to the town. I think it would mean a lot to our guys and a lot to our coaches. I think it would mean to our families," Caldwell said about possibly winning the championship. "I think everybody else would be surprised, but I think there'll be no surprise in our locker room. We've had faith all year. We've known what we could do and what kind of team we would be. I think our confidence is very, very good. I think we understand what we can do."