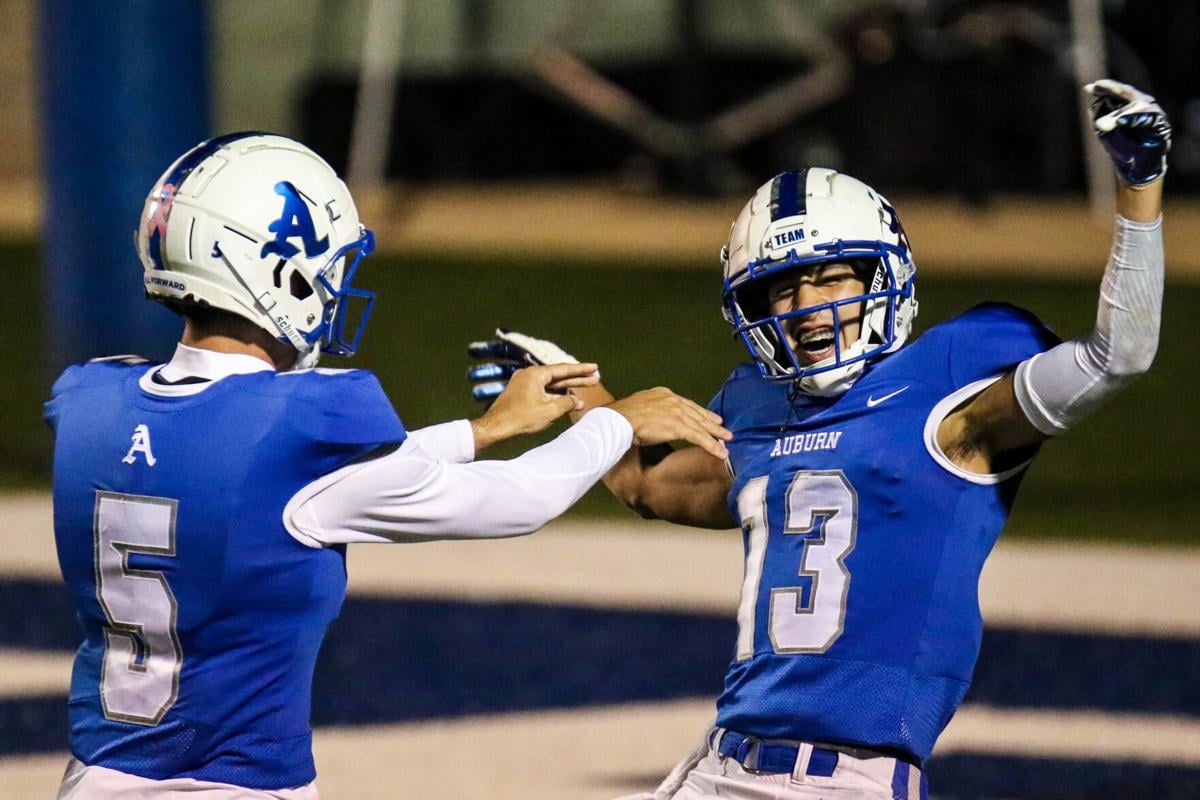 Two summers ago, quarterback Matthew Caldwell and receiver Bryson Clague were two of Auburn High's newest players eager to settle in with a team. Thanks to their work ever since, the Tigers are on the cusp of a truly unforgettable season.
Caldwell and Clague have proven to be an outstanding duo on offense for Auburn during a season in which the team has won 12 games, captured a region title for the first time in seven years and reached the Class 7A state title game. Caldwell has taken his game to the next level by completing 115 passes for 1,768 yards with a school-record 19 touchdowns and only nine interceptions, while Clague has been his go-to guy with a school-record 49 receptions for 738 yards and two touchdowns.
The two seniors will look to keep their success up Wednesday night, when they and their teammates battle Thompson for what could be Auburn's first-ever state championship.
"Bryson, he's got some of the best hands in the state. He's got some of the best hands I've ever seen. He doesn't drop it often, and when I say that I mean it," Caldwell said. "All night long and for all four quarters, he's ready to go and I'm ready to go. Anytime I need him I can give it to him, and he's going to come up with a catch somehow. Maybe if it's not for a gain or if it's for 20-plus yards, he's going to catch the ball wherever it is on the field."
Both players transferred to Auburn prior to their junior years, with Caldwell coming from Eufaula and Clague moving from Grafton, Wisconsin. Clague pointed to their familiar situations as pivotal in their connection, saying the two grew close because they were both navigating the challenges of making new friends, settling into a new environment and learning a new team and a new offense.
The two quickly earned the respect of their coaches and teammates in 2019 and played important roles for a Tigers team that won nine games and played in the state semifinals. At the close of that season, both knew the year to come could be a promising one if they and the rest of their teammates went to work.
Caldwell spent the early part of the offseason rehabbing a torn ACL and meniscus, but once he was on the mend he and Clague settled in. Even during the time Auburn was not working out as a team during the pandemic, the two along with receiver Cole Weiss would meet at the field and work on routes to perfect their timing.
Caldwell and Clague were eager to make the most of 2020, and a position change helped facilitate that. Clague had played outside receiver to start his Auburn career, but in June the coaches moved him inside to the slot position. Given the makeup of the Auburn offense, the slot receiver has generally received more targets, and Clague wasted little time in showing he could make the most of any ball thrown his way.
Auburn head coach Adam Winegarden and his staff recognized Clague's ability made him a perfect fit for the slot position. Before too long, Clague proved Winegarden and his assistants were right.
Caldwell and Clague pointed to Auburn's 37-10 victory over rival Opelika in Week 2 as a signal of what was to come, as Caldwell played well with 169 passing yards and two touchdowns while Clague made several well-timed catches — including a one-handed snag on a Caldwell throw that was just off the mark.
"It just almost felt like everything was opened. It almost felt like we were walking through," Clague said. "It was awesome because, you know, we were just kind of smiling at each other because we were just hitting on all cylinders, hitting every route. We blew them out. That was a great game. I'll remember that for a while."
The big win over the Bulldogs proved to only be the beginning of a big season for both, which the players ultimately capped off in dramatic fashion.
Auburn's 2019 season ended with a loss to Central-Phenix City in the semifinals, but Caldwell, Clague and the rest of the Tigers had no interest in a repeat performance.
The team's quarterback and leading wide receiver were just two of several Auburn players who saved their best for their final game at Duck Samford Stadium. Caldwell led the way with a 15-of-19 passing line for 160 yards with one touchdown and one interception. Clague was once again Caldwell's top target and ended the night with nine receptions for 115 yards.
The Tigers had already beaten Central once in 2020 by sneaking past the Red Devils 29-28 in October. In Caldwell's mind, that performance didn't really show what the Tigers were capable of against one of Class 7A's true powerhouse programs.
"I'm glad we got another shot. I think we didn't play our best football the first time we played them," Caldwell said. "I told my team, 'If we get another shot, we're going to execute.' And that's what we did."
Caldwell and Clague's play has helped Auburn reach the Super 7 and take on the Thompson Warriors, the defending state champs that will be making their third straight title game appearance.
Winegarden emphasized both players will have chances to make plays, adding the two just need to enjoy the experience, stay in the moment and play like they have all season. Caldwell said he felt Auburn matches up with Thompson's players, adding the Warriors may have more scholarship offers and recruiting ratings but the Tigers have the heart.
Caldwell also noted how important it was the Tigers have a player of Clague's ability but added there are guys like Clague all over the field for Auburn who can make the difference when it comes down to it.
Caldwell and Clague have been important pieces on an Auburn team that has wowed every Friday night this fall. They'll face their biggest challenge yet Wednesday when they take on a talented Thompson team, but they understand the lofty goals they and the Tigers have chased all season won't come easy.
"We're going to have to be clicking for sure to move the ball," Clague said. "I mean, Thompson's defense is going to be tough, but I think our offense can definitely take them. I feel like we can score a lot of points on them. Me and Matthew are going to be a big part of scoring a lot of points, so we've got to do it."