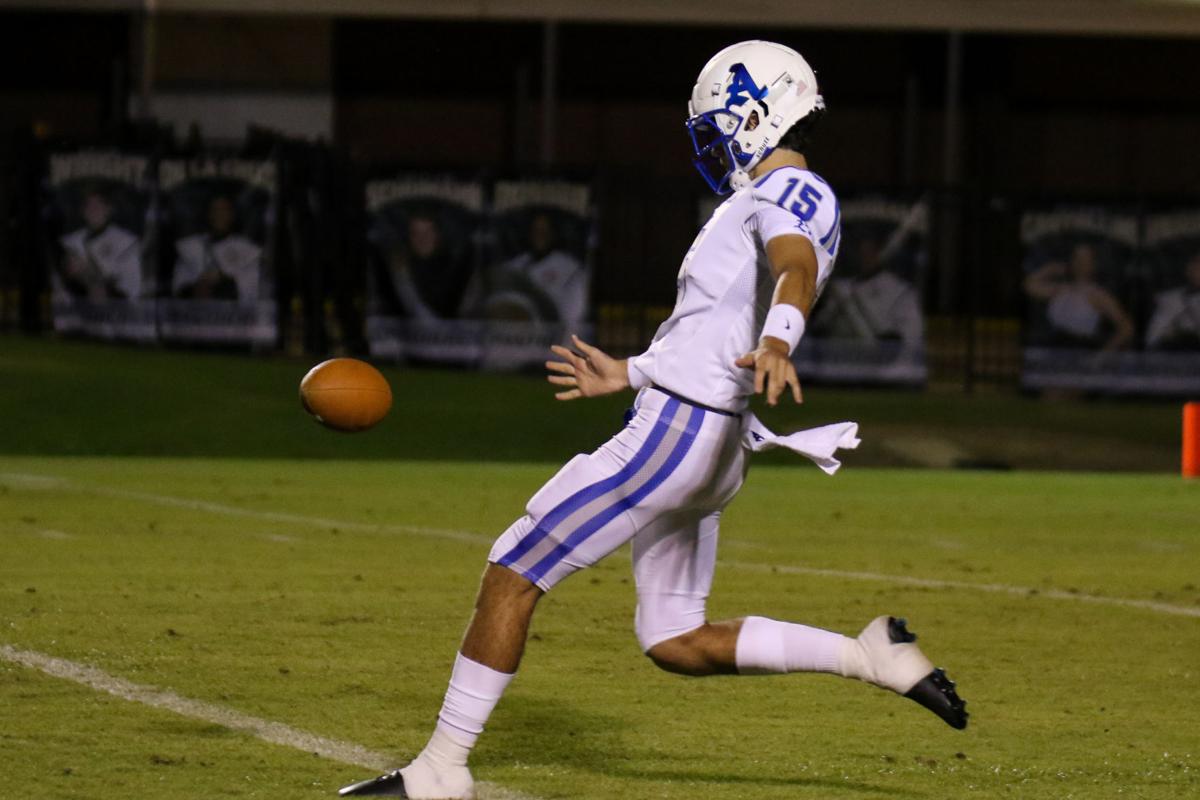 As Auburn High's punter, senior Matthew Rhodes had made a habit out of pinning opponents deep in their own territory. Rhodes' consistency has led to interested college coaches, and on Monday he decided would soon be West Point bound.
Rhodes announced his commitment to Army after the Black Knights originally offered him a scholarship on Aug. 9. The 6-foot-4, 190-pound Rhodes becomes Army's 27th commit in the Class of 2021.
"I know that West Point is a great place to be. With their academics along with how well they compete in football, I knew it was the place I wanted to be," Rhodes said. "(The feeling of committing was) excitement and relief. I was excited because I've known for a couple days that I was going to commit, and I was relieved to finally do it.
"Coach (Sean) Saturino, the special teams coordinator, put the phone on speaker, and I heard (head coach Jeff) Monken yell 'Congratulations!' along with a bunch of other stuff, so it felt great."
Rhodes' ability has led him to be ranked 48th among class of 2021 punters by Kohl's Kicking Camps. The camps also have him ranked as the second-best punter in Alabama among players in the upcoming senior class.
Rhodes said he has not gotten to visit West Point yet due to the pandemic, but he said he took part in a virtual tour and was impressed with the academy and the football facilities. He said he is most looking forward to becoming part of the Army football brotherhood and also exploring New York.
Rhodes has been a constant during his time as the Tigers' punter. He averaged 41 yards a punt for the Tigers in 2019 during a season in which Auburn's defense only gave up 15.3 points a game — which included two postseason shutouts — and the team reached the state semifinals for the first time since 2013.
Rhodes hasn't disappointed as a senior, either.
Rhodes has been an important factor for an Auburn team that has only surrendered 12.8 points per game this season, and two weeks ago against Prattville he drilled six punts for 239 yards — an average of 39.8 yards per punt. Even Rhodes' shorter punts came with a purpose, as his three shortest attempts pinned Prattville on its 8-yard line, its 13 and its 18.
"Matthew is a weapon for us," Auburn head coach Adam Winegarden said after the Prattville game. "He's as big as any player on our team. I think he's the best friend of our defense and offense."
For Rhodes, it's hard to find a more satisfying feeling than returning to the sidelines after another successful punt.
"The best thing about it is getting the recognition from the defensive coaches," Rhodes said. "The best feeling is coming off the field and having two or three defensive coaches there waiting to say, 'Good punt.'"
Rhodes used Monday as an opportunity to announce his college decision and to begin the process of becoming part of Black Knights football. While the thought of arriving at West Point is an exciting one, he knows he has plenty of work left to do as an Auburn Tiger.
"I'm super excited to see where we end up at the end of the year. We have an amazing football team with lots of great players. The sky's the limit for us this year," Rhodes said.
Get in the game with our Prep Sports Newsletter
Sent weekly directly to your inbox!