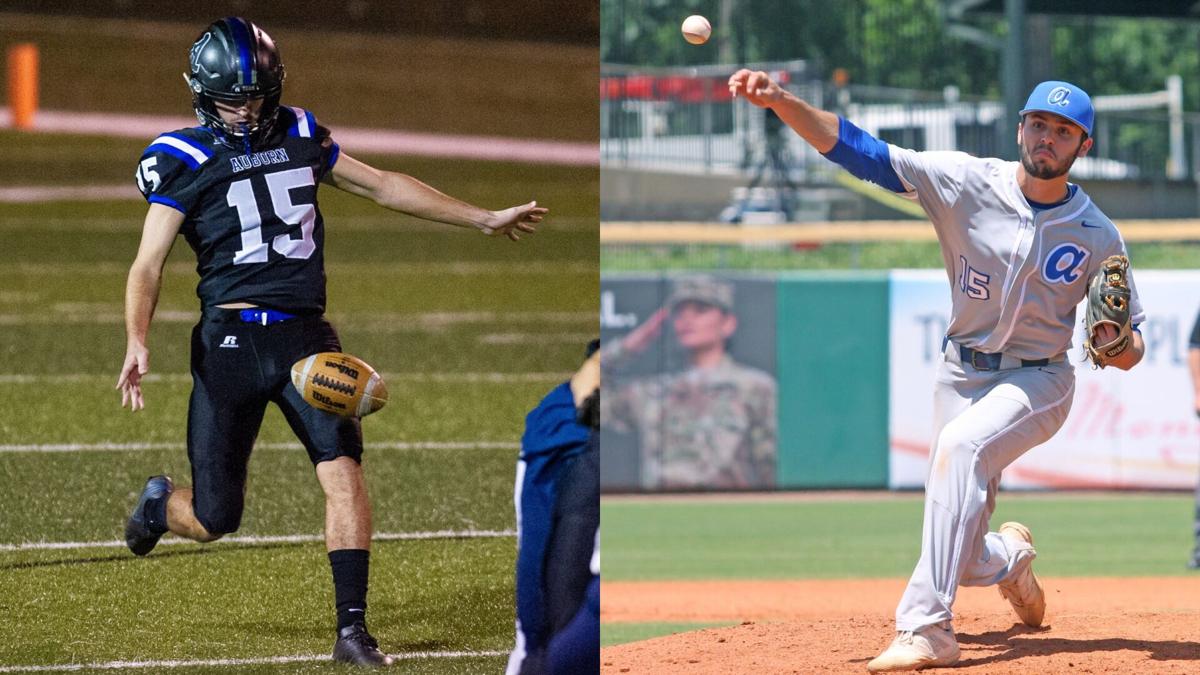 In December, Auburn High's Matthew Rhodes signed to play football at Army. Five months later, it turns out Rhodes will be a two-sport athlete once he arrives in West Point.
Rhodes announced Monday he will play baseball for the Black Knights in addition to punting for the academy's football team. The development comes after the 6-foot-4, 190-pound Rhodes was an All-State punter last fall then played a big role in the Tigers capturing the Class 7A state championship this spring.
Rhodes had voiced hopes of still playing baseball when he was being recruited by football teams last year, but those aspirations looked out of the question until Army baseball coach Jim Foster reached out a few weeks ago. The two discussed the balancing act Rhodes would face in playing both sports, and after further conversations with Foster as well as his Auburn coaches Rhodes decided the challenge was a feasible one.
"Well obviously West Point is one of the most premier universities in the nation. It's tough just to handle one sport along with the academics, but two sports is definitely going to be a big challenge," Rhodes said. "I actually talked to you after receiving my first offer from Navy. I said that my dream was to play both football and baseball at a school that is great academically but also is competitive. It's truly a dream come true, and there's nothing more I could ever ask for."
Rhodes' road ahead will be daunting, but he's passed big tests with flying colors before. That was especially obvious during his senior year, when he excelled on the gridiron and the diamond to help the Tigers compete for championships.
Rhodes was as consistent as they come at punter in 2020 and averaged 41 yards per punt for an Auburn team that finished as the state runner-up. He excelled as one of the Tigers' starting pitchers this spring, and entering the state quarterfinals he had thrown 39 innings with 17 hits allowed and eight earned runs surrendered, struck out 41 batters and posted one shutout and a 1.43 ERA.
Rhodes got the nod as Auburn's starting pitcher in its Game 3 showdown with Hoover for the state championship on May 20. He handled the task well and threw five innings with two runs, six hits and three walks allowed while striking out three.
"Those [seniors] wanted to go out fighting their butts off," Auburn second baseman Todd Clay said after the win. "I mean, they came through. Will [Turner] and Ryan [Austin] and Matt [Rhodes] just all put on super performances."
Rhodes explained Monday that he knew he would start Game 3 if the championship series got that far and that he had some nerves once it was time to take the mound. It didn't help that the Hoover fans were doing their best to heckle Rhodes by reminding him how the Tigers' football team lost in dramatic fashion back in December.
"When I stepped on the mound before my very first pitch the Hoover students were already yelling about the football state championship, and I heard it all game. It was tough mentally, but I held my composure and knew I could redeem myself this time," Rhodes said. "I remember walking off the mound in the fifth inning knowing that I had done all I could to bring this one home. I almost had a heart attack at the end of the game, but the best feeling was sprinting onto the field ready to dogpile."
Rhodes' pitching arsenal includes a two-seam fastball that tops out in the upper 80s along with a curveball and a changeup, the latter of which has been Rhodes' go-to strikeout pitch. He said his main goal as an Army baseball player is to be the best teammate he can be and to have the other players' backs during the good times and bad.
Rhodes is set to leave Auburn on June 27 to begin cadet basic training. Though he welcomes the challenge ahead, he admitted it will be difficult leaving behind so many people who have helped him reach this moment.
"I have lots of mixed emotions," Rhodes said. "I'm ready to get up to New York and experience something new and become friends with people all across the country. At the same time, it's going to be tough leaving behind my family, friends, teammates and coaches who have had my back for several years now."