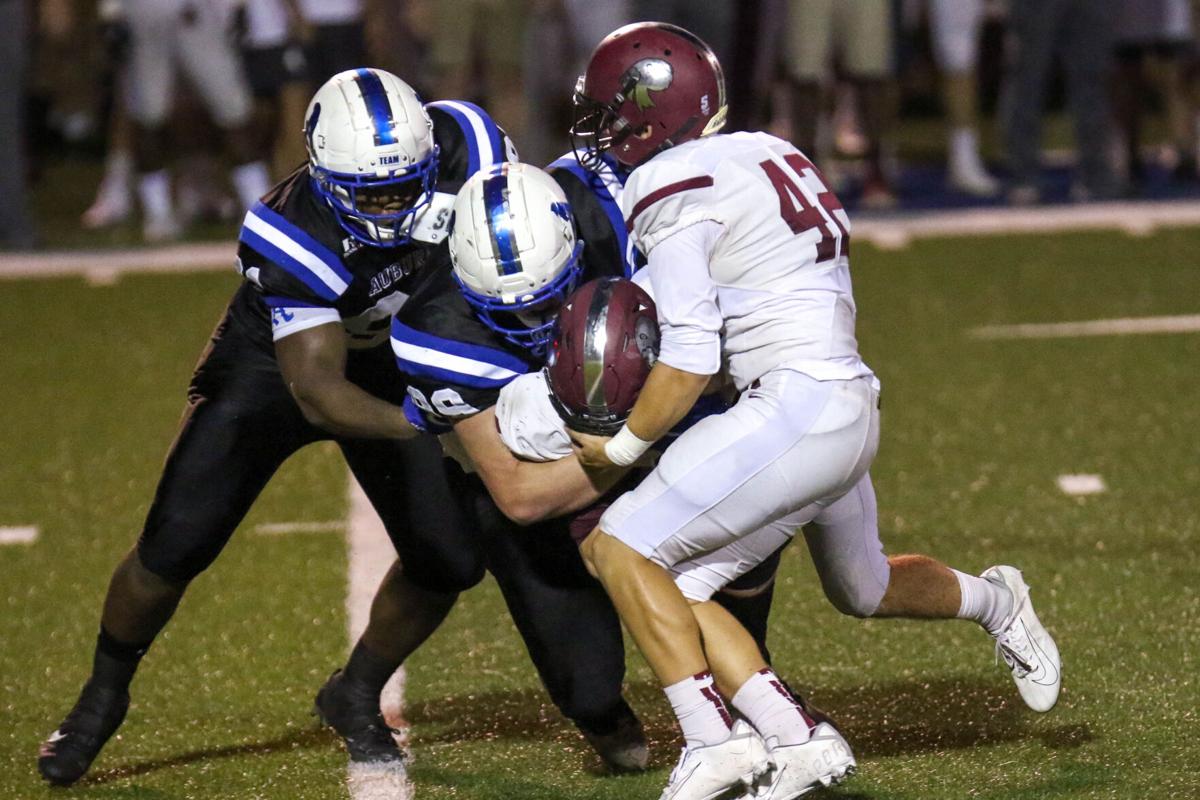 During Auburn High's region opener against Prattville back on Sept. 4, defensive coordinator Scott Goolsby made a simple point that has ultimately rang true all fall.
The Auburn defense had been relentless against the Lions throughout the game, especially the pass rush that had left Prattville hurting play after play. As the Tigers' defensive unit left the field after another stop, several players headed toward Goolsby to quickly regroup.
The Tigers' defenders caught their breath during their brief break while the first-year defensive coordinator urged them to keep going — and keep getting after the frazzled Prattville quarterback.
"They can't block you!" Goolsby boomed from the sideline.
Goolsby's players made disruption a constant theme that night in a 22-0 victory over the Lions, and they've continued to do so all season.
Auburn's defense has been spectacular in 2020 by allowing only 12.2 points per game, but it's the unit's pass rush that has been particularly impressive. Through 11 games of play, the Tigers have racked up 39 sacks, the majority of which came courtesy a front that just won't quit.
The Tigers' ability to bring down the quarterback has left multiple opponents frustrated, and it's been a crucial part of Auburn's special season. The defenders will look to keep that play up Wednesday night, when they battle Thompson for the right to call themselves Class 7A state champions.
Despite the stage, junior defensive end Powell Gordon — who is responsible for nine of those sacks along with 74 tackles and 13 tackles for loss — explained the days leading up to the title game bout have been no different than any others this fall.
"It's really just been like any other week of practice, you know? Just keep that same intensity we've had the rest of the season. I feel like we've got to treat it just like any other game and just go out there and play like we have all season," Gordon said. "We all play for each other. Our whole defense is like a big puzzle, and each person has their own piece. Each person does their job, and it works together perfectly. That's the biggest thing really — coaching and playing hard."
Practice has made perfect for the Tigers' pass rush this fall. Auburn head coach Adam Winegarden credited assistants Antonio Ford and Jason Halverson for teaching the players the proper techniques. Gordon also lauded their work along with Goolsby's but also pointed to the players' efforts, saying they go hard every play and it's allowed so many Tigers to effectively pass rush.
Gordon has been one of the Tigers' go-to pass rushers in a group that includes seniors Lee Gregg, Joey McGinty, Kejuan Cason and Cameron Reese, who leads the team with 10 sacks. Their emergence has been a welcomed sight by the Auburn offense, which has had some pressure relieved knowing a stalled-out drive isn't the end of the world.
"I have a ton of confidence in our defense. I mean, every time I come off the field and I know they're going out there, I know they're going to do something big and they're going to get a stop," wide receiver Bryson Clague said. "They rush the quarterback so much in practice sometimes Matthew [Caldwell] can't even get a throw off. I mean, they're fantastic. I have a ton of faith in our defense, and I think they're one of the best defenses in the state if not the best."
What truly takes Auburn's defense to the next level is the combination of the Tigers' pass rush with its standout secondary.
Auburn defensive backs Quay Nelms, Amaury Hutchinson, Noah Warren and Carson Yancy have been ballhawks this fall and have repeatedly taken advantage of even the slightest mistakes by opposing offenses. Their abilities have fueled a Tigers' defense that has intercepted 17 passes, some of which were made possible by the pass rush forcing quarterbacks to rush throws.
Gregg has watched as even slightly affecting the quarterback has led to dangerous throws his teammates in the secondary have taken advantage of.
"Oh yeah. If it's a 50-50 ball, I've got my guys all day," Gregg said.
The Tigers' pass rush has only gotten stronger since the postseason began, and the team's quarterfinals game against Daphne was a perfect example. The showdown was a defensive struggle in which Auburn ultimately prevailed thanks in large part to the pass rush, which sacked Trojans quarterback Trent Battle seven times.
Gordon relished looking back at the 13-7 victory, saying the Tigers don't play many teams whose quarterbacks like to stay in the pocket like Daphne's did. He said performances like that win make everyone on the defense proud, as it validates all the work they've put in since June.
For Gregg, games like the Daphne victory demonstrated how getting to the quarterback early leaves that player dreading the thought of it happening again.
"They always have that in the back of their head, that, 'They're coming for me,'" Gregg said. "We want that. We try to put that in their head."
The Tigers face their biggest test yet in the Thompson Warriors, the defending 7A champions who have beaten opponents this fall by an average margin of victory of 30 points.
Gordon credited Thompson as being really talented, saying the Warriors are fast and physical and don't have many weak points. Gregg noted how well the Thompson offense is at getting the ball outside, saying they've put up countless yards in doing so with reliable receivers who can track down the long ball and a quarterback in junior Conner Harrell who can get it to them.
The mission for Gordon, Gregg and the rest of the defensive front isn't complicated. The two stressed playing the same way they have all year when it comes to following their assignments, avoiding mistakes and doing their jobs.
Gregg explained winning the championship Wednesday would be special as a senior and as someone who knows several people who played on the Tigers' 2013 team, which finished as the state runner-up. Gordon is eager to help Gregg and the team's other 43 seniors bring home the title given everything they've done for the Auburn program.
"It would mean a lot to me because all the coaches have worked so hard and all the players worked so hard. All the seniors were really important in a senior-led team, you know?" Gordon said. "Seeing those guys get a championship would be amazing."