When Auburn High wrestling coach Bo Bailey thinks about Chambliss "Price" Hornsby, his mind immediately goes back to a call he made not long after Bailey was named the team's head coach.
Bailey had been an assistant at Auburn for three seasons before being promoted this past summer, and by then he'd developed a relationship with Hornsby, who was then a rising senior. Hornsby had wrestled for the Tigers before leaving the team his junior year, and Bailey felt the team would be better off if Hornsby was on it.
"We had a new identity of where we wanted the program to go. I knew Price would be one of those guys that if I told him, 'Hey, this is what I want us to be and this is what I want us to do' that he would take that, own it and consider it kind of a new chapter for all of us. I wanted him to be a part of that chapter," Bailey said. "Price was one of those guys that when he wanted to win something or do something, you couldn't stop him."
Hornsby left that kind of impression on the coaches and teammates he encountered over the years, which made what happened two weeks ago so hard for them to come to terms with.
Hornsby died unexpectedly on March 26 at 17 years old. In the process, he left behind grieving loved ones and friends as well as so many stories involving a young man who loved to laugh and was enthralled by the thrill of competition.
"The thing we've talked about the most was just how fun-loving he was. He's like that friend that even in the most serious of moments had something to say that would make everybody laugh. He just knew how to control a room and own a room," Bailey said. "I honestly think that's what I'm going to miss the absolute most about him: his ability to own the situation. ... He was always true to being Price."
Hornsby took to athletics early on as a kid, but it took a little while for wrestling to pique his interest.
Hornsby's father, Ray, said his only son got into Brazilian jiu jitsu when he was just 3 years old and stayed with it for about 10 years before focusing on baseball. Pretty soon he realized how competitive playing baseball at Auburn High School would be, and as an eighth grader he saw wrestling as something he'd like to try.
It didn't take too long for Hornsby to stand out both by what he did on the wrestling mat and what he said off it.
Hornsby developed a reputation as a go-to jokester among his Tigers teammates as well as someone who rose to the occasion when a challenge came his way. His ability to crack a joke at any given time helped with the monotonous routine of daily practice, and his penchant for getting out of even the most unfavorable positions on the mat forced his teammates to step up their game.
"On the wrestling side, he was my partner for two years. He definitely made me a lot better. He made me the champion I am today," said former Auburn wrestler Dylan Pearson, who won state titles in 2019 and 2020. "He just brought a sense of unseriousness into the wrestling room, you know? When everyone goes five days a week for a couple months practicing the same things, it really gets boring and people get burnt out a little bit. Every day Price is lighting everyone up in the room, maybe picking on people in a joking manner or just making jokes with the coaches. He added a lot of character to the room."
Hornsby's lighthearted demeanor sometimes got him in trouble, but more often than not it left those around him holding back laughter. More than that, Hornsby's attitude helped the people around him feel at home.
Auburn assistant wrestling coach Corey Cotter vividly remembers when he met Hornsby three years ago. Cotter had just joined the Tigers' staff and was accompanying the team to Columbia, Mo., for a camp, which meant roughly 12 hours of riding in the car alongside total strangers.
Cotter describes himself as introverted when he's first getting to know people, but Hornsby had no interest in letting his new coach keep to himself. Whether it was joking around with Cotter or saying just about whatever came to mind over the walkie-talkies shared between the two cars headed for Missouri, Hornsby helped the new coach feel more at ease and less like a fish out of water.
"I was trying to feel everything out and trying to make a connection as far as similarities go. With Price, he never even gave me that opportunity really. It was immediate where he was picking and joking and making fun with me. It seemed like my first weekend with Price he had known me forever," Cotter said. "He made me feel welcomed, and I laughed that entire trip. That trip right there is going to be one of my most-cherished memories with him."
Hornsby never seemed to pass up a chance to laugh, whether that was the time he accidentally drove his car over a cement parking block at Auburn Junior High School or the countless occasions he and Ray watched YouTube videos about people who believe the Earth is flat.
Still, Bailey had seen how seriously Hornsby took wrestling, which was why the new head coach was so determined to bring him back. Soon enough, Hornsby showed he was more than a class clown when it was time to get serious.
"I knew he would be a huge benefit to the team. I also know that when Price is at his best, he's one of the best leaders on our team," Bailey said. "Kids look up to Price because of his leadership — he's fun. He's cool to hang out with, and he can push people to be better. He's one of those guys that he would be hard on the younger guys because he expected more out of them."
Hornsby's decision to rejoin the wrestling team was undone by his post-high school aspirations. He decided to join the United States Space Force — a sister-branch of the Air Force — and was able to graduate from Auburn High last December with a 3.5 GPA. By graduating early, he was not able to continue competing with the wrestling team.
Pearson caught up with Hornsby a few weeks ago, and the former teammates spent time talking about what was next. Pearson said Hornsby was excited about his upcoming basic training and that Hornsby hoped to eventually be involved in the launching of rockets or drones within the Space Force.
"I feel like he really enjoyed explaining everything to me because it was a little bit more detailed than I had already known. It was very specific what he wanted to do," Pearson said. "He didn't want to just join the military and do anything; he had a plan of exactly what he wanted to do."
Hornsby's passion and larger-than-life personality made his untimely passing that much harder for those around him to bear.
After Bailey and Cotter dealt with their own initial shock, they informed their wrestlers then watched as the team members began thinking of ways to honor their friend. The Tigers have plans to wear Hornsby's initials on their singlets next season, but in the immediate aftermath they put together a shadow box singlet with a plaque and headgear to give to Ray, Hornsby's mother Lee, and the rest of his family.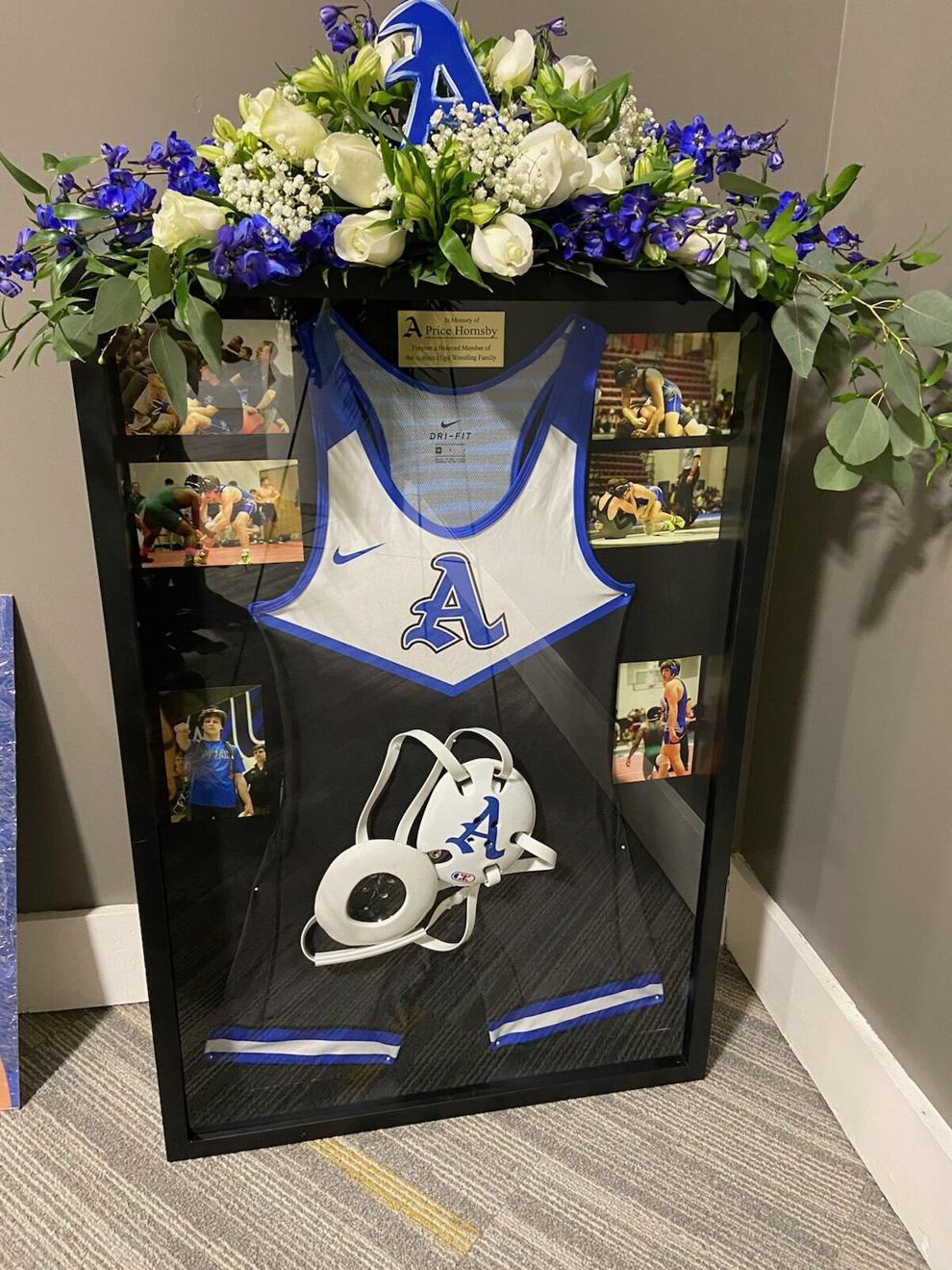 Hornsby's funeral last Friday gave everyone a chance to remember the good times as they collectively coped with the tremendous loss. For Ray, the burden of the moment also brought with it a glimpse at how much his son meant to his teammates.
"After the funeral, several of the kids came up. Three or four of them just hugged me crying and just saying they had never felt God like that in their lives," Ray said. "I kind of just put my arms around them and just told each one of them, 'Hey, Price would want y'all to go out in this world and try to spread that message of the Gospel and just be young men and lead your families, lead the wrestling team.' There's a lot of good kids on that team that have a lot of character. I don't think that's ever going to be a problem."
Bailey and Cotter have instilled in their wrestlers that the team is a family, so much so that they tell the kids they love them at the end of every practice. Hornsby's death has shaken the Auburn wrestling family, but both coaches are determined to carry on and ensure his legacy remains at the core of the program.
Hornsby had a habit of creating unforgettable moments because of what he said or what he did, and those memories have been a much-needed respite for those left devastated by his passing. Even though Hornsby is no longer here with those who truly loved him, the role he played in their lives will never fade away.
"Price loved life. Man, he lived. For a kid that only got 17 years and 11 months, he probably lived more than a lot of people," Bailey said. "I'm just happy to have been part of the journey — to have been a little part of that journey and to have met Price.