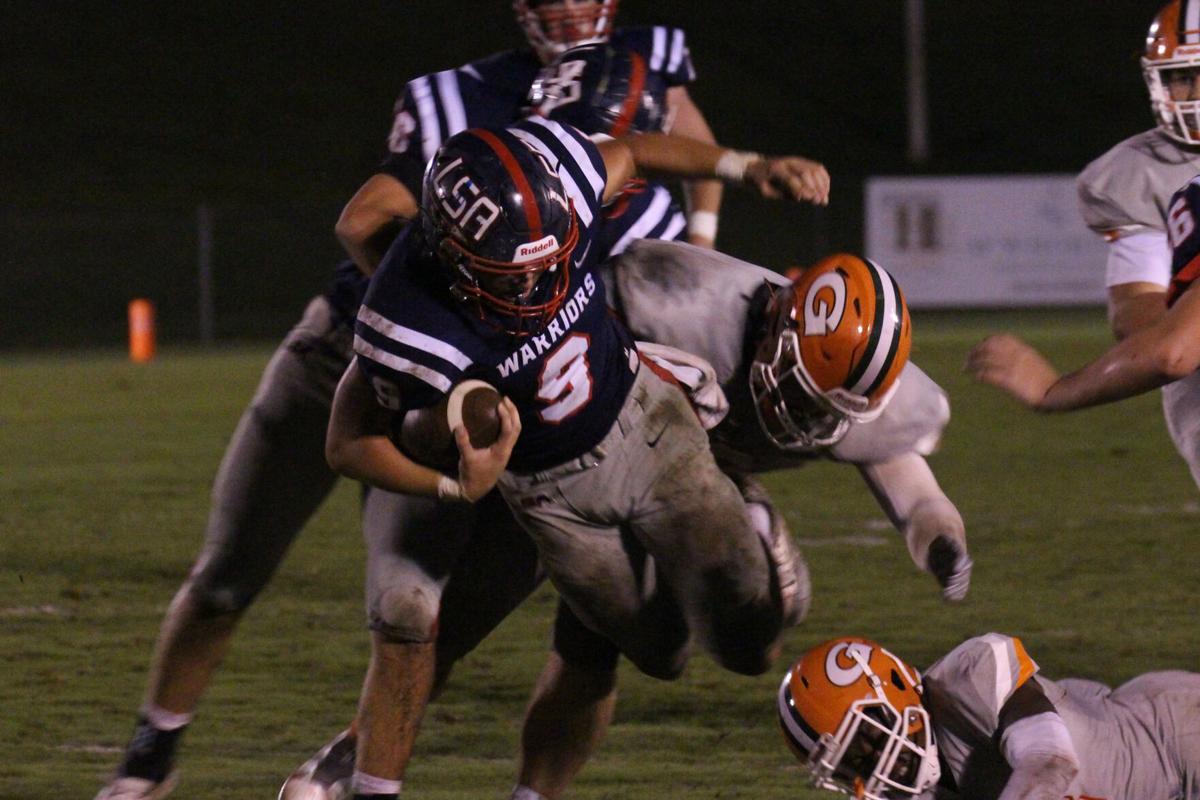 To say last week's high school football action was full of excitement for area teams would be nothing short of an understatement.
Local teams went 11-6 last week, with splits occurring between Central-Phenix City and Smiths Station, Lee-Scott and Glenwood, and Chambers Academy and Springwood.
Two new teams enter the top 10 in LaFayette and Notasulga, which remain undefeated after picking up victories Friday night; they replace Dadeville and Valley, which took two tough losses to start region play.
Friday's action led to more changes in this week's O-A News Prep Power Poll.
The Prep Power Poll is voted on by O-A News staff and ranks teams relative to their strength in their respective classifications.
Here's a look at where the local squads stand entering Week 4:
1. Auburn High (3-0)
The Tigers took care of business in their first road game of the year by holding off region foe Prattville in a 20-14 contest. The highlight of the game came midway through the third quarter, when quarterback Clyde Pittman hit Bakari Dailey for a 33-yard touchdown on fourth-and-5 to take a 17-point lead. Auburn High hosts Dothan on Friday.
2. Chambers Academy (3-0)
The Rebels made quick work of Springwood on Friday by going up six touchdowns in the first half before cruising to a 49-0 victory. Chambers quarterback Jo Jo Hendrix went 6-for-6 passing for 198 yards and four touchdowns in the win. Chambers hosts Lowndes Academy on Friday.
3. Central-Phenix City (3-0)
Like Chambers, Central got rolling early and piled up points left and right in a 56-0 victory over rival Smiths Station. The victory featured a big showing from quarterback Caleb Nix, who threw for 249 yards and four touchdowns. Central hosts Jeff Davis on Friday.
4. Lanett (2-1)
The Panthers jumped out to a 26-7 halftime lead then held on late for a 26-21 road victory over B.B. Comer. The game featured another strong performance from running back D'Quez Madden, who put up an 80-yard rushing touchdown and a 50-yard rushing touchdown in the victory. Lanett travels to Fayetteville on Friday.
5. Opelika (1-2)
Opelika got off to a slow start against Sidney Lanier on Thursday, but Taylor Love's blocked punt and Jamori Thomas' long return set the team up to take control in a 24-7 victory. Running back Kaden Cooper got involved in the run game and the pass game, as he scored on a fourth-down run in the third quarter after catching a 45-yard touchdown in the first quarter. The Bulldogs host Eufaula on Friday.
6. Tallassee (1-1)
Tallassee was off this week after its last-second loss to Wetumpka in Week 2. Running back Jalyn Daniels and the Tigers are back in action Friday when they play at Sylacauga.
7. Glenwood (1-2)
The Gators' season took another tough blow Friday thanks to a 23-22 loss to Lee-Scott Academy – their first defeat to their main rival since 2017. Do-it-all athlete AJ Harris and the Gators are now dealing with back-to-back losses for the first time since losing four in a row in 2018. Glenwood will try and get back on track when it hosts Valiant Cross.
8. Loachapoka (2-0)
Loachapoka got region play started with a bang Friday by beating down Billingsley 40-14. Running back Nick Farrow shined once again for the Indians by taking 10 carries for 202 yards and three touchdowns and also running a kick back 80 yards for another score. The Indians have a bye week this week before hosting Maplesville on Sept. 17.
9. LaFayette (2-0)
LaFayette wasted little time by jumping on Randolph County thanks in part to three one-play drives in the opening quarter of action. Running back Joshua Combs came through with an 85-yard rushing touchdown in the first quarter followed by a 46-yard score in the second. The Bulldogs host B.B. Comer on Friday.