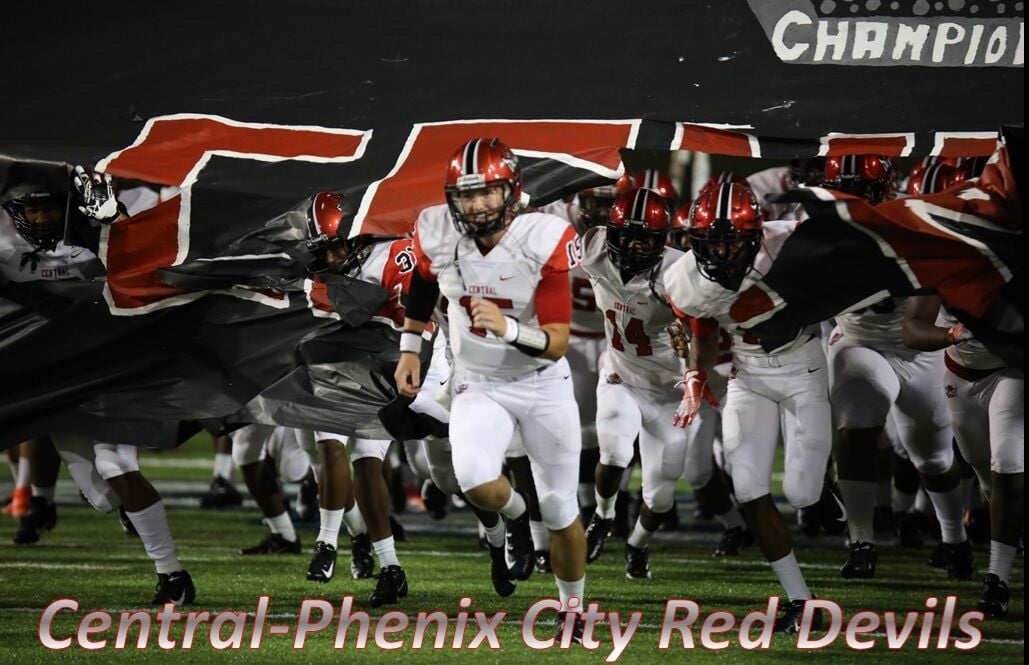 PHENIX CITY — There would be no thriller between Central-Phenix City and Eufaula. The Red Devils would tell a different story in this season's matchup defeating the Tigers in dominating fashion, 33-0.
The win avenged a 38-36 loss for Central to Eufaula in a shootout last season, but Red Devils head coach Patrick Nix said that this game was not a revenge game. "Every game better be circled on our calendar and our schedule in order to win them," said Nix. "Our goal is to come out and get better every week and win the game."
Central quarterback Caleb Nix was quick to get things started for the Red Devils, setting up a first-and-goal situation with a 23-yard pass to Marquevious Terry. On the next play, Nix would find Karmello English for a 2-yard touchdown toss for the Red Devils' first score of the night.
On Central's second possession, Nix and company failed to convert on fourth down as Nix's pass was batted down at the line of scrimmage — but the Red Devil defense continued to dominate Eufaula, forcing a fumble and a turnover of its own, giving the ball right back to the Red Devil offense.
Central capitalized on the fumble as Jaimel Johnson ran through Tiger defenders for a 15-yard touchdown with 2:46 remaining in the first quarter.
Late in the second quarter and with the Tigers deep in their own territory, Mark Anthony Smith sacked Eufuala's Copeland Cotton forcing another punting situation for the Tigers.
The Tigers booted the ball away from their own 25 to Central's Caleb Johnson. Johnson bobbed and weaved before finding a seam to cut back across the field. There would be no Tigers to catch up to Johnson as he dove into the endzone with 1:18 remaining in the first half.
Central led 20-0 at the half.
The second half opened with the Red Devil defense continuing to cause problems for the Tigers. On second down of the Tigers' first possession, Cotton's pass would find the hands of Red Devil defensive back Jonquis Hardaway. Soon after, Nix found the endzone with his legs from 18 yards out.
Following another brutal outing for the Tigers, along with a sack by a trio of Red Devils, Jaimel Johnson added another rushing touchdown with an explosive 57-yard run untouched.
Nix would end the game with 58 passing yards and 22 rushing yards along with one touchdown on the ground and through the air.
"I think defense played incredibily well, offense had its moments," said head coach Nix. "Overall, it was a really good night."
Central (2-0) will face Smiths Station (1-1) at home next week, Friday.