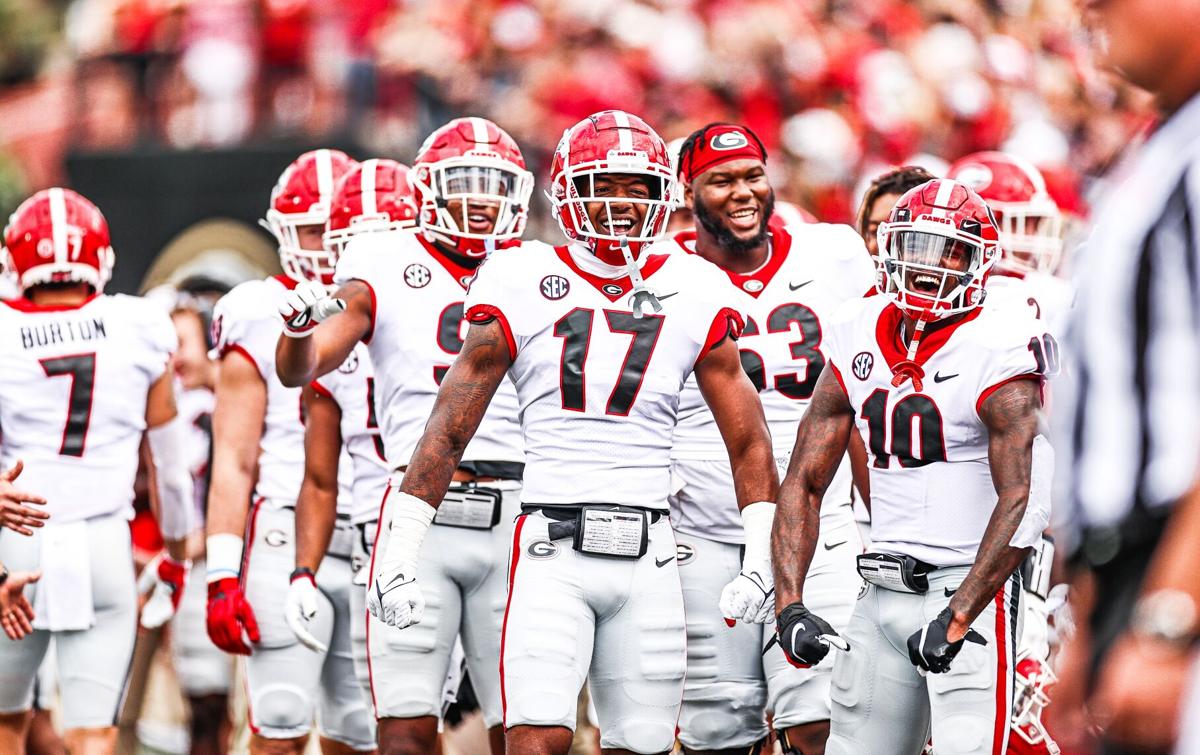 Despite being a true freshman at Georgia, former Central-Phenix City wide receiver Jackson Meeks is doing everything he can to make an impact for the Bulldogs.
Meeks will be back in east Alabama on Saturday when the Bulldogs travel to Jordan-Hare Stadium for another edition of The Deep South's Oldest Rivalry. This year's face-off against Auburn will be the first for Meeks, who signed with the Bulldogs as a three-star prospect after wowing during his time as a Red Devil.
The task of finding playing time on one of the nation's top-ranked teams is a difficult one, but Meeks has made the most of the start to his collegiate career.
The 6-foot-2, 205-pound Meeks has appeared in four of the Bulldogs' first five games and has had two receptions for 17 yards, his first being an 11-yard catch against Vanderbilt on Sept. 25. He's also contributed on special teams for Georgia and recorded two tackles.
Georgia head coach Kirby Smart explained Meeks' athleticism caught the attention of the Bulldogs' coaching staff last fall, when Georgia offered him on the heels of a game against Hoover in which he had 13 receptions for 204 yards and three touchdowns.
Since he's arrived in Athens, Meeks has done his part to impress his new head coach.
"He has balance and body control. He's got great size. He's a physical kid," Smart said Wednesday. "Just being here, his pride in the special teams and his pride in fighting to get on the field and the receiver room has been tremendous. He's got a really good attitude. Since he's been over here mid-year, he's been a really hard worker. We've enjoyed having him."
Meeks was challenged to keep up Central's recent tradition of great receivers, a run that has included Clemson's Justyn Ross and EJ Williams. Even though Meeks was following in the footsteps of two outstanding players, he wasted little time in proving he was just as capable.
Meeks made plays throughout his time at Central, but he saved his best for last in 2020. He carried the momentum from that season-opening performance against Hoover with him throughout the year, and even though he missed some time due to injury he still posted 50 receptions for 767 yards and eight touchdowns.
Meeks' play earned him O-A News' All-Area first team honors.
Meeks originally committed to Georgia on September 8, 2020, two weeks after first receiving an offer from the team. He also had offers from schools such as Ole Miss, West Virginia and Appalachian State.
"I visited there this past weekend, and as soon as I got there it just felt like home. The coaches, the whole coaching staff have just been showing me love since they offered me. It felt like a family ever since I got the offer," Meeks said upon committing. "Once I committed, it just felt like a big weight lifted off my shoulders. That's what I've been working towards — that and winning a state championship — my whole high school career. It just felt like a huge weight lifted off my shoulders.