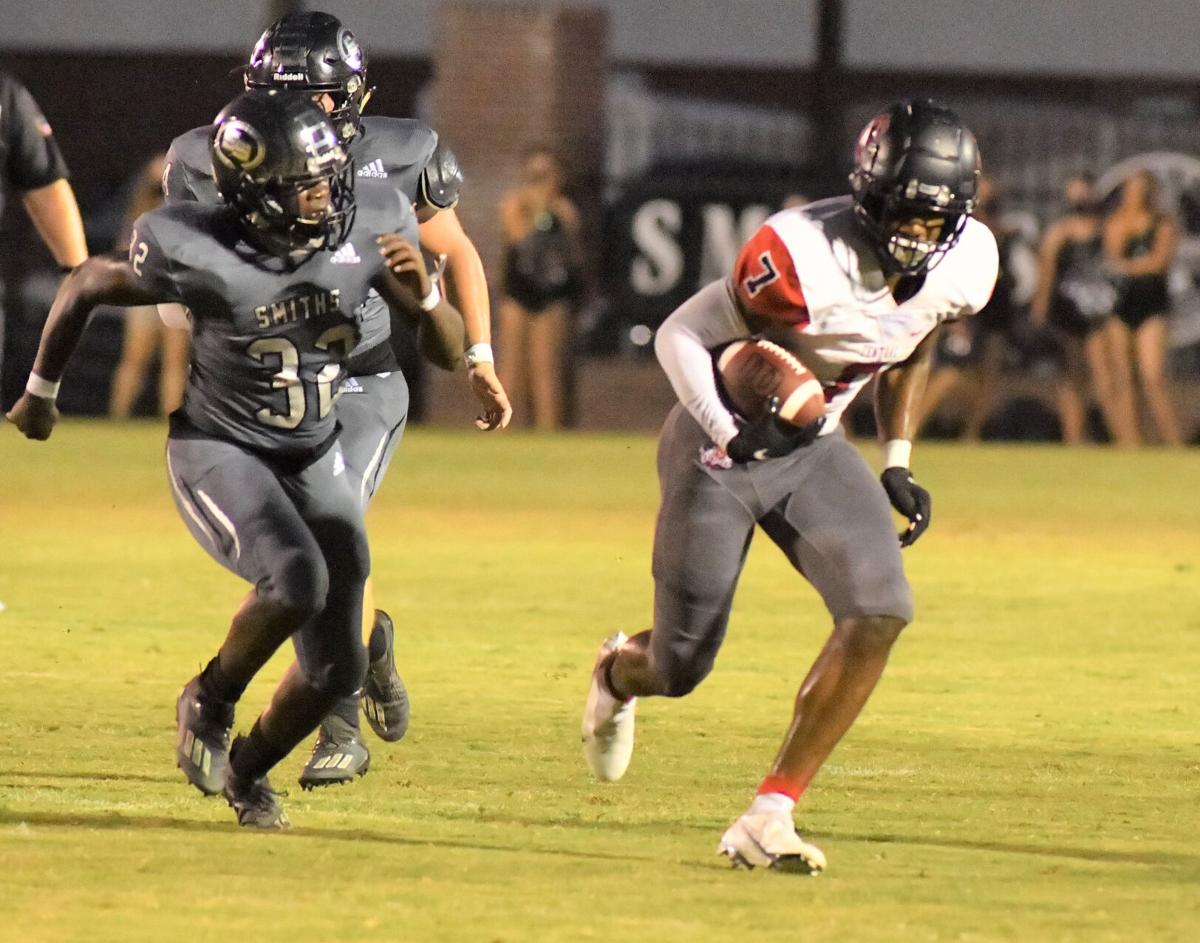 Central-Phenix City has become a hotbed for talented wide receivers to show off their skills before going to the next level. On Tuesday, Jackson Meeks took the first step in continuing that tradition.
Meeks announced his commitment to Georgia, joining the Bulldogs as the team's 16th commit in the Class of 2021. The 6-foot-2, 190-pound Meeks had six other scholarship offers from schools such as Ole Miss, West Virginia and Appalachian State.
Meeks committed to the Bulldogs after receiving an offer from the team on Aug. 25.
"I visited there this past weekend, and as soon as I got there it just felt like home. The coaches, the whole coaching staff have just been showing me love since they offered me. It felt like a family ever since I got the offer," Meeks said. "Once I committed, it just felt like a big weight lifted off my shoulders. That's what I've been working towards — that and winning a state championship — my whole high school career. It just felt like a huge weight lifted off my shoulders.
"It's a blessing. Nobody really expects to be living their dream. I'm living my dream right now."
Meeks is considered a three-star receiver per 247 Sports' composite ratings and is the 60th overall prospect in Alabama's Class of 2021.
Meeks was counted on to step up as Central's No. 1 receiver this fall after E.J. Williams graduated and enrolled at Clemson, and he did not let his team down. Meeks wowed in the Red Devils' season-opening loss to Hoover, as he had 13 receptions for 204 yards and three touchdowns against one of the top Class 7A programs in the state.
Meeks followed that up with a strong showing against Eufaula in Week 2 and then a 113-yard performance in Central's victory over Smiths Station on Friday.
"I think they're getting a complete receiver," Central head coach Patrick Nix said. "He's a big guy who can run. He can stretch the field vertically and make plays vertically. He's a really good intermediate receiver who catches the ball in traffic well. He's great with the ball in his hands. If he catches a short one, he definitely has shown the ability this year to break tackles and break long runs out of it. He's a great blocker and a big, physical guy."
Meeks is in line to follow the same path of Williams and Justyn Ross, who was also a Central standout who has impressed at Clemson. Meeks spoke highly of his experience behind Williams and Ross, and in his mind his experience with them was instrumental in helping him improve to where he is today.
"I had to wait my turn," Meeks said. "Sitting behind those great receivers, they taught me a lot. They showed me what to do and what not to do, what moves to make, what not to make. They helped me prepare for this moment right now."
Meeks explained his offseason was spent focusing on his speed, getting into his route breaks better and being more explosive off the ball, which has been evident as he's wowed through three games this season. Those efforts were made to try and help Central get back to the state championship in December and to potentially give Meeks his second state ring over the past three years.
Meeks' focus this fall remains on Central football, but Tuesday was a chance to look ahead to the future. Meeks' commitment to the Bulldogs represented a big moment in his life, and he had a message for those who will root him on once he reaches the next level.
"I'm ready to work and ready to go win a ring in college, too," Meeks said.
Get in the game with our Prep Sports Newsletter
Sent weekly directly to your inbox!