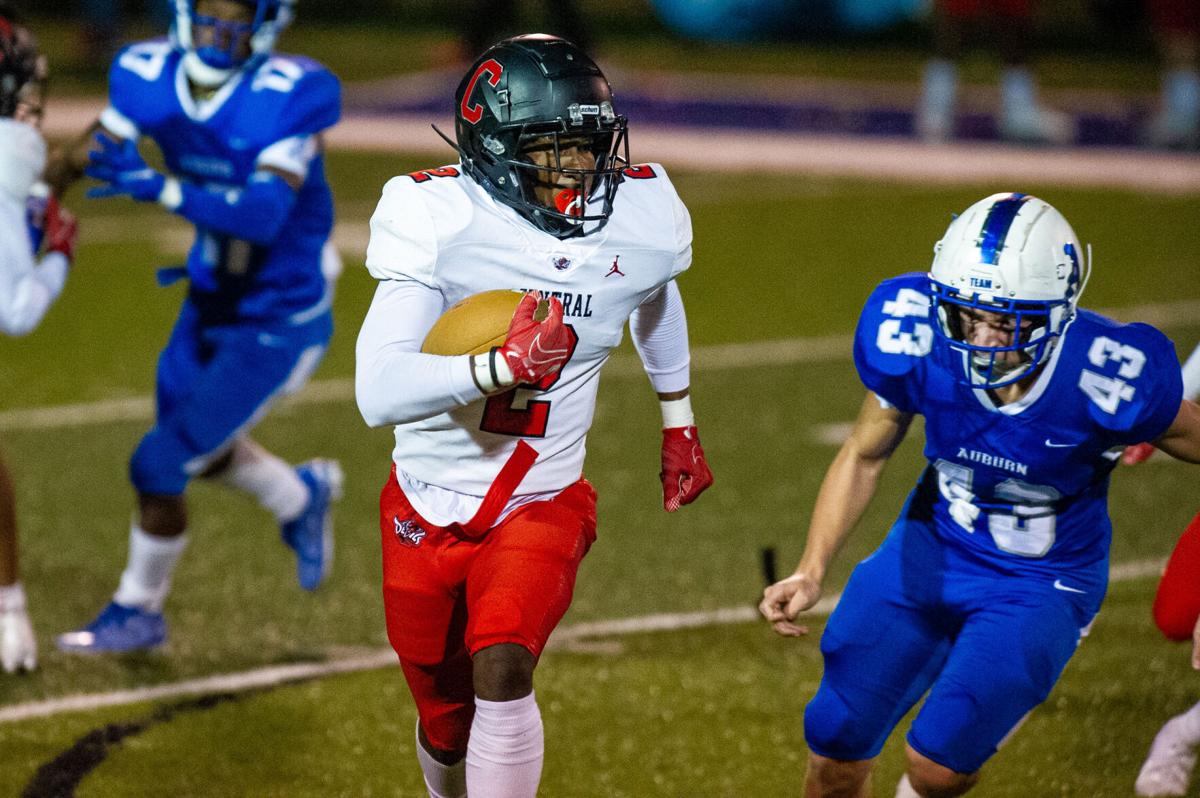 OFFENSE
Central's stretch of utter dominance in Region 2-7A shifted significantly in 2020.
The Red Devils streak of consecutive region titles ended at six thanks to a second-place finish, but the team didn't linger on that change of pace for long. Central still made it to the state semifinals for the sixth straight year, though this time region rival Auburn High got the upperhand to leave the Red Devils one game short of another Super 7 trip.
Central is poised to contend for a deep playoff run in Patrick Nix's second season, but the team will need players to step up and fill some key holes.
Senior quarterback Caleb Nix, Patrick's son, is poised to man the QB duties on his own after splitting time with Trey Miles last fall. Who Caleb will hand the ball to is a major question after Joseph McKay and Zion Morris graduated, and while Patrick declined to name any of the six players vying for those roles, it's a safe bet there will still be plenty of talent at that spot.
Central has the challenge of replacing Georgia signee Jackson Meeks at receiver, but fortunately the team had a real breakout star at the position last year. Karmello English doesn't quite have the size of Meeks, but the 6-foot-1, 185-pound junior balled out last fall and could be the Red Devils' top passing target in 2021. Keep an eye on Marquevious Terry, TJ Woods and Marquez Mobley as well.
Nix said this year's offensive line will be fairly inexperienced after losing Darrius Elias, Nate Bishop, Jevin Stevens and Brandon Golden from 2020, and the veteran coach expects eight or nine players to be in the mix to start the season.
DEFENSE
Nix's Red Devils don't have the same inexperience problem on the defensive line, as Central returns several starters. He has high hopes for a front four that features junior Tomarrion Parker, who has become a must-have for several major colleges after racking up 66 tackles, 22 tackles for loss, 15 quarterback hurries, two forced fumbles and two fumble recoveries last season.
Nix sees Central with a mixture of younger and older players at linebacker, with senior Siraj Muhammad being one of the more experienced players in that group. The Red Devils graduated some big-time difference makers in the secondary, but Nix sees a ton of potential there.
"I think it's sort of like the offensive line: it's going to sort of be the thing to where we're just learning as we go and having to grow and get better, but I think by the end of the year it can be a really, really special group of guys," Nix said. "It's so talented that once they get that experience, learn and grow with what we're doing on defense, I think they can be very, very special on the back end."
Central's stranglehold on the region concluded last fall, but the team is still in great position to continue contending for state titles.