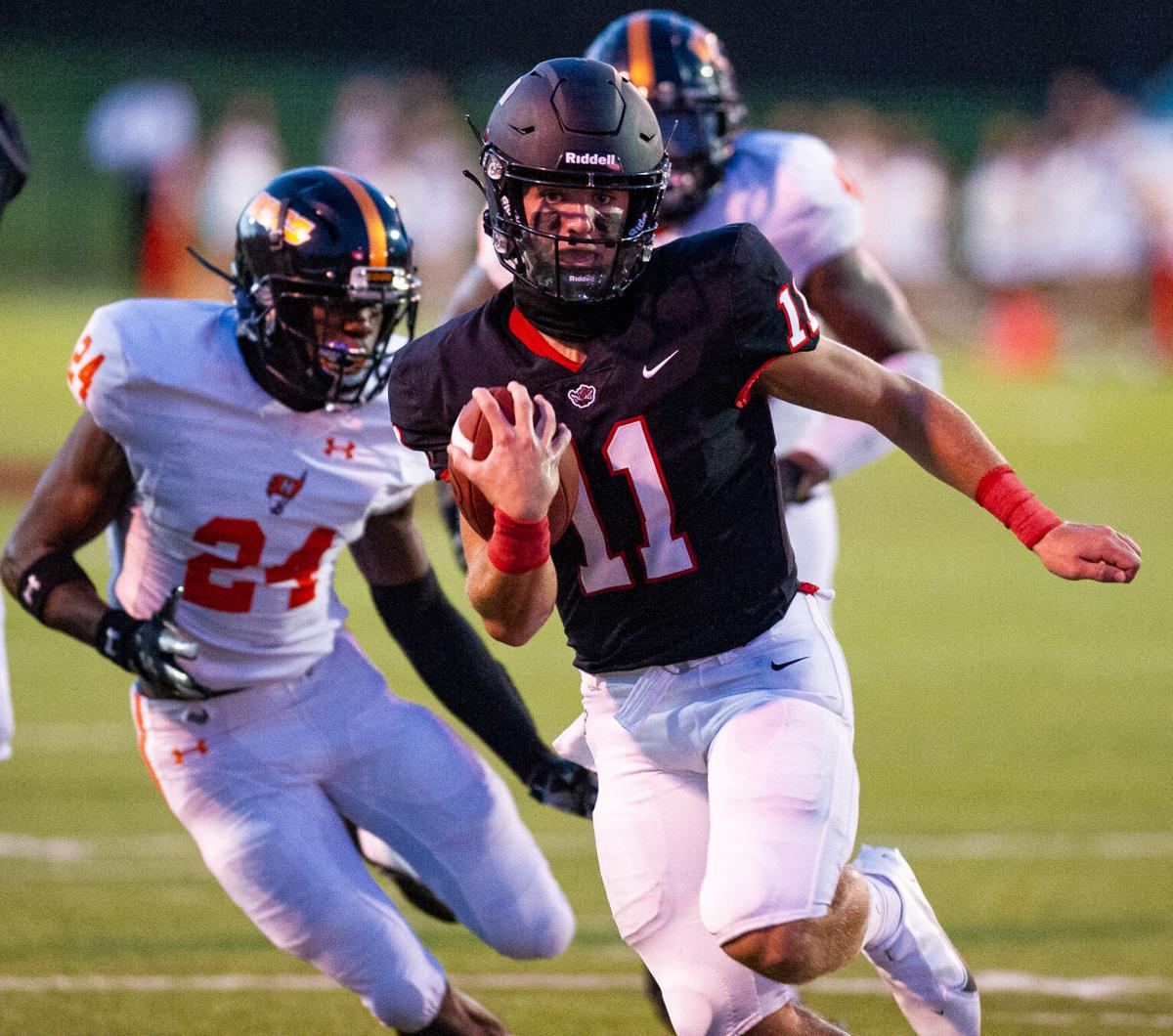 After an unusual 0-2 start to the season, the Central-Red Devils bounced back in a big way last week against Smiths Station. Now, they'll look to build a winning streak courtesy a Saturday morning showdown.
Central (1-2, 1-0) resumes Region 2-7A play at 11 a.m. CT today when it takes on Jeff Davis (0-2, 0-0). The Cramton Bowl matchup for the Red Devils comes on the heels of a 35-7 victory over the Panthers, which marked Patrick Nix's first win at Central.
The Red Devils wasted little time in jumping ahead of the Panthers in their 12th straight win in the rivalry known as the Backyard Brawl. The game featured a tremendous defensive effort from Central, which forced four turnovers and didn't allow a single completion until the third quarter of the one-sided rivalry win.
"It was great to see them play as good as they did and create the turnovers. It was something we've been waiting for. It was good to see and good to see them out there having fun and playing really good," Nix said on the Red Devils Coach's Show on Wednesday. "I'm very proud of the way the guys played, the way they prepared during the week and the way they've battled. It's a brand-new system for them. It's something totally different from what they did before, so it's good to see them continuing to grow, battle, get better, not give up and go with it."
Several Central defenders stood out during last week's win, including defensive lineman Jamorey Jones. The senior had impressed during summer and has continued to do so this fall, and he came through against the Panthers with four tackles and a fumble recovery in the end zone for a highly-coveted defensive score.
Nix explained on his weekly radio show that Jones had been flustered the week prior thanks to a Eufaula offense in which Tigers' quarterback Hess Horne got the ball out before Jones could ever get back to him. Last week, however, Jones was practically a one-man wrecking crew.
"He did such a good job against the run game and putting pressure on the quarterback. He's just a huge disruption. They didn't have an answer for him the whole night of how to control him and block him. He did just a great job of being in the backfield and just causing chaos all night. When you have that, it just changes the game," Nix said. "We're going to have him as it goes to step up and be dominant like he was Friday night, there's no doubt."
The victory over the Red Devils featured another big game from senior receiver Jackson Meeks, who put up 113 yards in the win. Meeks has come through with big play after big play this fall, and earlier this week he announced his commitment to Georgia after the Bulldogs offered him in late August.
Meeks turned heads when he dominated the Hoover secondary in Central's season opener. For Nix, it's not hard to understand why Meeks — who has 31 receptions for 475 yds and five touchdowns through three games — became a high priority for the Bulldogs.
"What's amazing about Jackson is that it's not just a one-dimension thing. It's not like he's only catching deep balls or he's only catching this or that — he's catching short passes and taking them deep and breaking tackles; he's catching deep balls over people; he's blocking people; he's catching intermediate passes in traffic. He's doing it all," Nix said. "He's so big, physical and strong. He can go up over people, and he's playing with so much confidence right now. He believes that with every ball that goes in the air he's going to catch it, and every time he touches it he's going to score."
Meeks, Jones and the rest of the Red Devils will be going bright and early this morning to take on a Jeff Davis team that is riding an eight-game losing streak to Central. Nix said the coaches have kept the routine the same for Central all the way up to Friday, when they'll instead do walk-throughs and meetings on what would usually be game day.
Nix also said he's made it a point to get it through to his guys that the Volunteers will not be push-overs this season.
"Let's be honest: a lot of our kids in their minds know what's happened to J.D. in the past when Central has played them. They're minds are thinking, 'This might be a J.D. team from two years ago or whatever, so we're just going to kill them and not have to worry about playing the second half.' You've got to battle those kinds of things," Nix said. "If you look at numbers, they're better than we are because you look at Eufaula and (Lee-Montgomery), you look at us and Eufaula and you look at J.D. and Lee.
"That's sort of the tricky part, too: getting the guys to understand how good this J.D. is. You better go in there ready to play, or it's going to be a dogfight and it's going to be something you don't want."
Nix spoke highly of Jeff Davis, which forced three turnovers against Lee last week in a 19-14 loss to the Generals. He explained first-year head coach Rory Bell runs a spread offense featuring a run-pass-option look that can keep defenses off balance, and quarterback Chase Ford has displayed good decision-making skills and ability to run when necessary. Nix added that Ford has several impressive skill players around him.
Nix explained that the coaches and players are still learning about each other and called it a "growing process" through the first three weeks of the season. Having said that, he expressed excitement about how far the team has come in learning new offensive and defensive systems in a year where so much time together has been limited due to the coronavirus.
Nix dismissed any concerns Wednesday about potential weather in Montgomery today, saying both teams will be out on the field regardless of the rain. Whether the sun is out or not, Nix said his main goal is for the Red Devils to show up ready to play and to make the most of another important region matchup.
"Whatever (the weather), it doesn't matter. Let's go play. Let's go play and win a game," Nix said. "It doesn't matter where we're playing, and it doesn't matter how we're playing. It doesn't matter who we're playing, what time or when. Rain or shine, it doesn't matter. Let's go play a game of football. Let's go get us a win and continue progressing like we're progressing."
Get in the game with our Prep Sports Newsletter
Sent weekly directly to your inbox!