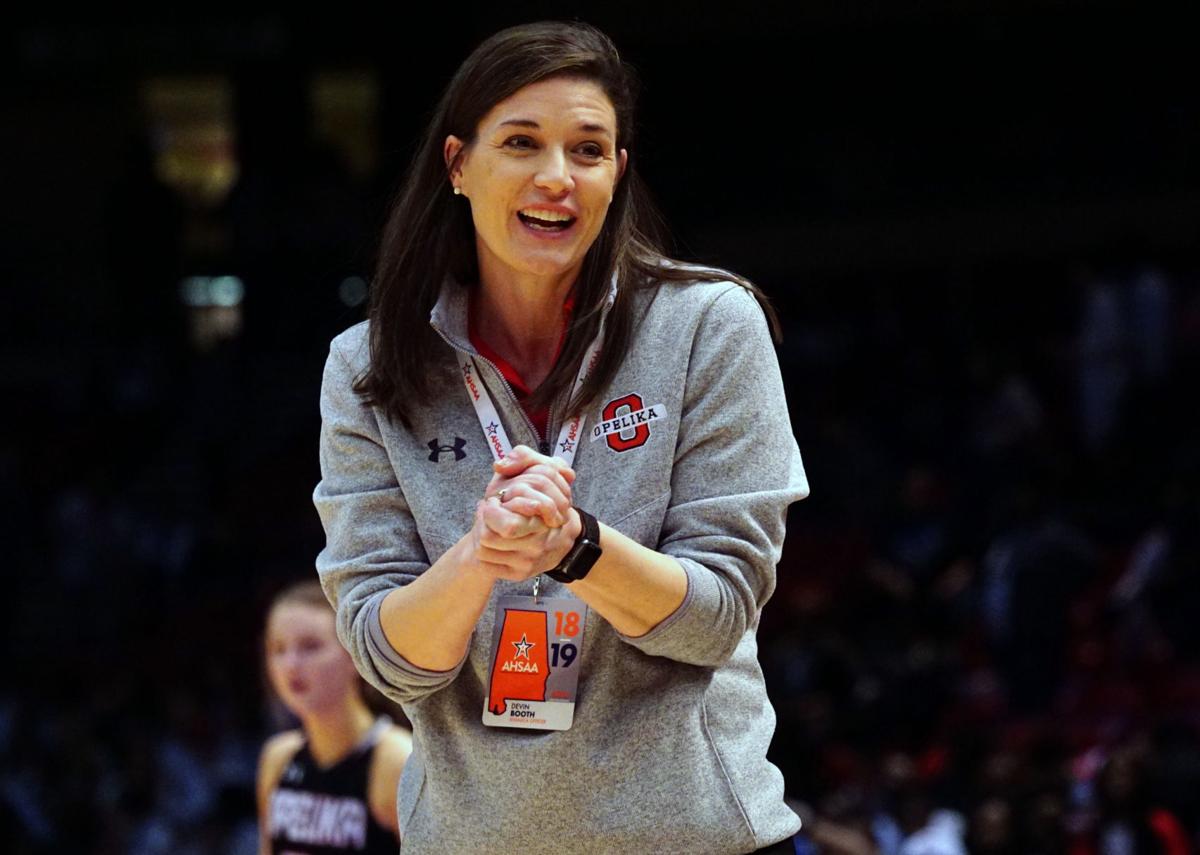 Opelika girls basketball coach Devin Booth is leaving the court — at least for now.
Booth has resigned as the Lady Bulldogs coach to join the AHSAA's executive staff as an assistant director, the association announced Tuesday. Booth leaves Opelika after leading the program for the last 12 seasons and becoming the winningest coach in program history in the process.
"I've been serving as an officer for the coaches association for a few years, so I've kind of gotten to be around the staff and see what they're doing. It's just been something that I was thinking about, being in a different type of leadership role," Booth said. "It was a very tough decision. I've been at Opelika — I would be beginning my 13th year. I loved my time there, and I will miss it dearly.
"The kids are awesome. The staff, the administration, the parents have all been wonderful. They've been so supportive all these years."
Booth's new role will be assistant director over special programs and will see her organize professional development opportunities for coaches and oversee events like the AHSAA's multi-sport All-Star Week. Her duties will also include working with the Alabama High School Athletic Directors & Coaches Association as well as working directly with a number of championship sports, including basketball, volleyball, softball, bowling and cheer.
Booth helped Opelika become one of the teams to beat in the AHSAA's Class 6A, and the Lady Bulldogs' success translated to deep playoff runs. Opelika reached the state semifinals in 2018, advanced to the state championship game in 2019 and made it to the semifinals once again in 2020.
Those three postseason runs ended against Hazel Green, which won the championship in all three seasons.
"It's something that I'll always be grateful for: The experience that I've had at Opelika and being able to get the team where they need to be to be able to experience things like the Final Four. Not everyone has the opportunity to go to those events and perform. Just to get them there was amazing," Booth said. "I wouldn't have done that at all without my assistant coaches and the support of the administration for sure. I feel like my staff and I really created a family there, and I attribute our success to that. The kids really bought into it."
Booth was rewarded for Opelika's success by being named the ASWA Class 6A Coach of the Year in 2020. She was chosen as the Opelika-Auburn News' Girls Basketball Coach of the Year in 2018.
Booth's last team at Opelika faced the challenge of replacing departed seniors Ananda Hughley and Claire Worth, and while the Lady Bulldogs were still competitive they did take a slight step back.
Opelika finished second in its area tournament to Eufaula before losing in the state subregional round against Carver-Montgomery, which went on to play for the state title before falling to Hazel Green. The Lady Bulldogs ended the season with an 11-11 record.
"Devin's just an awesome person to work with. She's just been very, very successful in what she does. It's obvious why the AHSAA is hiring her: she's just a great person who works hard," Opelika athletic director Mike Pugh said. "She's done a super job coaching these girls and that program ... We will have a difficult time replacing her. We wish her well. She's been a joy to work with, and I will miss her."
Booth came to Opelika with plenty of success already on her resume.
Booth compiled a 79-14 record in three years at Samson, including a state championship in 2007 and another trip to the Final Four in 2008. She was named the ASWA 2A Coach of the Year and the Dothan Eagle's Small School Coach of the Year in 2007.
Booth, who graduated from Opp High School, coached for five years at Macon-East Academy prior to landing at Samson and took four teams to the playoffs. She also coached volleyball and softball for the Knights and was named the Montgomery Advertiser's AISA Metro Coach of the Year in basketball after the 2004-05 season. She won the same honors in volleyball the next season.
In total, Booth has a 398-181 career coaching record on the basketball court.
"I am truly excited to announce the addition of Devin Booth to the AHSAA executive staff," AHSAA executive director Alvin Briggs said in a press release. "She is an outstanding teacher and coach who has shown strong leadership throughout her career as a teacher, coach and administrator. She is an excellent addition to an already outstanding staff."
Booth played college ball at Chattahoochee Valley Community College in Phenix City before transferring to Huntingdon College in Montgomery. She led the Hawks in scoring and rebounding and was named to the All-Region team her senior year.
She served as an assistant coach at Huntingdon before moving to Macon-East.
When it comes to her successor at Opelika, Booth said whoever replaces her should expect great support. She lauded those who surrounded her when she took over the Lady Bulldogs program, saying she realized quickly that people have invested in her players, understood their capabilities and did whatever they could to help the team achieve its potential.
As for Booth, she is hitting the ground running with the association's annual All-Star week now only a few days away.
"I'm just ready to get started and get going with it. It's something that I'm very, very excited about," Booth said. "I'm headed there now, so I'm ready to get my feet wet and really work on ways to serve in a different capacity."