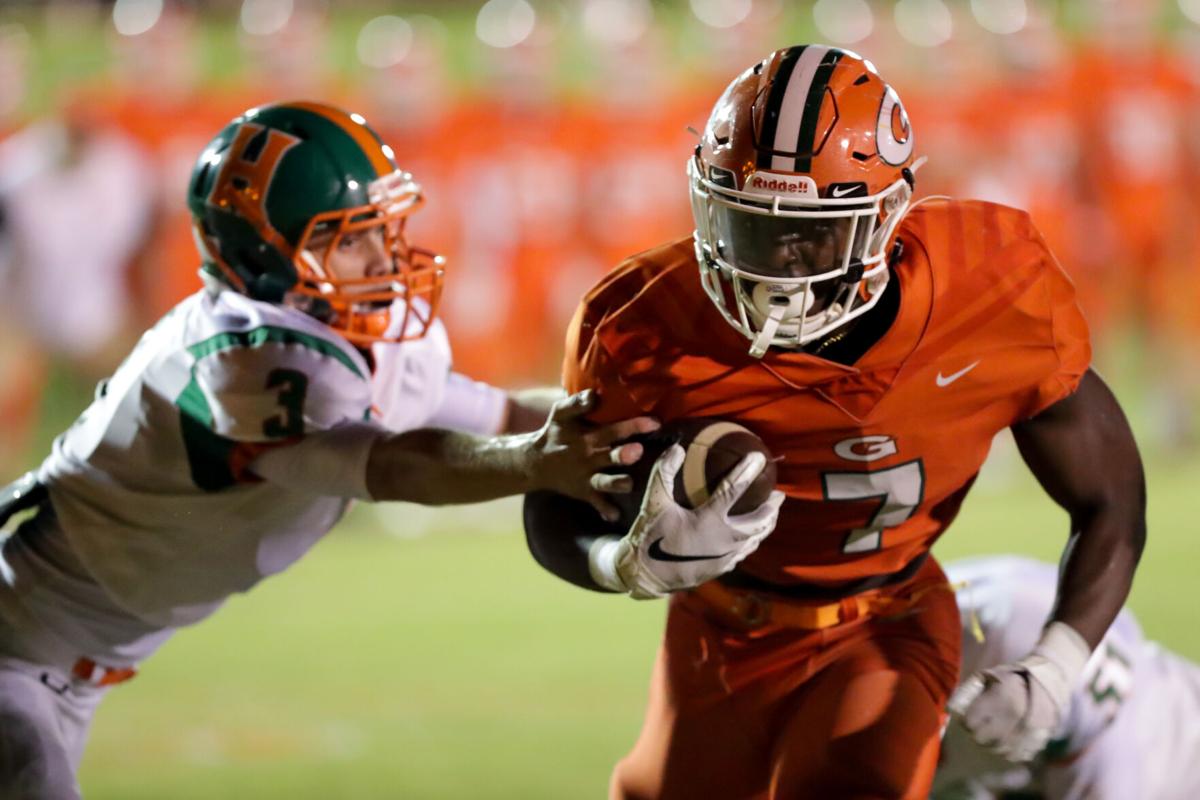 Despite all the winning Glenwood has done under head coach Jason Gibson, the team has yet to capture a region championship.
Tonight, the Gators have a chance to change that.
Glenwood (7-0, 3-0) travels to Troy to face Pike Liberal Arts (6-1, 3-0) in a de facto region title game between the only two AISA Region 1-AAA teams that are undefeated in region action. The Gators are hoping to win a region championship for the first time since 2001, while the Patriots are looking to end a drought that dates back to 2008.
The Gators had a chance to rest last week during a bye, but they still got plenty of work in. Gibson said the week without a game allowed Glenwood to prepare an extra week for Pike, and even though his players had a chance to catch their breaths they still got a lot done.
Glenwood entered 2020 after finishing as the runner-up in Class AAA last season, but the team has played like the class of the entire AISA. Quarterback Jackson Griner and running back Kye Robichaux have dominated on offense, while on the other side players such as defensive end Trent Edwards and defensive back A.J. Harris have caused headaches for opponents.
Gibson knew he had talent coming back this fall, and he credited the success through seven games to the way his players have taken care of business every single day.
"Everybody's bought into that point, but we've got good players. I can't take any credit. We've got good coaching and good players. We have a routine and we stick to it," Gibson said. "We've played for the most part sound football. We've played great special teams. We play good defense and then the offense doesn't turn the ball over. That's a formula to win."
Glenwood's success has the team undefeated and sitting first in the AISA in the Alabama Sports Writers Association's weekly poll. If the Gators want to remain on top, they'll have to take care of the team that sits at No. 7 on the road.
Gibson credited Pike for being extremely athletic, pointing specifically at quarterback Mayes White, receiver Javian Taylor, 6-foot-7 offensive lineman Ryan Barnes and 6-foot-5 offensive lineman Connor Jones. While Gibson knows the Patriots will be a tough opponent, he said his Gators are used to being tested after facing top-tier teams such as Bessemer Academy and Escambia Academy, which sit at No. 2 and No. 3 in the rankings.
Gibson knows the Gators have to continue to avoid turnovers — Glenwood has committed only three in seven games — in order to have a chance at another road victory. Additionally, he called on his Gators to weather the storm against the Patriots, noting that they'll be fired up for their senior night game and will have an upset on their minds.
Gibson has watched as the Gators have bought in fully to the coaches' plans, which has included extra film study at 6:45 a.m. on Tuesdays and Thursdays. That commitment to the game has allowed the Gators to accomplish a great deal this fall, and Gibson is hopeful it will lead to another win tonight as they seek the ultimate goal of winning a state championship.
"They come in and put in the extra work. I think when you beat a team like Pike and that caliber, it validates what you're doing," Gibson said.
Get in the game with our Prep Sports Newsletter
Sent weekly directly to your inbox!