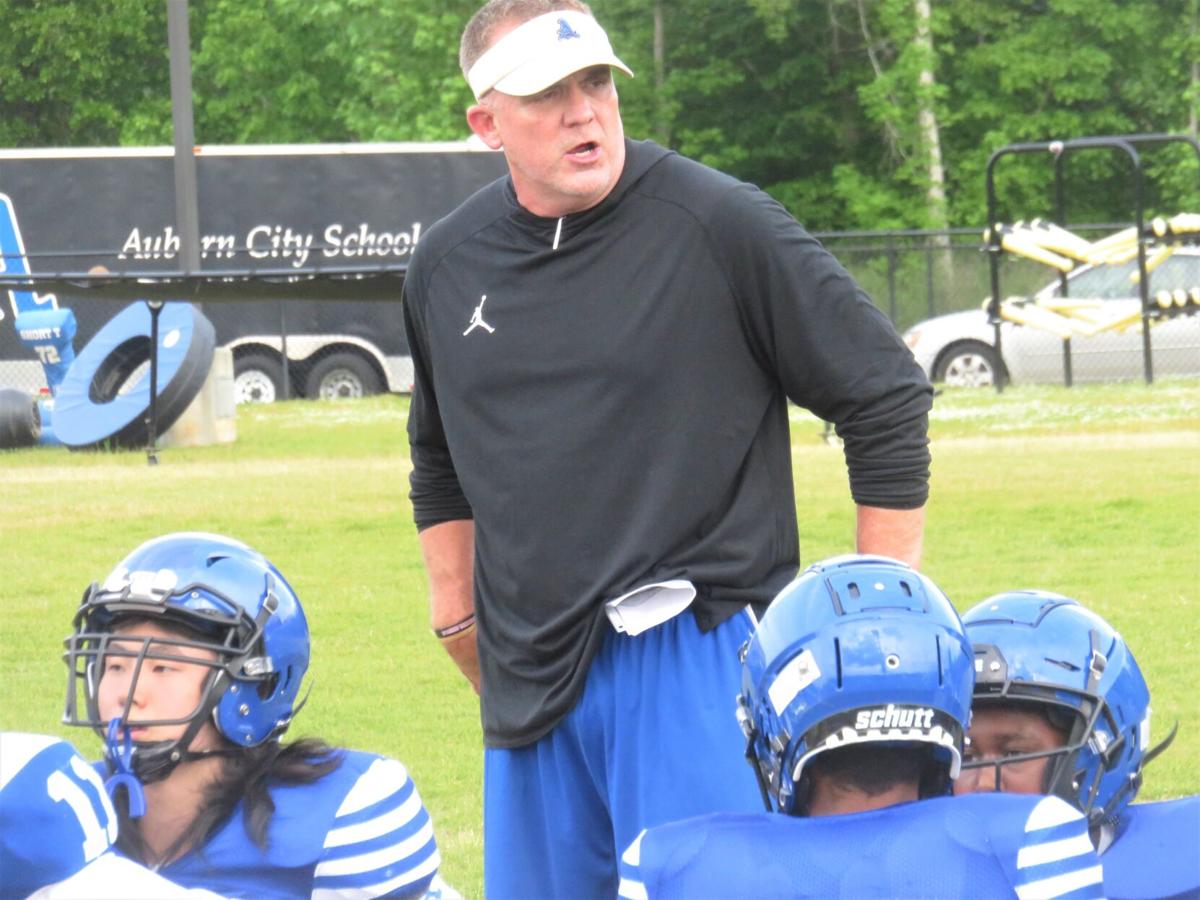 After taking the head coaching job at Auburn High, Keith Etheredge knew right away that he wanted to keep defensive coordinator Scott Goolsby.
In the coaching world, Etheredge says that you know all the good ones, and Goolsby is one of those coaches.
Goolsby was named last week this year's Broyles Award winner for the state of Alabama — recognizing him as a top assistant coach in the state.
"I've got a kid that plays, so I kind of look at it like that: Would I want him coaching my kid? And absolutely," Etheredge said. "He's a great coach, great guy, he's the kind of guy you want coaching your kid."
Etheredge says that Goolsby always does what's right for the kids, and wants to do whatever he can to make the program better. He doesn't just work with the players: He also helps and teach the younger coaches on staff, according to Etheredge.
"He's a worker," Etheredge said. "He brings his hard hat and his lunch pail every day and works his butt off."
The Broyles Award is given annually to the best assistant coach in college football, but starting in 2018, the organization began giving it out to the best high school assistant coach in participating states.
For Goolsby, winning the award has been exciting but also surreal at times. Every year, he keeps up with who won the Broyles Award at the college level, and after 22 years of coaching, he is now a Broyles Award winner himself.
"To just think that after coaching 22 years just to win that award is exciting," Goolsby said. "I don't feel like I deserve it, but it's been exciting."
Goolsby has known since February that he had won the award, but it wasn't until last week that it was officially announced. He was teaching when it happened and after receiving a notification about it, the messages and calls started rolling in.
Former players, former coaches, kids that he taught 15 years ago and anyone else that he keeps up with on Facebook and Instagram all reached out to him. He began coaching at Auburn High in 2013, and some of his favorite messages were from former Auburn High players.
"One of the things that I enjoy about coaching is having a relationship with those guys after they graduate," Goolsby said. "Whether they're playing at the next level or whatever they're doing — if they're out there in the real world, just going to school or working or in the military. It's cool to just hear from people that you've coached, and you've had to be hard on, you've had to discipline, you've had to encourage and now they're just a person. Maybe they're playing college football, but you're not really over them anymore, but you still have a relationship with them.
"For those guys to reach out, that's probably been the coolest part is hearing from players that you've coached," Goolsby added. "It's all been cool, all the coaches around the state reaching out has been cool, but the former players and then the current players, that's been kind of cool."
While the whole process has been exciting, Goolsby wants people to know that it isn't just about him, and that so many people have helped him along the way.
"I don't want this to be about me," Goolsby said. "It's about everybody that's been around me and us the past several years with Auburn High football."
Goolsby named Hugh Fountain, who Goolsby not only played for, but was also the first coach that he worked for. Jeff Williams gave Goolsby his first defensive coordinator job at Geneva.
Tim Carter hired him at Auburn back in 2013, and Adam Winegarden retained Goolsby and then gave him the defensive coordinator job. Of course, Etheredge also retained Goolsby as defensive coordinator.
Goolsby sometimes sits back and is amazed that he has stayed at Auburn High through three different coaching changes, but he says that God has taken care of him during his time at Auburn.
"I'm doing what I want to do," Goolsby said. "I don't know that I want to be a head coach one day. I enjoy coaching defense at Auburn High School."
While the award-winning coach might feel at times that he doesn't deserve the award, Etheredge feels differently and refers to a phrase that he always uses.
"I've got a phrase that I always say, 'Good things happen to good people,'" Etheredge said. "And he's just a good person and good things happen to him cause he's such a good person and a great coach."