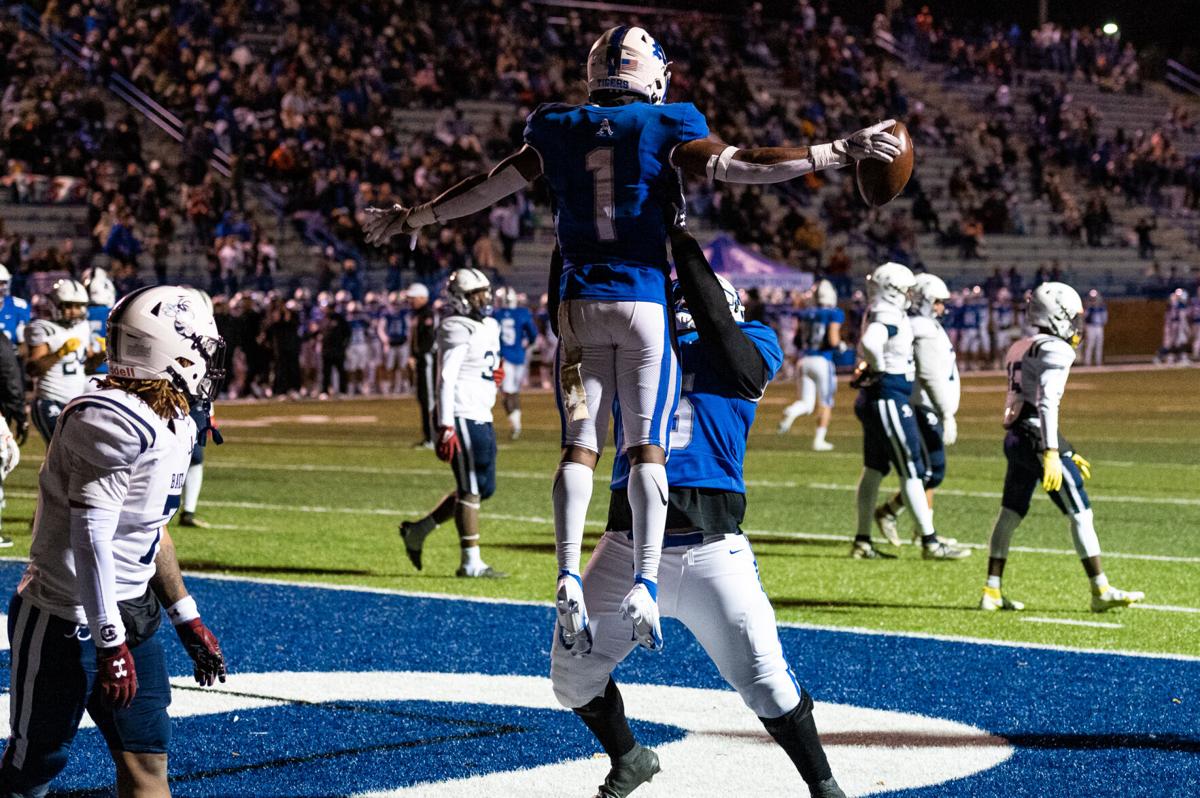 Class 7A quarterfinals
Theodore (10-1, 7-1 Region 1-7A) at Central-Phenix City (11-0, 6-0 Region 2-7A)
Last Meeting: Central won 30-24 in 2020
Series: Central leads 5-0
Last Week: Theodore beat Prattville 30-26; Central beat Daphne 38-7.
Overview: Central running back Jaimel Johnson rushed for over 100 yards and a score last week as the Red Devils beat Daphne 38-7. The Red Devils host Theodore and standout running back Kierstan Rogers this week in the quarterfinals.
Enterprise (8-3, 3-3 Region 2-7A) at Auburn High (9-2, 5-1 Region 2-7A)
Last Meeting: Auburn High won 42-28 in 2021
Series: The series is tied 13-13
Last Week: Enterprise beat Fairhope 35-10; Auburn High beat Baker 39-3
Overview: Auburn High tight end Cam Etheredge caught all three of quarterback Clyde Pittman's touchdown passes in the 39-3 win last week. The Tigers host region foe Enterprise and running back Mykel Johnson in the quarterfinals this week.
Class 6A second round
Spanish Fort (10-1, 6-1 Region 1-6A) at Opelika (8-3, 7-0 Region 2-6A)
Last Meeting: Spanish Fort won 27-24 in 2019
Series: Spanish Fort leads 2-1
Last Week: Spanish Fort beat Calera 41-31; Opelika beat Northridge 45-20.
Overview: Spanish Fort quarterback Brendon Byrd did it all for the Toros as he rushed for 193 yards and two scores and passed for another. The Toros will travel to take on Opelika and wide receiver Shawn Jones in the quarterfinals this week.
Class 2A second round
Luverne (9-1, 5-1 Region 3-2A) at Lanett (9-2, 7-0 Region 4-2A)
Last Meeting: Lanett won 14-13 in 2007
Series: Luverne leads 3-1
Last Week: Luverne beat Greene County 41-6; Lanett beat Geneva County 18-0.
Overview: Luverne and wide receiver Nikki Taylor rolled over Greene County in a 41-6 win last week. Last week was a low scoring affair for Lanett and running back Isaiah Green, but the Panthers will look to improve upon that in round two.
Class 1A second round
Notasulga (10-1, 5-1 Region 4-1A) at Keith (9-1, 5-0 Region 3-1A)
Last Meeting: First-ever meeting
Last Week: Notasulga beat Marengo 45-16; Keith beat McKenzie 43-7.
Overview: Notasulga and linebacker Terel Crayton took care of business in the first round against Marengo in a 45-16 win. They'll travel this week to take on a Keith team averaging 28 points per game.
AISA Class AAA semifinals
Glenwood (6-4, 2-2 Region 1-AAA) at Pike Liberal Arts (10-1, 4-0 Region 1-AAA)
Last Meeting: Pike Liberal Arts won 49-13 in 2021
Series: Pike Liberal Arts leads 17-15
Last Week: Glenwood beat Morgan Academy beat 54-51; Pike Liberal Arts beat Clarke Prep 55-0.
Overview: In an offensive explosion, wide receiver Radonda Beauchamp Jr. finished with seven receptions for 161 yards and two scores in Glenwood's win over Morgan Academy. They'll take on region foe Pike Liberal Arts and quarterback Cason Eubanks.
Lee-Scott (8-2, 3-1 Region 1-AAA) at Tuscaloosa Academy (6-4, 5-0 Region 2-AAA)
Last Meeting: Tuscaloosa Academy won 24-0 in 2019
Series: Tuscaloosa Academy leads 8-5
Last Week: Lee-Scott beat Bessemer Academy 21-15; Tuscaloosa Academy beat Valiant Cross 31-12.
Overview: Lee-Scott running back Patrick Futch scored on a 51-yard run last week as the Warriors won their first playoff game since 2016. They'll square off against Tuscaloosa Academy and Wilson King, who intercepted three passes last week in the 31-12 win.
AISA Class AA semifinals
Escambia Academy (10-1, 3-1 Region 2-AA) at Chambers Academy (10-1, 4-0 Region 1-AA)
Last Meeting: Chambers Academy won 36-34 in 2020
Series: Chambers Academy leads 2-0
Last Week: Escambia Academy beat Edgewood Academy 60-7; Chambers Academy beat Wilcox Academy 42-14.
Overview: Standout running back Bubba Nettles led Escambia Academy as they came away with a 60-7 win last week. Chambers Academy quarterback Jo Jo Hendrix unleashed for four touchdown passes and 188 yards in the win over Wilcox Academy.