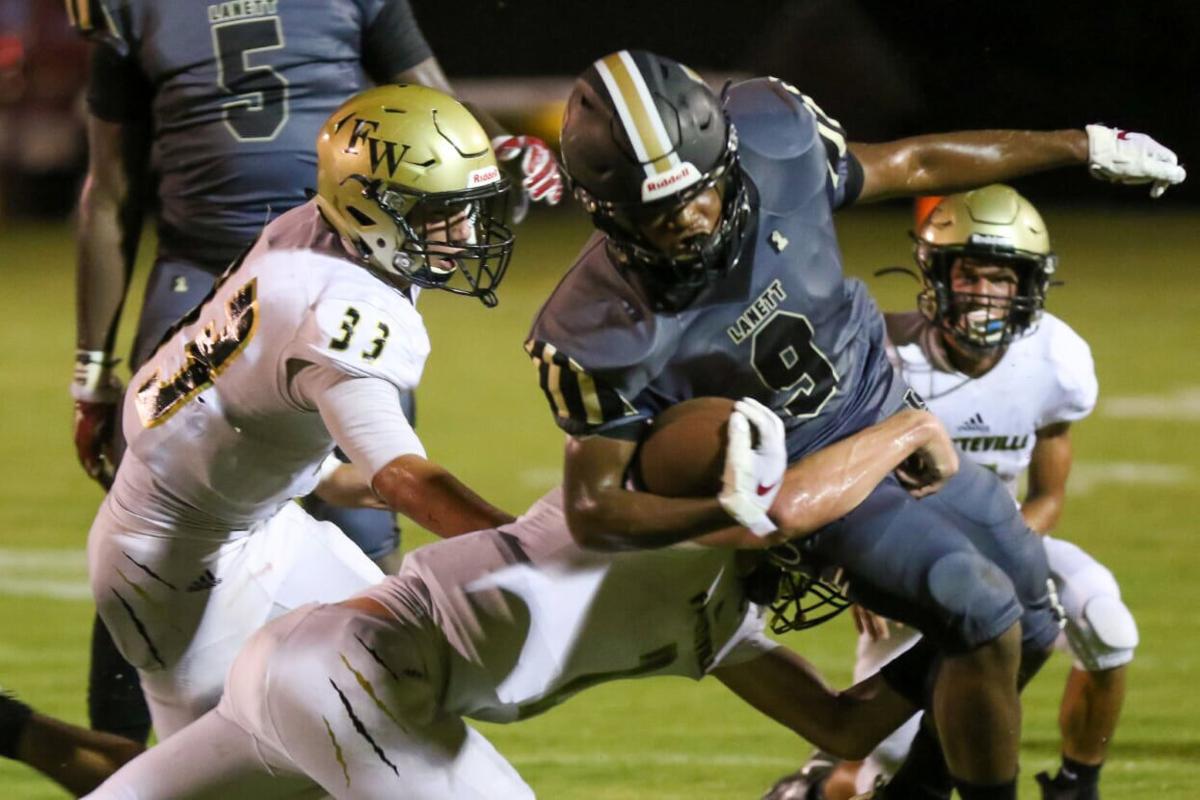 LANETT — There's an extremely high standard when it comes to football in Lanett. That just comes with winning two state championships inside the last three years.
So, even though the scoreboard at Morgan-Washburn Stadium on Friday night showed a comfortable 30-4 victory over Fayetteville for the host Panthers, there was still something of a bad taste in the mouth of head coach Clifford Story and his team.
"We started out really, really flat," Story said. "For some reason, they've got it in their heads that when 'Lanett' is across their chests, they can just relax. They don't understand that you are going to get teams' best, week in and week out, especially because of the success this program has had.
"Once I can get them to understand that you can't just flip the light switch on and off, we'll be fine."
Lanett overcame a slow start to move to 2-0 in region play, as it gave up a safety on a botched snap on its first offensive snap and turned the ball over on downs on its second drive.
But the Panthers' relentless defense bought plenty of time to get rolling for the offense, which was led by senior quarterback Markavious Atkinson's 231-yard, two-touchdown night. The option-running visitors from Fayetteville got first downs on its own opening drive by way of a fake punt, a fourth-and-short conversion and a Lanett penalty.
Then the Panthers didn't allow another first down until the last play of the second quarter.
"I mean, our defense puts it in, week in and week out," Story said. "They take pride in defense. They call themselves the Black Bandits, whatever that means. I don't ask any questions. Whatever motivates them, that's what I let them do. But they played a great game."
Lanett's defense didn't give up a single point for the third time in four games. The offense found its rhythm in the second quarter thanks to a pair of physical touchdown runs from junior running back D'quez Madden, who finished with 110 all-purpose yards on just 11 touches.
Fayetteville threatened to cut it to a single-possession game early in the third quarter with some help from a few more Lanett penalties — the mental mistakes that Story emphasized for his team on both sides of the ball throughout the night.
The hard-hitting "Black Bandits" recovered deep inside their own territory and slammed the door on the Wolves with an emphatic turnover on downs. However, two plays later, another Lanett offensive error handed Fayetteville another easy safety.
Lanett's defense, which was led by stellar performances from junior defensive end Caden "Pop" Story and senior linebacker Kelvin Zachary, forced a much-needed fumble on Fayetteville's ensuing possession.
The Panthers immediately went to work with a passing attack that did most of its damage with quick screens, and senior receiver Tra Abner found the end zone just before time ran out in the third quarter with an impressive 30-yard catch-and-run.
"I knew (Fayetteville was) going to try to control the ball and give themselves an opportunity to keep it out of our hands," Clifford Story said. "So we were able to get in a little bit better groove as the game went on. We were able to keep them off the field and get some drives going."
Lanett pushed Fayetteville's option attack backwards with massive tackles for loss from Caden Story and Zachary to open the fourth quarter. After Atkinson hit Seidrion Langston in the end zone on a picture-perfect 20-yard fly midway through the fourth quarter, Lanett forced one more fumble from a worn-out Fayetteville offense to seal the 26-point victory.
The Panthers are now 3-1 overall on the season, and they've outscored their opponents 129-4 in those three victories.
Yet Clifford Story wants to see more out of his team as they approach the meat of their schedule, starting with a trip to rival LaFayette next Friday night, and march toward what they hope will be a 2A state title defense.
"We're just still not getting it snowballing yet," Story said. "It's just the small things of the game that we're not doing. We've got to clean up so much stuff. There's just so much stuff that we've got to start taking Monday, Tuesday and Wednesday just to clean up the small details.
"But I'm pleased with the victory. Every time you win, it's good. I'll take that moving forward."
Lanett 30, Fayetteville 4
L — D'quez Madden 35 run (kick no good), 9:30
L — Madden 10 run (2-pt good), 5:11
L — Tra Abner 30 pass from Markavious Atkinson (2-pt good), 0:04
L — Seidrion Langston 20 pass from Atkinson (2-pt good), 6:58
Get in the game with our Prep Sports Newsletter
Sent weekly directly to your inbox!