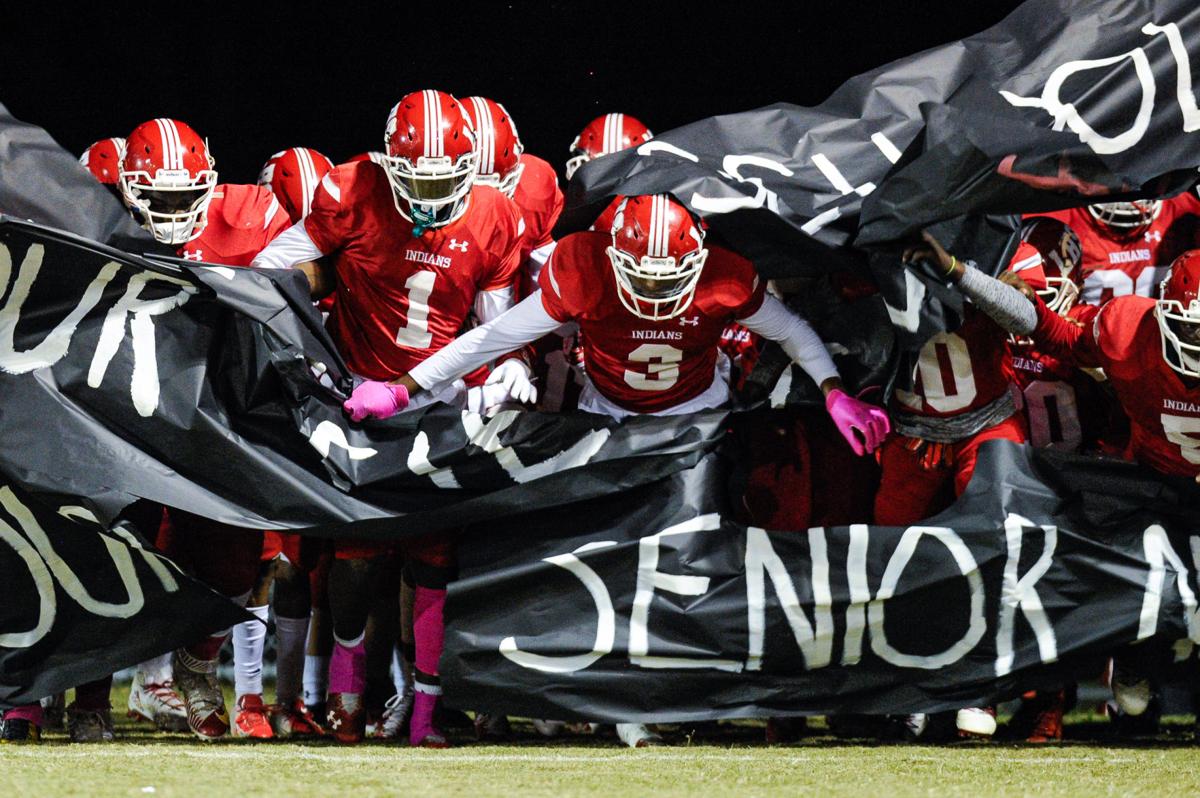 Friday marked the start of region play for most local football teams. After a varying amount of success for all the area teams, there are a few changes to the Prep Power Poll this week.
Local teams went 9-7 last week, with splits occurring between Central-Smiths Station, Glenwood-Lee-Scott and Chambers Academy-Springwood. The top seven schools held firm this week in the poll with changes occurring at No. 8, where Notasulga passed Valley thanks to the Blue Devils' 35-0 victory over Autaugaville and the Rams' 34-22 loss to Carver-Montgomery.
Additionally, Loachapoka reached No. 10 in the rankings on the heels of a 24-16 region victory over Billingsley.
1. Glenwood (3-0)
The Gators took care of region rival Lee-Scott on Friday with a commanding 51-7 victory, their biggest win over the Warriors since 2006. The win featured yet another outstanding performance for running back Kye Robichaux, who only needed 11 carries to pile up 163 yards and three touchdowns. Glenwood travels to face new region opponent Valiant Cross Academy on Friday.
2. Lanett (2-1)
Any questions about last week's loss lingering for Lanett were quickly put to bed Friday when the Panthers pounded B.B. Comer in a 38-0 victory. The Panthers made several big plays in the shutout win, and Teiko Williams, Kadarius Zachery and Seidrion Langston each found the end zone. The Panthers host region foe Fayetteville this week.
3. Central-Phenix City (1-2)
The Red Devils finally got their first win under new head coach Patrick Nix courtesy a 35-7 victory over rival Smiths Station on Friday. Central's defense was absolutely relentless against the Panthers — the Red Devils forced four turnovers and scored a defensive touchdown in the game's first 10 possessions — and Zion Morris paced the backfield with 80 rushing yards and one touchdown. Central faces Jeff Davis in Montgomery's Cramton Bowl on Saturday.
4. Auburn High (3-0)
It was another week and another impressive defensive showing for the Tigers in a 22-0 victory over region foe Prattville. Auburn only allowed 119 yards of offense by the Lions, and Burnard Thomas' scoop-and-score on a mishandled punt snap sprang the Tigers to victory on a night in which offensive yards were hard to come by. The Tigers hit the road for the first time this fall Friday when they play at Dothan.
5. Chambers Academy (3-0)
The Rebels are already rolling through another standout season and didn't slow down one iota Friday in a 53-0 victory over new region opponent Springwood. Chambers quarterback Payton Allen again impressed behind center, throwing for 269 yards and three scores to guide the Rebels to an important victory. Chambers returns to non-region play Friday when it plays at Lowndes Academy.
6. Reeltown (2-1)
Reeltown had a bit of a setback last week with its loss to St. James, but those issues didn't linger long as the Rebels earned a 28-8 victory over region foe Childersburg on Friday. Running back Dakarian "Juicy" Hughley set the standard on the ground for Reeltown, taking 13 carries for 102 yards and one score in the win. The Rebels have an important region game this Friday when they host Montgomery Catholic.
7. Opelika (1-1)
Like Reeltown, Opelika bounced back well after a Week 2 loss via a 42-6 victory over Sidney Lanier on Friday. Running back Eric Watts once again stole the show, scoring four times to push the Bulldogs to their first region win of the year. Opelika looks for No. 2 this week when the Bulldogs travel to face Eufaula.
8. Notasulga (1-0)
Notasulga had to wait a little longer than most to start its 2020 season, but the wait proved well worth it during the Blue Devils' shutout victory over Autaugaville. Notasulga quarterback Walter Tatum showed he was up for the moment thanks to a pair of first-half rushing touchdowns that helped the Blue Devils pull away. Notasulga travels to face Barbour County on Friday.
9. Valley (2-1)
The Rams suffered their first defeat under new head coach Adam Hunter in a tough home loss to Carver-Montgomery. Although it wasn't quite enough, quarterback Will Kennedy did his part to keep the Rams in contention, throwing two touchdowns and rushing for another. Kennedy and his teammates will try to return to the win column Friday if they get to play at region foe Russell County, who has yet to play a game this season due to coronavirus concerns.
10. Loachapoka (2-1)
The Indians shook off a competitive loss in Week 2 by showing up at home and handling region foe Billingsley in a 24-16 thriller. Loachapoka quarterback Tyler Harrris wowed in the win, throwing two touchdowns and delivering what proved to be the game-winning score on a 62-yard touchdown run in the third quarter. After a week off, Loachapoka looks to make it two in a row next Friday at Maplesville.
Get in the game with our Prep Sports Newsletter
Sent weekly directly to your inbox!