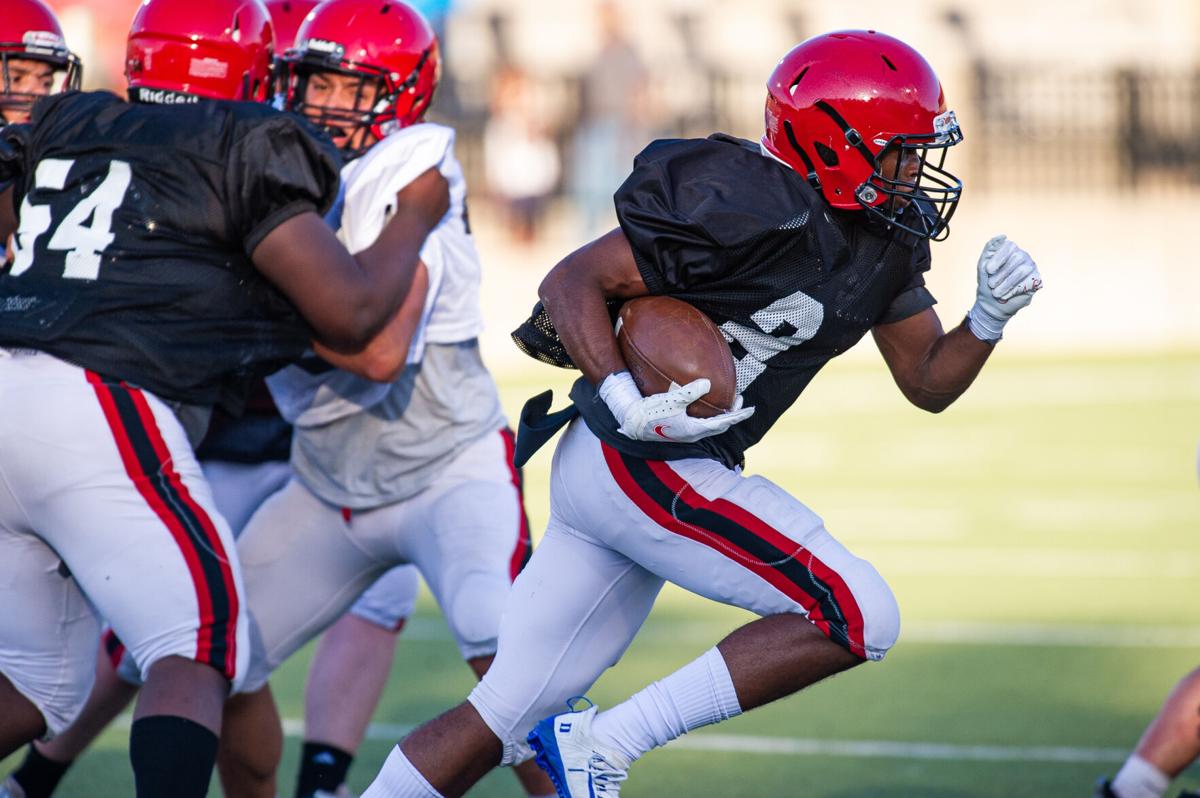 With the recruiting world finally getting back to normal, Opelika defensive back Jarell Stinson is one of many prospects facing several busy weeks.
Stinson started things on Tuesday — the first day after the NCAA's 14-month dead period ended and players could have face-to-face contact with coaches again — by visiting Auburn, the school he committed to in December before it had a coaching staff overhaul. He'll then head to Florida this weekend, UCF the next weekend and Auburn once again to close out the month.
"I was really excited to meet the coaches for the first time," Stinson said about visiting Auburn. "It was good. I got a chance to put some names with some faces."
Stinson is just one of a handful of local recruits who are loading down their schedules as they scope out different schools to help them decide where they'll play college football. The urgency to get on campus is ramped up after going over a year without in-person contact with their future coaches, but despite the hectic time players like Stinson's teammate Taylor Love are just embracing the process.
"I'm very excited. I'm ready for the experience," said Love, a linebacker who has an unofficial visit to Louisville on June 5 and to Auburn on either June 14 or June 15. "It's another step toward my future, so I'm excited."
Stinson is one of several local recruits who have Auburn on their radars, and he wasn't the only one on campus Tuesday. Beauregard offensive lineman Eston Harris was also on the scene checking out the Tigers as someone who could help bolster their front in the near future.
Harris has been getting plenty of attention from the Auburn scene — Auburn High linebacker and Auburn University commit Powell Gordon said he's been recruiting Harris hard to join him — but he is also looking at options outside joining the hometown team. He will visit Georgia on Thursday, Alabama on Saturday, Florida State next week and Oregon on June 18.
"I want to see if I can live there, learn there and be around the people," Harris said about his official visit to Oregon.
LaFayette offensive tackle Antavious Woody will visit Auburn on Wednesday then will visit Florida State on Saturday. As for Gordon, he has no plans to visit any school other than Auburn and said he has an unofficial visit on June 12 and also plans on visiting during a game week.
Lanett defensive end Caden Story is one of the top local recruits, and it's no surprise he's looking at plenty of travel over the upcoming month.
Story said he has official visits to UCF June 11-13 and Texas A&M — which was the runner-up for his brother, Alabama defensive back Kristian Story — June 24-26. He'll also have an unofficial visit to Auburn June 18-19 and will attend a camp at Alabama on Saturday and a camp at Clemson on June 10.
Story said he is studying the same factors at each school he's visiting, specifically what the coaching staff is like and how they plan to use him, what the players are like and what the atmosphere on campus is like.
"I'm very excited about it," Story said about the upcoming trips. "I'm ready to start visiting and find a place to call home."